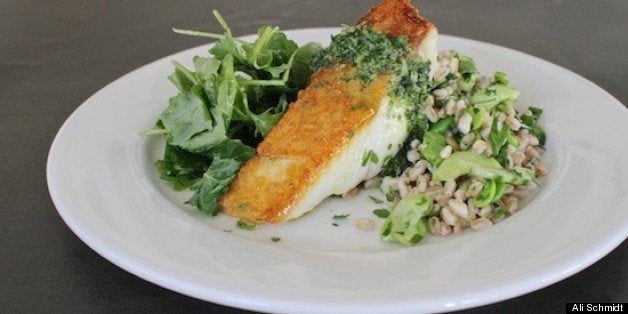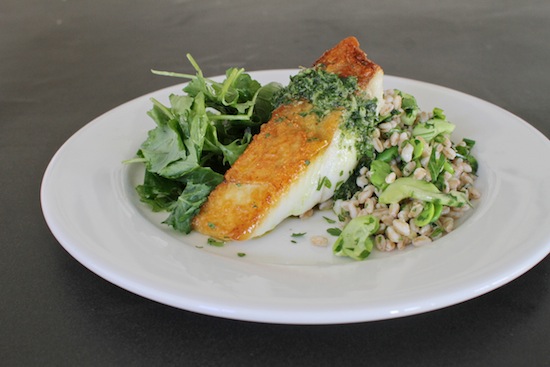 If I could, I would always choose this meal: a plate of halibut and salsa verde, farro with herbs, broad beans, cucumbers and ramps and a baby kale salad. It is full of health, freshness and greenness -- just how I want to live.

I won't pretend that this is an inexpensive meal. Anyone who has perused the fish counter at Whole Foods (a favorite pastime of mine - I even secured a date over cockles once at the Bowery store, #singleladies) knows that halibut costs a pretty penny, like $20 bucks a pounds. I'm a graduate student who works at a start up: liquidity isn't my thing unless it involves a vodka gimlet with my father.
This past semester, I decided to take an introductory finance class with the belief that it would help me understand how our markets affect the way we get fed, or, in too many cases, don't get fed. What I didn't realize is that we would spend the class analyzing these strange things called "stocks" and "bonds" as they do on this bizarre place called "Wall Street." We put together words like "run" and "regression." It's so silly!
Luckily, my finance teacher is super cute (I'm not just saying that because my final was on Tuesday...) and it turned out to be a seriously engaging class. One of the more enlightening concepts that we learned was the theory of the "Indifference Curve." It's a curve on a graph that expresses the trade off between risk and return. If love handles are risk and deliciousness is the return, then this meal of halibut, farro and kale is an easy choice. It's just as delicious as, say, jelly donuts, but without the threat of a muffin top. Low risk, high return.
But, to my chagrin, love handles and deliciousness aren't the only things we consider when we invest in our food. Unfortunately, really good, healthy food is almost always more expensive than really good, unhealthy food. So the question becomes: how much are we willing to spend to get onto the healthy, delicious end of the curve?
I love halibut, so I'll pay that pretty penny. Not everyone will agree. Maybe you don't like halibut. Maybe you like gefilte fish like my mashugana mother. Either way, it's important to think about not just what food choices we make, but why we make them. Are we willing to pay more for "organic" because it makes us feel better? Or do we forgo "organic" because it's just too risky to spend that premium? These decisions matter.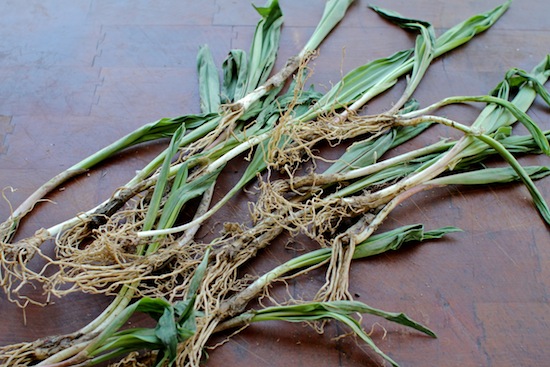 Well, I guess I should talk about the recipe now! I love crispy fish skin. At Petersham Nurseries, where I used to cook, we would throw the fish skin side down on a hot pan and then finish it off in the oven. The resulting crispiness is sensational. The other major component in this meal is the farro, my everlasting obsession. I've combined it with fava beans, ramps, cucumbers, parsley and mint. If I had to choose between a life without farro and a life without eyebrows, I'd probably keep the farro -- and pencil the other in.
Halibut
Serves 4
4 fillets of halibut
Salt and pepper
Olive oil
Preheat the oven to 350 degrees. Season the fish generously with salt and pepper. Once the oven is up to temperature, add some olive oil, about two tablespoons, to a large, ovenproof pan. I like to use nonstick pans for this -- they reliably produce the crispiest fish skin. When the oil starts to smoke, lay the fish in the pan, skin side down, and leave to cook for two minutes without moving. After two minutes, check the skin to make sure it's brown enough for you and move the pan to the oven. Cook for three to four minutes more, depending on the thickness of your fillets.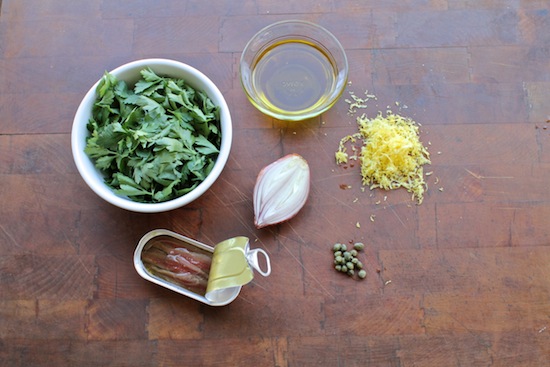 1 ½ cups flat leaf parsley
½ large shallot, roughly chopped
2 anchovies fillets
1 teaspoon capers
Zest of 1 lemon
1 cup olive oil
Juice of ½ lemon
Pepper
If you have a food processor, throw in all the ingredients and whiz until everything is coarsely chopped. Add some freshly ground pepper and taste for seasoning, adding more lemon juice if necessary. If you don't have a food processor... then get to chopping!
1 cup farro
1 lb. fava beans, in their pods
2 small cucumbers
4 ramps
1 bunch parsley
1 bunch mint
Olive oil
Red wine vinegar
Salt and pepper
Bring about six cups of generously salted water to the boil. Add the farro and simmer for 20 to 25 minutes until just tender. I like it when there's a little bite to the grain, not too mushy. Drain and splash generously with olive oil -- the farro will suck the goodness right in.
Meanwhile, start podding the fava beans (and I suggest you employ a small army) and bring more salted water to the boil. When you're done podding, fill a bowl with ice water. You'll need this to stop them for cooking and to prevent them from browning, which is not so cute. Put the favas in the boiling water and cook for about a minute -- they really don't need much time -- and plunge them into the ice water. Allow them to cool thoroughly and pop off the pale, outer skin.
Peel the cucumbers and slice finely. As for the ramps, you can treat them like scallions. Cut off the root, peel back any nasty outer layer and slice them finely as well. Finally, chop the mint and parsley, keeping them pretty rough.
Toss everything together and season with salt, pepper and two tablespoons of vinegar to start. If it looks dry, add more olive oil (I usually do) and a touch more vinegar until it tastes good to you.
4 big handfuls of baby kale
½ small shallot
2 tablespoons freshly squeezed lemon juice
4 tablespoons olive oil
Salt and pepper
Dice your shallot very finely. Cover with lemon juice and a big pinch of salt and let macerate for at least 10 minutes. Add the oil, mix around and season to taste. You probably won't need all this dressing, so err on the side of caution when addressing your greens. I like to make extra so I have it for lunch the next day.