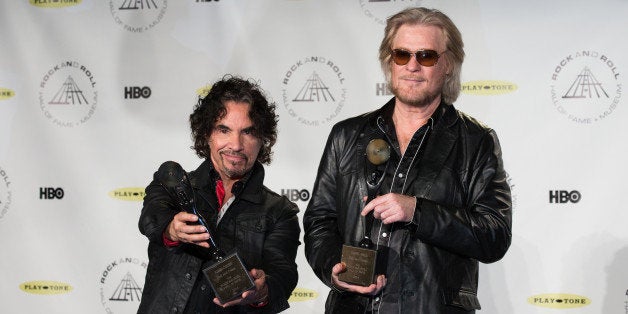 Sporting a "Hall&Oates" T-shirt and speaking backstage at the 2014 Rock and Roll Hall of Fame Induction Ceremony before induction Daryl Hall and John Oates into the Hall of Fame, Questlove explained: "By far, Daryl Hall and John Oates are the most successful and the most definitive duo of all time. They've shut down any other duos." More than hyperbole, Hall and Oates created a singular mix of rock and soul, highlighting a deep appreciation for their musical fore bearers while always looking forward. Hits such as "Rich Girl," "She's Gone," "You Make my Dreams" and "I Can't Go for That" captivated audiences around the globe. That song craft mastery and powerful performance quality was on full display when they took the stage at Barclays after accepting their awards like a true duo, playing off each other.
Hall: Can we do this together? Nobody does this shit together.
Oates: We've been doing it together for 40 years. Why should we stop now? I just wanna start out. I know everyone here is so cognizant of their past and the music that brought us all here tonight, because the roots of American music are so important to all of us here tonight, that's why we're here. I wanna thank a young couple in their twenties in New York City in the early 50s who bought a '47 Chrysler and decided to move my sister and I to Pennsylvania.
Hall: Fifteen miles from my house
Oates: That's right. And I listened to big band music, and then they took me to an amusement park, where I heard Bill Haley and the Comets in 1953. And if it wasn't for that move to Pennsylvania, I wouldn't be here. I owe so much to my parents and my sister Diane, and -- Philadelphia: I think I was born at the right time. It was a great time to be in Philadelphia. The Uptown Theater [where] I saw the greatest R&B acts in the world. The Philadelphia Folk Festival, the Second Fret, it was a hotbed of incredible music happening in the 60s, and that's where I wanted to be. It really defined the way I think about music and the way I write songs and the way I play.
Oates: I do have to thank my wife Amy and my son Tanner, and I want to thank all the unbelievable producers, musicians, managers -- everyone who had so much to do with the records we made. New York City, because we made the records in New York. I just wanna thank you guys, and the fans for sticking with us over the years. I know we have a lot of hits, and people always talk about our hits, but as Quest[love] said earlier and alluded to, we spent just as much time and care with every track on every album. The hits were a byproduct of our hard work. Thank you very much, Rock and Roll Hall of Fame.
Hall: Amen. And speaking of Philadelphia, you know, I did some research, and did you know that we're the only homegrown Philadelphia band that's been put in the Rock and Roll Hall of Fame? Now, I'm not saying that because I'm proud of it — I'm saying that because it's f—ed up. What happened to Todd Rundgren? The Stylistics? The Delfonics? Harold Melvin and the Blue Notes? Len Barry? Chubby Checker? How about the biggest single in the history of the world? Chubby Checker. Why isn't he in? You guys tell me. I'm calling everybody out. That's all I got to say. I wanna go play.
PHOTO GALLERY
Artifacts From the Rock and Roll Hall of Fame
Calling all HuffPost superfans!
Sign up for membership to become a founding member and help shape HuffPost's next chapter