It's rare that a professional athlete leaves their playing career at the height of success. Hall of fame golfer, Annika Sorenstam, did just that, though, when she announced her retirement in 2008.
Like successful athletes before her, Sorenstam always had a vision for her life. And for the first time in her life, in 2008, her vision began off of the golf course. In that moment, it was time for Sorenstam to find success in the business world and in her personal life, as a wife and mother.
Today, she serves on the board of the ANNIKA Foundation, which she founded in 2007 and teaches children the importance of living a healthy, active lifestyle through fitness and nutrition and offers aspiring junior golfers opportunities. She is the founder of the ANNIKA Academy, a state-of-the-art teaching facility, where Sorenstam shares her passion for golf, fitness and nutrition with rising golfers through her team of coaches. She has partnered with Cutter & Buck to design a line of high-end ladies' golf apparel and even partnered with Wente Vineyards to produce Annika-inspired wines.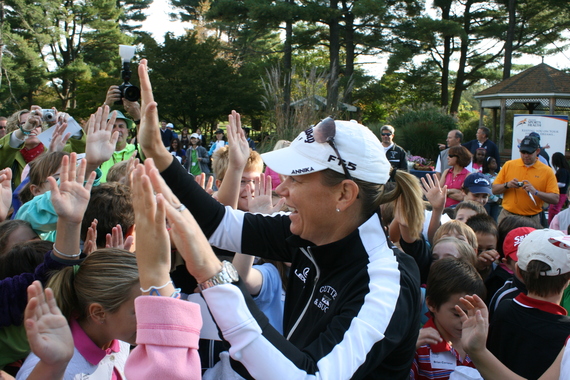 Now, in 2015, Sorenstam is able to reflect upon how experiences gained on the golf course prepared her for the role as a successful entrepreneur who also balances family life.
"Succeeding in the business world has been a learning curve. There are a lot of similarities with golf, though. When you run a business, you realize it's about more than one person. You have to share the vision and motivate your employees to accomplish it together. I never had to do this before. I just had a caddy who I'd tell how it would be. While there are a lot of similarities between business and golf, in business you work with other organizations and people, so it's more so about getting everyone on the same team," Sorenstam remarked.
Sorenstam has found one aspect about the business world strikingly similar to playing golf: The patience necessary to succeed.
"It's been very challenging in the sense that I started in 2008 when the market crashed. I left the golf scene when I was at the top and I'm extremely competitive. I expect results and dividends, and at times can be a perfectionist, maybe. In business, you have to continue to be patient. I forget sometimes that I started playing golf at age 12 and put a lot of time into it before I was at the top. Business success takes time and patience, two things I learned in golf," Sorenstam noted.
Entering the marketplace in 2008 meant that conditions were challenging for Sorenstam and her endeavors. Yet, once again, she turned to her golf experience to find the motivation to press forward.
"2008 wasn't a good time to look for partners and people to spend money on a high-end golf academy, clothing or wine. The one thing that kept us going is that we wanted to be true to our brand and what we stand for. I always relate it to playing golf in tough conditions when the wind is in your face or you don't get good bounces. I've played in those conditions plenty of times, but you just keep going. I've never been a quitter. I analyze what's going on and try to figure out what we can do differently," she said.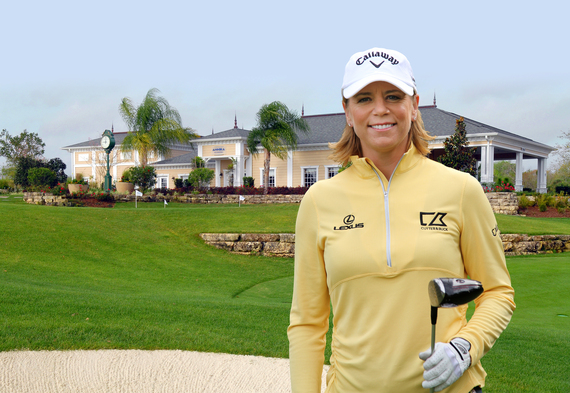 Coming out of 2008, Sorenstam's endeavors began seeing success. As her businesses thrive in 2015, she relates much of the success to a vision instilled in her mind during her golf career.
"Life is like a puzzle, there are a lot of pieces to it. Golf is also like a puzzle. You can't just have physical strength to be successful. You have to have good equipment and mental strength, too. It's the same thing in business. I have the passion, team and good products. You have to just keep on going," Sorenstam said.
While Sorenstam has been able to build successful female-owned and operated corporations, she recognizes that women face hurdles in becoming entrepreneurs. In particular, she recognizes that former female athletes face greater challenges in entering the business world upon retirement than their male counterparts.
"When I stepped away, I put an advisory board together to help me with what I wanted to do. The advisors hired a brand expert. He did a survey to figure out if people could name five female athletes. It was really easy for them to name five male athletes, but you'd be surprised how the influencers were unable to easily name female athletes. That number dropped even more dramatically when they were asked to name five female athletes who took their name brand to a different level. I was surprised and curious as to why this was. I was determined that I was going to follow what I wanted to do," Sorenstam explained.
Sorenstam believes that women's trust and belief in themselves may be the biggest hurdle they face in succeeding in business.
"Women have to believe in themselves. When I grew up, I was very shy. I wouldn't raise my hand in school, because if I answered wrong, I thought the other kids would look and laugh at me. On the golf course, early on in life, you had to give a winning speech. I was terrified to be in the limelight, so I would miss on purpose so I didn't have to give the winning speech. I'd be so mad at myself, because I knew I was good enough. My parents once called the tournament director and they decided that if you came in second or third, you'd have to say something, too. I realized then that I had to face my fears. I wanted to be a good player, but when you have things in your way, it blocks your success. Achieving success on the golf course helped me, because it gave me confidence. I think a lot of women feel like they're in a man's world and that men are better connected with more money. They need to have faith in what they're doing," Sorenstam remarked.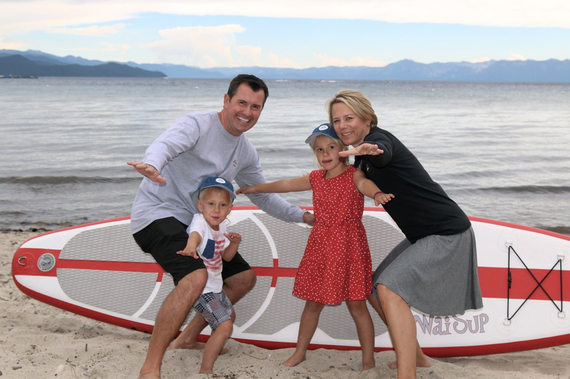 In the midst of her athletic and business successes, Sorenstam is aware that it is difficult for women to also balance family life.
"It's hard. I am so lucky that my husband is a team player and we work together. You have to have a partner who supports you and is there for you. In our family, it's equal. One person doesn't do more than the other; we take turns. I can trust him on that. If I need to go somewhere, I know that when I come home, I won't hear him complain," Sorenstam remarked.
Yet, regardless of the difficulty in balancing a life filled with athletics, business endeavors, marriage and children, Sorenstam believes it is all worth it.
"A lot of women feel guilty when they leave home for work. I think it's good for children to see that their parents work. I think it's a healthy thing. My dad told me once a story of when I was hitting golf balls and it started raining. It was no longer fun to me since I was getting wet, so I wanted to go home. My dad turned to me and said, 'There's no shortcut to success.' I wanted to be successful, but was being lazy not wanting to hit balls in the rain. I think it's really important for children to see that if they want to achieve things, they don't just grow on trees. It takes commitment," she explained.
Popular in the Community