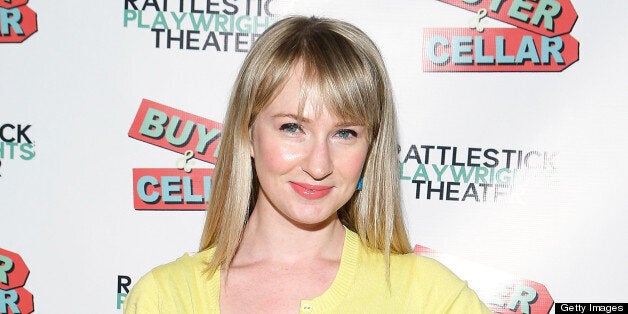 Having appeared in such projects as the HBO series "Bored to Death" and the Noah Baumbach films "Margot at the Wedding" and "The Squid and the Whale," actress Halley Feiffer is way more famous than a lot of people. That just doesn't necessarily translate to Twitter.
"I really don't have that many Twitter followers, which I'm really sad about," Feiffer, 28, joked during a recent interview with HuffPost Entertainment. "I really want people to think I'm more famous, and that happens when you have more Twitter followers."
"I always wanted to be a young, female, blonde Larry David or Louis C.K. That's sort of my goal," Feiffer said. "Both of them, also, play horrible versions of themselves with their own names, which I really like."
Feiffer is off to a good start in that department. The Halley Feiffer in "He's Way More Famous Than You" is selfish, uncouth and obsessed with fame. She treats "The Squid and the Whale" -- the real-life Feiffer's breakout film -- as if it's the most important indie released in the last 50 years.
"That's something I did almost 10 years ago now, when I was a completely different person, and yet that's the thing people recognize me the most from," Feiffer said about Baumbach's film, which came out when she was a junior in college. "I guess that's what I was trying to make fun of a little bit. I don't think I was as entitled as my character, I hope, but I guess I thought it would be funny to explore a world in which I was."
For Feiffer, whose parents are Pulitzer Prize-winning cartoonist Jules Feiffer and author Jenny Allen, exploring that world began in a way similar to how the film's fictional script starts for the fictional Feiffer: after a breakup.
"This guy I was dating, we were writing a screenplay together and then he broke up with me and I had a terrible thought: 'Maybe I could just make this movie by myself,'" she recalled. "I was like, 'No, that's a horrible idea. You can't do that, Halley.' But then I thought it would be funny to write a movie where my doppelgänger -- my evil twin, this horrible version of myself -- doesn't realize that writing a movie is a horrible idea."
"Ryan was in the treatment," she said. "He was my gay best friend who I asked to be in the movie, and the joke was that he was gay and we had no chemistry but we were always making out in the movie and it was terrible." The final script, which Spahn co-wrote with Feiffer, turned the actor's role into something even more awkward: He plays Halley's brother, and the pair decide to act as love interests in the movie within the movie.
"I had never written a screenplay before so I had no faith that we could actually do it," Feiffer said of the process. "That we actually shot it and it became a movie now in theaters is hilarious to me because I never thought we'd get to page 23."
"He's Way More Famous Than You" puts Feiffer through the ringer -- even if her character doesn't know that. It's an unflattering portrayal of ego run amok, but Feiffer said it wasn't difficult to separate herself from the terrible person staring back at her on the page.
"It didn't feel like I was really digging into my deeper truth because I don't behave this way," she said. "There was one day where I did come home and felt pretty depressed and I didn't know why. We had just written that scene where my agent breaks up with me and I was having sadness about that. No scene like that had happened in real life, but the movie is loosely based on feelings and insecurities I had. Mostly, though, it was just a total blast -- especially because I got to write it with my friend. If I had been doing it by myself it might have been painful; doing it with my friend, we would just laugh and eat french fries and it was so fun."
Not everything, of course, has been as much fun. Feiffer recalled how she recently made the mistake of searching Twitter for comments on "He's Way More Famous Than You" ("Mostly it has been positive, but we do get some mean things"), and she has learned to shy away from reading reviews. Well, most reviews.
"I feel vulnerable, because people could watch it and think I am a horrible person. Which I am, I just don't want them to know that," Feiffer deadpanned. "So, I don't read reviews. But Ryan told me there were a couple that were totally positive, and that was OK. Then someone else told me to read one that was positive, and I was like, 'It's sort of positive?'"
Despite that, one of Feiffer's favorite "He's Way More Famous Than You" reviews lives in that nether region between good and bad.
"Someone wrote something on Twitter that I thought was really mean, but now I think it was nice: 'He's Way More Famous Than You' is the dumbest movie I've ever seen. I loved it.' Which I really love, because I totally know what he's talking about. It is, I hope, some combination of low brow and high brow. There are many jokes about blow jobs and then many jokes about Austin Pendleton. How many movies are like that?"
"He's Way More Famous Than You" is out in limited release now and available on VOD and iTunes. Feiffer will next be seen in the play "How To Make Friends and Kill Them," which she also wrote. "How To Make Friends and Kill Them" will debut at the Rattlestick Playwrights Theater in New York this fall.
PHOTO GALLERY
Halley Feiffer
REAL LIFE. REAL NEWS. REAL VOICES.
Help us tell more of the stories that matter from voices that too often remain unheard.
BEFORE YOU GO