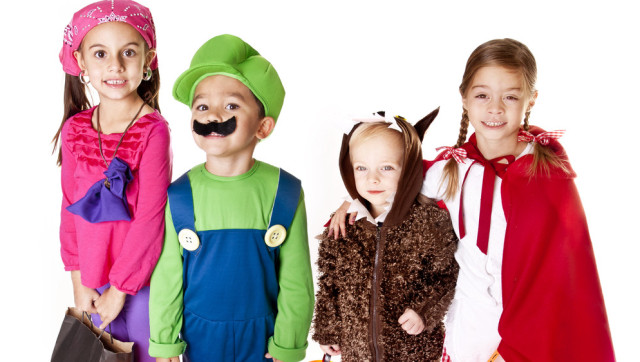 By Deborah Lindquist
When I first moved to Los Angeles, I was fascinated by the altars depicting skeletons sitting at a table having tea, laying in bed together and dressing up in hats carrying shopping bags, among other scenarios. It looked a little creepy to me, but so theatrically artistic. I came to realize that the profound, fearful and romantic rite of passage into the spirit world is one of such wonder and amazement that we create art to better understand and celebrate it.
Dia de los Muertos, the Festival of the Dead, All Hallows Eve and Halloween all are names of celebrations honoring our friends in the spirit world. Each culture has its own version of the day or days we choose to honor the dead. Some versions are spiritual, some less so -- dressing our kids up in costumes and having them ask our neighbors for candy, for instance.
However you celebrate this mystical time of year, it's time to have a little fun and find your inner ghoul! Whether you resonate with zombies, faeries or vampires, a disguise is fun to play around with.
In fashion, black is always a favorite color -- or absence of color if you've studied the color wheel -- making it a perfect choice for the celebration of the departed.
But, as we see every day, skulls, skeletons, crucifixes and the color black translate into everyday fashion, not just for Dia de los Muertos. Here are some fashionable ideas that are influenced by our fascination with the dark side, and are perfect for this time of year.
Celebrate a Departed Icon
Celebrating a departed musician in your life is the theme of this Dia de los Muertos-influenced skeleton playing the fiddle, appliquéd in recycled leather on a reincarnated cashmere boatneck sweater. (Apparently he lived in the desert, since there is a nearby cactus.) A bit of black lace is an easy DIY accessory, wrapped and pinned as a choker and wound around your beehive like a bonnet.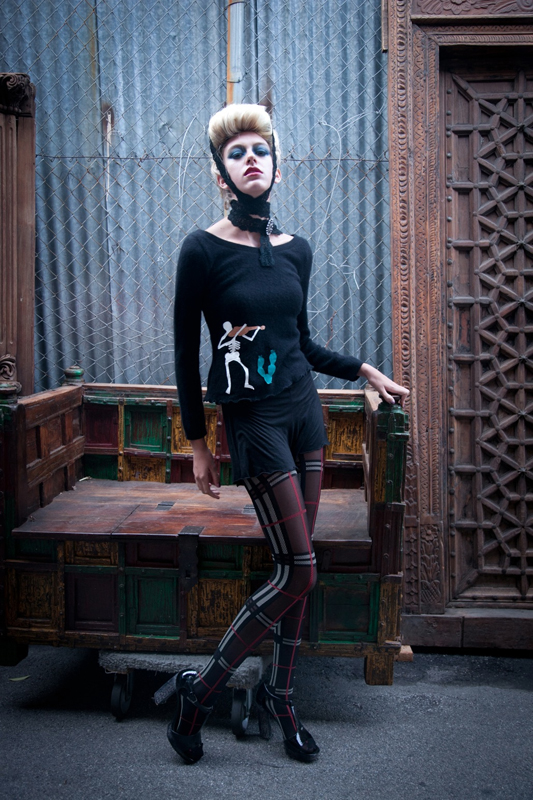 Trust in the Perfect Tee
We all love t-shirts. The crocheted back of this recycled cotton t-shirt looks like a spider web. Perfect for a party but sensible enough for daywear, the spider-web detail creates an edgy twist to an otherwise basic and favorite item.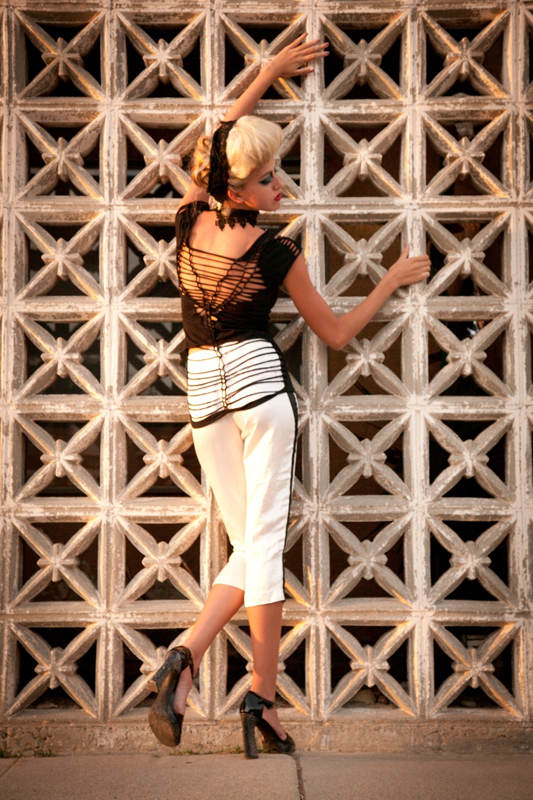 Channel Your Inner Elvira
This goth-inspired mermaid gown is theatrical and body hugging. Made of hemp/silk satin, it's a gown Elvira would love. Adding a mask of lace is a practical but dramatic way to allow yourself to see where you're going while maintaining an air of mystery.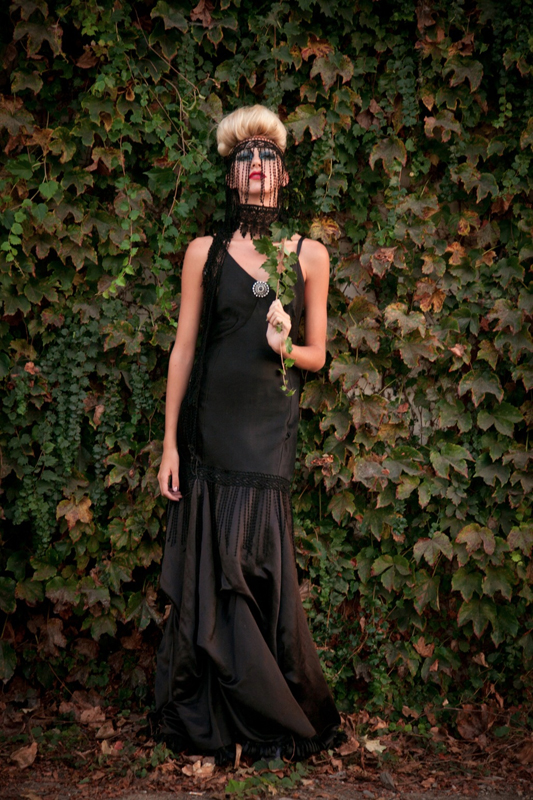 Smoky eyes, defined lips, dark nails and a creative hairdo are the perfect beauty companions to these looks. But, if you're bobbing for apples bring along a touchup kit...
Have fun channeling your dark side this season!
As one of America's most sought after environmentally conscious designers, Deborah Lindquist creates exquisite apparel out of a mix of "reincarnated" and new Earth-friendly fabrics, such as cashmere, hemp, and bamboo. Lindquist's avant-garde apparel has been showcased in numerous publications including Elle, In Style, Lucky, WWD, Vibe, People, Brides, and Maxim. You can also catch her one-of-a-kind pieces during episodes of Lifetime's "How to Look Good Naked" and Access Hollywood's "Hollywood Green." She has dressed trendsetters such as Rhianna, Pink, Christina Aguilera, Jessica Simpson, Paris Hilton, Keisha Cole, and Jessica Alba.
Check out her designs at deborahlindquist.com and read her blog on Red Room.
Photos courtesy of Chika Ozakumi.
REAL LIFE. REAL NEWS. REAL VOICES.
Help us tell more of the stories that matter from voices that too often remain unheard.