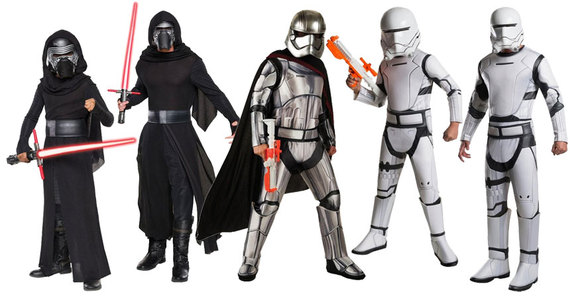 In the last month of 2015, Disney and iconic director J.J. Abrams assembled much of the original cast of the Star Wars series and released Star Wars: The Force Awakens to the delight of many. It has been a long time since this record-breaking movie series was last shown on the big screen that the news of the new movie, before and after it was shown in theaters, triggered a tidal wave of jubilation.
It's not surprising how the movie was warmly embraced by viewers worldwide. After all, Disney already has a strong reputation and J.J. Abrams did not disappoint. It ended up taking home MTV movie awards, Teen's Choice award, Kid's Choice Award, BAFTA Award for Best Special Effects, Empire Award for Best Sci-Fi/Fantasy, etc.
Star Wars fans who have been with the series since its first movie are usually known for being nerdy and hardcore. And nothing satisfies them more than being able to dress like their favorite Star Wars character. Who can blame them? The movie is packed with complex characters with interesting costumes, which is exactly why they are perfect for Halloween.
Now that October is fast approaching, it's easy to predict that Star Wars will once again top the list of most popular Halloween theme. If you want to jump on the bandwagon and celebrate a Star Wars Halloween, then you need Star Wars Costumes.
If you ascribe to the Jedi code and have agreed to use the force for good, then you are worthy to wear the Star Wars costume of Jedi. Since a Jedi is a guardian of peace and justice in the Galactic Republic, you just might earn yourself a few more candies for being the good guy.
Do you know of anyone more invincible than Han Solo? A scoundrel, he may be, but he's also a badass, which makes him one of the most favorite Star Wars characters. This Halloween, you can also summon your inner Han Solo and feel unstoppable for even a day. Buy a Han Solo Star Wars Costume and you will not be disappointed.
3. Choose to be Princess Leia
A diplomat, a spy, a warrior, Princess Leia is one of the strongest female characters in the movies. That's why Star Wars costumes of Princess Leia, whether in her usual white robe or her Slave bikini outfit, are popular among female fans.
Fun tip: If you're going out this Halloween as a couple, you can dress as Han Solo and Princess Leia.
4. March as a Stormtrooper
If being good is too mainstream for you, then why not go as a Stormtrooper? Stormtrooper Halloween costumes are immensely popular among kids and a group of friends as they are best worn as a group. In fact, when you're feeling about going all-out, you might as well have someone play as the Sith Lord himself, Darth Vader.
Halloween is a fun celebration. It is also one of those rare times you can pretend to be whoever you want to be. Whether you want to be a Stormtrooper or a Jedi, Han Solo or Leia, there's a costume right for you!
Calling all HuffPost superfans!
Sign up for membership to become a founding member and help shape HuffPost's next chapter