Americans generally think it's fine for people to wear potentially offensive Halloween costumes, including blackface, a new HuffPost/YouGov poll finds.
A 55 percent majority of Americans say people should wear whatever they want on Halloween even if others find it offensive, while just 45 percent say people should generally stay away from wearing Halloween costumes that might offend others.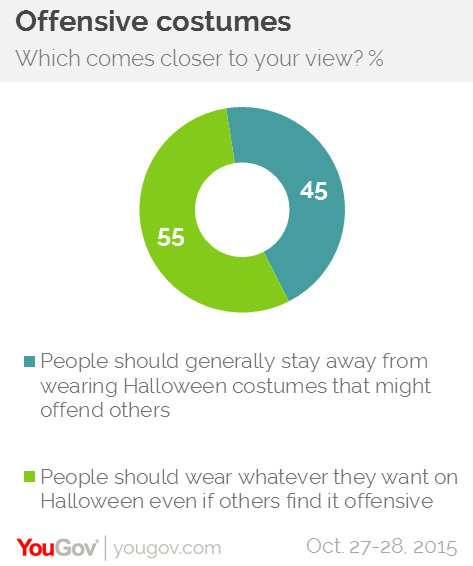 The poll also asked about the acceptability of a few specific controversial costume choices, including dressing up as a transgender person -- something recently popularized by a wave of Caitlyn Jenner costumes, which GLAAD's Nick Adams described to the Washington Post as "mean-spirited and unacceptable" -- and wearing blackface.
As The Huffington Post's Julia Craven explains, "The history of blackface is complex, but it's inescapably rooted in the notion that black folks are inherently less than white people, and that they shouldn't be allowed to portray themselves onstage. While you may think it's harmless to paint yourself black for Halloween, it's not. This is the tradition you're joining, whether or not you know it.""
By a 10-point margin of 47 percent to 37 percent, Americans say it's acceptable for a white person to wear blackface on Halloween -- a slight uptick from two years ago, when Americans approved of blackface by a six-point margin. By an even wider 42-point margin of 63 percent to 21 percent, the public says it's fine for people to dress up as a transgender person.
Respondents' opinions are split along a number of demographic and political lines.
White Americans are 25 points more likely than black Americans to say blackface is OK, and 19 points more likely to say it's fine for people to wear offensive Halloween costumes.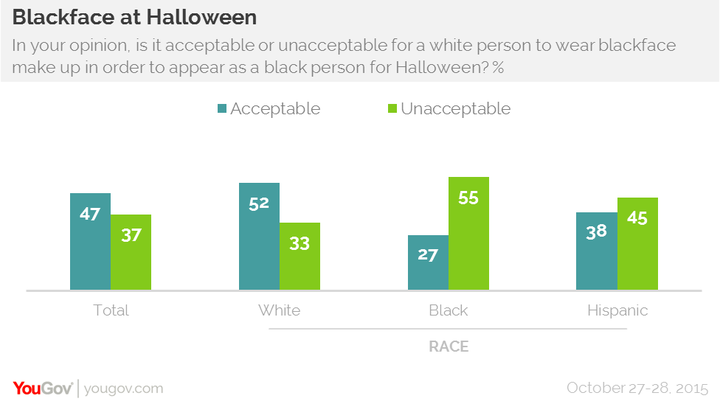 Men are 13 points more likely than women to accept potentially offensive Halloween getups in general, 10 points more likely to approve of blackface, and 5 points more likely to think it's OK to dress as a transgender person. Republicans are 28 points more likely than Democrats to say people should be free to wear offensive costumes on Halloween, 37 points more likely to say blackface is acceptable, and 24 points more likely to say dressing up as a transgender person is acceptable.
Yet most Americans agree that one costume idea goes too far: While one-third of respondents think it's acceptable for a costume to include a realistic-looking gun or other weapon, 53 percent say that's unacceptable.
The HuffPost/YouGov poll consisted of 1,000 completed interviews conducted Oct. 27-28 among U.S. adults, using a sample selected from YouGov's opt-in online panel to match the demographics and other characteristics of the adult U.S. population.
The Huffington Post has teamed up with YouGov to conduct daily opinion polls. You can learn more about this project and take part in YouGov's nationally representative opinion polling. Data from all HuffPost/YouGov polls can be found here. More details on the polls' methodology are available here.
Most surveys report a margin of error that represents some, but not all, potential survey errors. YouGov's reports include a model-based margin of error, which rests on a specific set of statistical assumptions about the selected sample, rather than the standard methodology for random probability sampling. If these assumptions are wrong, the model-based margin of error may also be inaccurate. Click here for a more detailed explanation of the model-based margin of error.
Calling all HuffPost superfans!
Sign up for membership to become a founding member and help shape HuffPost's next chapter