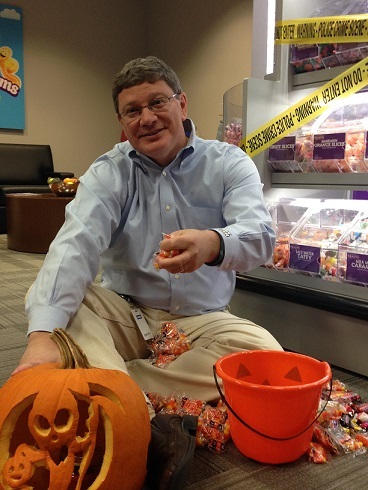 Peter Goldman, Category Director of Season Candy at the Ferrara Candy Company
Twitter: @brachscandyusa , Pinterest:: @brachscandyusa , Instagram: brachsusa , Website
The candy business is just as much a business as any other business. The difference is, Brach's has Peter Goldman as the Director. This guy is all sorts of yum -- serious on one side, fun on the other and a family man to boot!
Let's find out the inside scoop on the candy corn business.
How did you get started in the candy industry and what are your responsibilities at Ferrara?

After getting my MBA at Wake Forest University, I was hired by Brach's candy (two or three mergers ago) to work on their fruit snack business. Over time, I also had the chance to work on their everyday business as well as a bit on their seasonal business. After one of the business transitions, I left the candy industry for about five years to work for Gillette and ultimately P&G on the Oral-B brand. In 2010, I jumped at a chance to return to the confections industry to lead the Seasonal business for Wrigley and last year moved to Ferrara. I am currently the Director of Brach's and Seasonal Confections. It's fun working with the Brach's brand again 10 years after I worked on it for the first time.
Why do you think candy corn is such an iconic candy? Why has it remained so popular for more than 100 years?
Candy corn has a strong association with the fall and Halloween due to its color scheme and shape and corn's association with the fall harvest. As such candy corn looks great in a candy dish this time of year, and in addition to being an easy snack, the product is great for baking and crafting too. To your point, the product has been around a long time with few significant changes to its formula. Therefore, we have generations of candy corn fans who have passed on their own seasonal traditions involving candy corn to give us a large consumer base. The product is also gluten free which is a plus.
Walk us through a typical day of yours on the job?
It's a busy time for the seasonal candy business. In addition to tracking how the current Halloween season is selling, we are also shipping products to customers for the upcoming Christmas and Valentine's seasons. As such, a fair amount of my day is spent with our cross functional teams to ensure that we are executing with excellence and meeting our customer's needs. You may also be surprised to learn that we are already working on developing our portfolio for next Halloween; so we do manage to work in some time to try new products, discuss new concepts and marketing plans for next year.
On the every day Brach's business, we are working on closing out this year strong, getting some of our newest products ready for launch in early 2016. They include new sugar free gummy bears and sugar free fruit slices as well as two new chocolate products: a peanut butter peanut caramel mini cluster and a sea salt peanut caramel mini cluster.
Do you ever feel like Willie Wonka? When you walk through the manufacturing plant, is it how we imagine it to be from that movie?
Well I did just finish singing "Imagination" at our weekly staff meeting... I suppose there is an element of feeling like him when we are working on new product innovation and after all it is candy so it's a fun business. While our manufacturing plants don't have chocolate rivers running through them or trees growing candy on them (like the movie), it's exciting to see candy being made. Ferrara makes so many different kinds of candy that it is fun to visit the plants and see them all come to life. It's cool to go to a first production run of a candy that our team created and ultimately watch that product make its way to a store shelf. The teams at our plants do a great job; I'd take them over the Oompa Loompas any day.
What makes Brach's candy corn so special? Is it the honey ingredient?
Our proprietary formula and our long experience making the product have led to Brach's being the best selling candy corn. It's not one ingredient, per se, but rather the combination of them all which delivers our great taste and the perfect texture for candy corn.
Outside of work, what are your greatest achievements?
Perhaps its cliché, but I hope the answer is being a good father to my 12 year old daughter and a good husband to my wife of 15 years. This year we spent my daughter's spring break in Paris celebrating my wife's birthday. It was a great trip.
What is Brach's most popular candy corn flavor? What's been one of the strangest flavor of candy corn Brach's has made?
Our traditional Candy Corn and Autumn Mix, a mix of candy corn, Indian corn and Mellowcreme pumpkins are our best sellers. As far as more recently developed flavors, our S'mores flavored candy corn has been popular. Not sure which one would qualify as the strangest; we have some more unique flavors at other seasons: Strawberry shortcake at Valentine's and Carrot Cake at Easter. My favorite is our Birthday Cake flavor which we sell for a limited time during the summer.
What is a book, person or incident in your life that had an influence on you and how did it change you?
Most of the reading I do outside of work today is for pleasure; I'm currently reading David Baldacci's The Escape. That said, two business books I've read in the past, The Goal by Goldratt and Who Moved My Cheese by Spencer Johnson, have been applicable throughout my career in dealing with manufacturing challenges and change respectively. The Goal helped broaden my point of view beyond the marketing function and has helped me think about the manufacturing planning process earlier in the product development process. Who Moved My Cheese remains a good reminder on how to be open to change.
A survey by the National Confectioner's Association says people eat candy corn this way:
• 46.8% of Americans believe when eating candy corn, the whole piece should be eaten at once.
• 42.7% believe it should be eaten by starting at the narrow, lighter colored tip
• 10.6% prefer to begin at the wider, darker colored end of the candy.
How do you eat candy corn?
I tend to eat them whole, a few pieces at a time. If you like candy corn, you can't eat just one, right? Sometimes in the innovation process (see Question #10) I will eat sections separately from the tip down if we are promising multiple flavors in different sections.
What's the overview of how new flavors are developed?
Obviously we track flavor trends frequently and do additional store checks this time of year to see what flavors may be new. We include categories outside of confections like beverages, snacks and ice cream. We also talk to our flavor suppliers to get their point of view and expertise. Then, our commercial/marketing team works with our R&D group to brainstorm a list of new flavor ideas and the R&D team, led by Bertha Santiago for candy corn, creates prototypes for our lead concepts. We then quickly try to develop iterations of the stronger ideas until we arrive with a flavor that we love. We then take our best concepts and share them with some of our key customers ahead of a season to get their perspective as well. Sometimes we have a few that we feel are ready at once and sometimes fewer. This Halloween, we introduced three new candy corn flavors for Halloween: Peanut Butter Cup, Fruit Crèmes, and Sea Salt Chocolate.

Anything else you'd like to say?
Thanks for the opportunity. I hope everyone has a great Halloween!
REAL LIFE. REAL NEWS. REAL VOICES.
Help us tell more of the stories that matter from voices that too often remain unheard.