When it comes to Halloween makeup, my level of expertise caps at a simple cat face with black eyeliner. The idea of creating a costume that requires anything more than a touch of dark lipstick and liquid liner is usually a hard pass.
But, with Halloween sneaking up on us, it's getting down to the wire to order something that'll arrive in time for your weekend Halloween party. An easy but bold makeup look is the perfect solution to the clock running out.
If you can apply mascara, you can achieve these makeup looks that require just a few basic tools from your makeup bag to create a 'gram-worthy Halloween costume.
1. Mermaid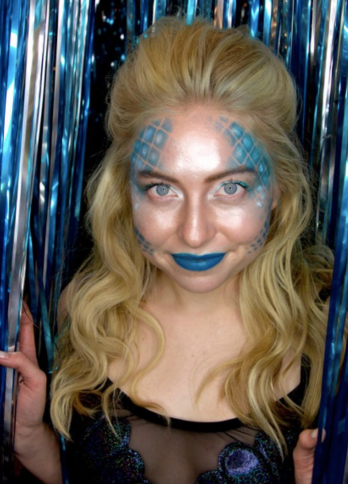 What you'll need:
fishnet stockings
deep blue eyeshadow,
pale aqua eyeshadow
Get the look:
Apply white frost shadow on your cheeks, chin, and forehead as your base.
Place stocking overhead and stipple deep blue eyeshadow creating scales.
Line eyes and lips with a deep blue or aqua color.
Apply glitter to focal points on face.
For an extra touch, wave hair using a curling iron.
Watch how it's done:
2. Unicorn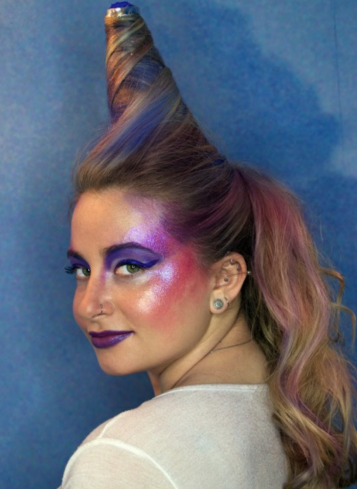 What you'll need:
Get the look:
Apple eyeshadows in large 'C' shape around eyes.
Create dramatic liner with purple liner.
Apply loose glitter on cheekbones, inner corners of eyes, and eyelids.
Secure cone at top of head with pins and wrap teased sections around, creating horn.
Add colored hairspray to your curved mane.
Watch how it's done:
3. Doe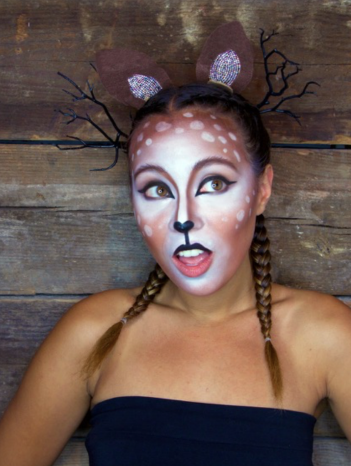 What you'll need:
Get the look:
Apply white face paint all around eyes, center of forehead, down the nose and around the mouth.
Using the dark concealer, outline forehead cheekbones, both sides of your nose and around your chin.
Blend both the white paint and dark concealer together.
Line eyes with black eyeliner, extending to the inner corner.
Line upper lip with black eyeliner, and draw a line extending to the nose. Make a black heart-shape on nose.
Finish off with white face paint to add spots.
Watch how it's done:
HuffPost may receive a share from purchases made via links on this page.