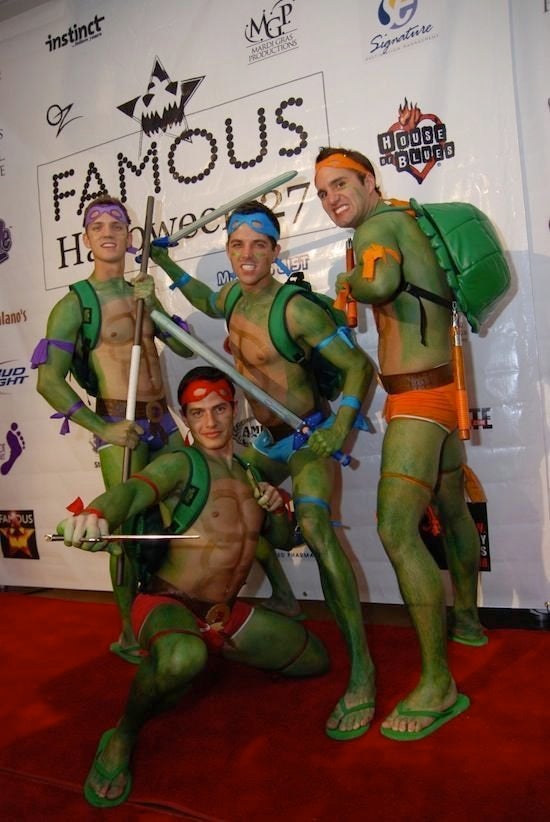 You know the (mostly true) stereotype: Gay Christmas takes form in Halloween. We're all a little drag-curious, and we've outdone 19-year-old sorority girls in taking Halloween's dress-up aspect to an obsessive and borderline-inappropriate level.
To mark the hallowed holiday, many cities throw outrageous bashes, host tongue-in-cheek events, or go all-out risqué. No matter where you live, there's sure to be a perfect festivity nearby or just a short plane ride away. Let's focus on five of the big guys here.
Fantasy Fest, Key West, Fla., Oct. 19-28
Fantasy Fest transcends all Halloween events, parties, and any other good time a person could experience. It's almost indescribable, but here's a shot at a description: With an overarching theme of "a-conch-alypse" (conch + apocalypse = living in the moment, with shells?), Fantasy Fest assigns a different theme to each of its 10 days. Come prepared -- that is, with costumes and without inhibitions. These aren't your I-slapped-something-together-last-night-and-added-a-boa costumes. Think of them as expressions of your hopes and dreams, conveyed in wigs, body glitter, inspired outfits, and lots of skin. The festival includes both official and unofficial parties. Plan to hit a mix of both. Because each event comes with its own diva-like personality, it's easy to choose which are right for you. Official parties include the Masquerade March, during which crowds parade through Old Town with music and noisemakers, and Exposed at the Bourbon Street Pub, complete with a pool, hot tub, and foam party outside and a DJ party with male and female exotic dancers inside. Among the unofficial parties, the Bouffant Ball at Oasis and a men-only toga party at Equator Resort, which crowns the most original toga, the most revealing toga, and the biggest member (yes, you read that right), deserve consideration. The overall rule of thumb: It's a fantasy, so treat it that way. (For more information on Key West, click here.)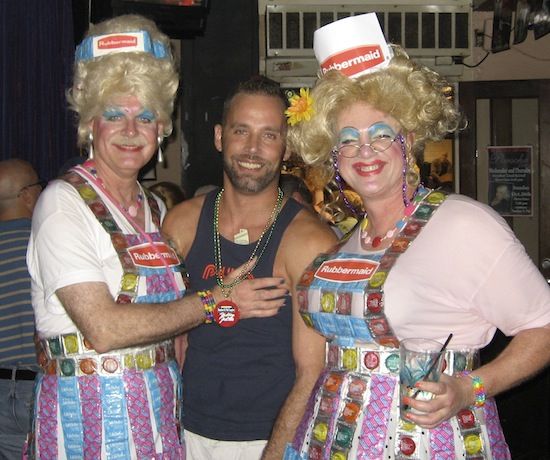 Fantasy Fest (photo courtesy of Mark Pence)
Monster Brawl, New Orleans, La., Oct. 25-28
Monster Brawl marks its 29th year in 2012 -- and not the same way some people turn 29 year after year. Event producers are proud of the established celebration, which marries two LGBT priorities: charity and good times. (One hundred percent of the proceeds go to benefit Project Lazarus and the Trevor Project.) New Orleans challenges even the most accomplished partiers all year long, and Halloween serves to amp up the craziness in the intensely fun city. Over a four-day weekend Monster Brawl moves around the city in the form of four distinct parties. It's not a circuit party; it's an all-over celebration, and gays and straights happily mix the whole time. The boxing-themed main event takes place Saturday at the Contemporary Arts Center (CAC) Sheds. Costumes or gym clothes are a must at the Monster Brawl, where you'll pass the time with lots of dancing (music by DJ Mike Cruz), an open bar, a costume parade and show, and a "celebrity" fight. Recovery is the name of the game on Sunday, so sleep in and catch the Halloween Brunch on the Steamboat Natchez, which departs at 2:30 p.m. Great food helps ease hangovers from the previous night (actually, that morning), while the music starts a new (but much mellower) party. Plus, you'll love the views of this great city from the water. (For more information on New Orleans, click here.)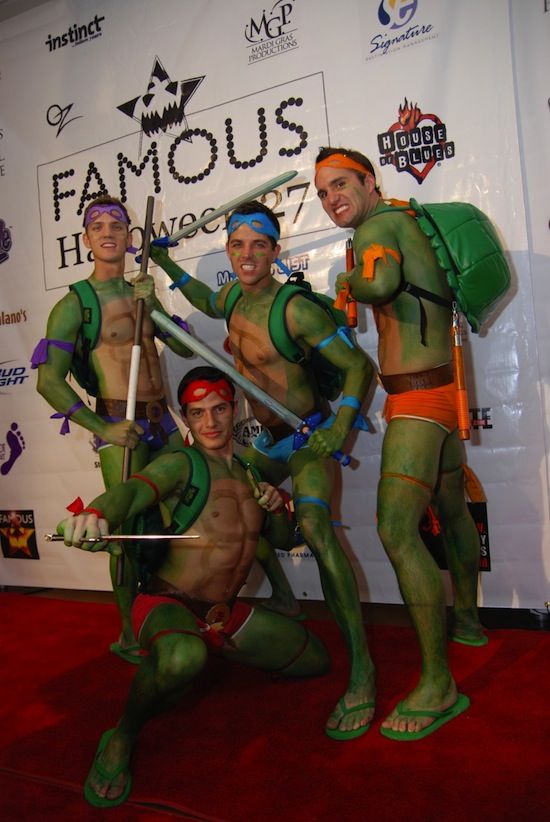 Halloween New Orleans (photo courtesy of Dustin Woehrmann)
High Heel Race, Washington, D.C., Oct. 30
Embrace the spirit of the election season and head to our nation's capital for an all-American High Heel Race. (I wonder if the candidates will be there to drum up some last-minute support.) Every year drag queens and thousands of their fans flock to Dupont Circle the Tuesday before Halloween. Preceding the big-heeled race, a block party attracts a huge and diverse crowd that starts gathering at 6 p.m. The entertainment here revolves around watching the decked-out competitors prepare for the main event by marching up and down the Circle. Once 9 p.m. hits, the runners take their marks and race down 17th Street. In costumes. And stilettos. Just as our forefathers intended. As you can imagine, the running and the heels don't really mix, so expect a scene as the queens tumble with the flare you'd expect. Feel free to show your own colors with a Halloween-appropriate outfit, but don't be offended if someone mistakes you for one of the night's stars. (For more information on Washington, D.C., click here.)
West Hollywood Halloween Costume Carnaval, West Hollywood, Calif., Oct. 31
Half a million festival-ready revelers make the West Hollywood Halloween Costume Carnaval the biggest Halloween street party in the world. On Halloween night, Santa Monica Boulevard transforms into a massive outdoor celebration, which includes a Halloween Costume Contest and crowning of an Honorary "Queen of the Carnaval." Want to be considered for the latter? The crazier the getup, the better. Expect to see Gaga, Obama, Hillary, the Supremes, cowboys, mermaids, pirates, and even some weird stuff. But the people aren't the only ones sporting eccentric looks. The entire event looks like one big costume, thanks to decorations all over Santa Monica Boulevard. A colorful parade, delicious food, and six stages of entertainment keep the party going from 6 to 11 p.m., and with all the gay bars that line the boulevard, late-night after-parties are a given. (For more information on West Hollywood, click here.)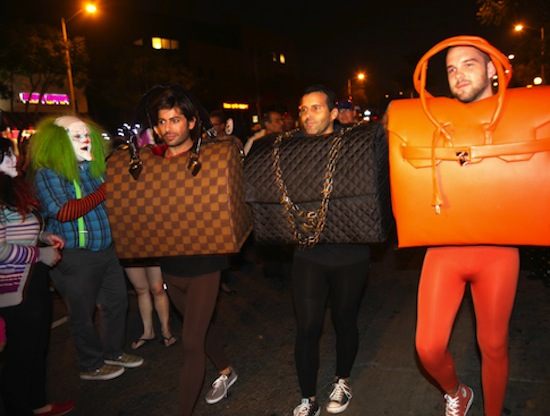 West Hollywood Halloween Costume Carnaval (purses costumes by Joshua Barash)
Halloween on Halsted Parade, Chicago, Ill., Oct. 31
Appropriately, the 16th annual Halloween on Halsted Parade sports the theme "Apocalypse 2012." Get in on the end-of-the-world fun by dressing in your doomsday best: Mayan, zombie, alien, gay Chick-fil-a customer. If you're more of a doer than a watcher, join the parade by showing up early at Circuit Nightclub to sign up. You'll march down Halsted Street, from Waveland to Belmont, to the sounds of a cheering crowd. It's your moment to shine! (Or ooze, depending on your costume.) If you'd rather witness the spectacle from a more outside-looking-in perspective, be there in time for the 7-p.m. start. You'll catch an eyeful, and you won't sacrifice any of the excitement. After the parade, everyone gathers around the Main Stage, located at the CTA turnaround on Halsted at Belmont, for the stage show and to find out which costumes out-doomed all the others. Of course, if the apocalypse has you feeling down, you can don happier/riskier attire. (For more information on Chicago, click here.)
REAL LIFE. REAL NEWS. REAL VOICES.
Help us tell more of the stories that matter from voices that too often remain unheard.