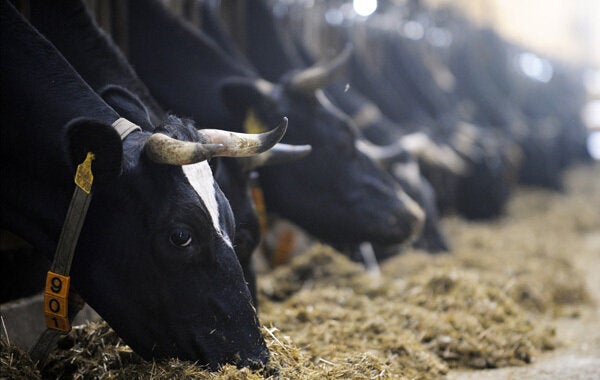 It sounds like a bad Halloween prank, but unfortunately, feeding cattle chicken litter--the material that accumulates on the floor of chicken growing facilities--is everyday practice in feedlots. Surprisingly, this unhealthy and inhumane practice is legal and poorly monitored, creating unacceptable risks to human and animal health.
Consumers Union and Food Animal Concerns Trust (FACT), a Chicago-based animal welfare organization, have filed pre-Halloween grassroots petitions signed by more than 37,000 individuals with the Food and Drug Administration (FDA) asking the agency to end the practice of feeding chicken poop to cows. FACT, with the endorsement of Consumers Union and 11 other national organizations, filed a formal citizen petition in August 2009 asking FDA to ban this practice. The petition is part of FACT's Filthy Feed Campaign.
"It seems ghoulish, but it is a perfectly legal and common practice for chicken litter to be fed to cattle," said Michael Hansen, PhD, a senior scientist with Consumers Union.
Chicken litter consists primarily of manure, feathers, spilled feed and bedding material that accumulate on the floors of the buildings that house chickens and turkeys. It can contain disease-causing bacteria, antibiotics, toxic heavy metals, restricted feed ingredients including meat and bone meal from dead cattle, and even foreign objects such as dead rodents, rocks, nails and glass.
Few of these hazards are eliminated by any processing that might occur before use as feed. The resulting health threats include the spread of mad cow disease and related human neurological diseases, the development of antibiotic resistant bacteria, and the potential for exposure to toxic metals, drug residues, and disease-causing bacteria.
"The FDA must step in and ban poultry litter as cattle feed once and for all," said Richard Wood, FACT's Executive Director. "Cows deserve better than toxic leftovers."
Tell the FDA that poultry poop doesn't belong in your food.

Related
Popular in the Community