As a child, Halloween was a magical holiday for me: I got to dress up as anything I wanted to be, run around with my friends while enduring the craziest sugar high known to humankind, and solicit excessive amounts of free candy in the dark. Could it be any better?
I didn't think anything could top that. That was, however, until I came upon that Halloween "no-zone" age; you know, that age where you're too old to trick-or-treat but too young to attend those wild and crazy adult parties? Yeah, that super awkward age of early- to mid-teen.
Since I already knew what fun it was to be a candy-seeking adolescent, I could only imagine that adults who were over 21 years old had even more fun. I had no idea what they were doing, but if those overtly sexy costumes and frightening party decorations were any sign of the fun that could be had, my hormonally-imbalanced, pubescent body was interested.
It was only when I became that 21-year-old in the sexy Halloween costume at the popular party myself that I realized the reality behind the facade. As it turns out, my perception of "super fun, single 21+ adult halloween" and my reality were not the same ― not at all ― and the fantasy came and went.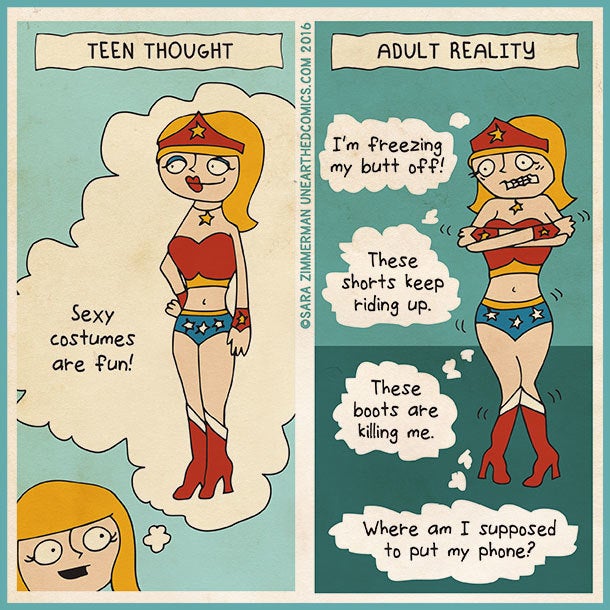 Now, as a parent, I look back at those years in my 20s that I had previously dreamed of, only to realize that my Halloween fun as a kid can only be topped NOT as a raging, single 20-year-old but as a parent who gets to be part of watching my kid giggle and laugh as she enjoys the mysteries and fun of Halloween through innocent eyes. (Well, that, and being able to just buy whatever candy I feel like binging on vs. begging for sticky masses from strangers).
For me, the reality of being the parent of a super-stoked child on Halloween is far superior to any negative parental preconception I had earlier in life. Being a parent on Halloween is awesome.