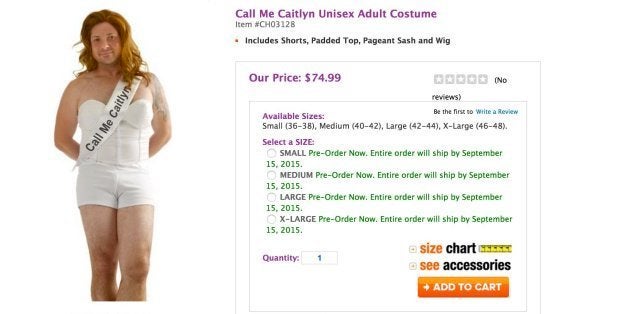 Despite Caitlyn Jenner being "in on the joke," HalloweenCostumes.com actively decided not to carry the Call Me Caitlyn costume: "We like our focus of Halloween and dressing up in costumes to be fun, but not offensive."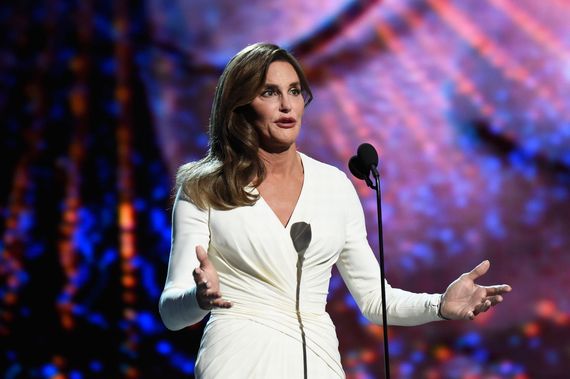 Caitlyn Jenner gives speech on strength, love, and acceptance at the 2015 ESPYS. Photo via Mirror
Caitlyn's projects have included I Am Cait, a documentary show intertwining prominent trans activists, transfeminist theory, and pressing issues facing the community with Caitlyn's personal struggles, sense of identity, and relationships. Last week Buzzfeed reported that the show has been renewed for a second season.
Her latest work has been on Beautiful As I Want To Be, a trans youth empowerment series on Logo hosted by trans advocate and model Geena Rocero. In the premiere episode Caitlyn mentors trans student and artist Zeam Porter, telling him "everybody's different, and that's a good thing!"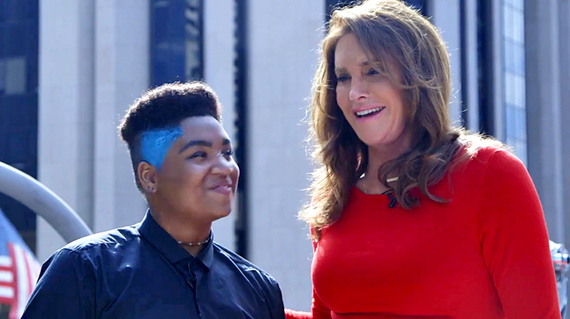 Zeam Porter and Caitlyn Jenner from the premiere episode of Beautiful As I Want To Be. Photo via Entertainment Weekly
In an interview with the Washington Post, GLAAD's Director of Programs for Transgender Media Nick Adams stated "If a man wears the costume with the intention of mocking Caitlyn Jenner, and by extension all transgender women, that is just mean-spirited and unacceptable." Adams went on to say "Transgender women are women, and when Caitlyn Jenner or any other trans woman steps out into the world as her authentic self, she isn't wearing a costume."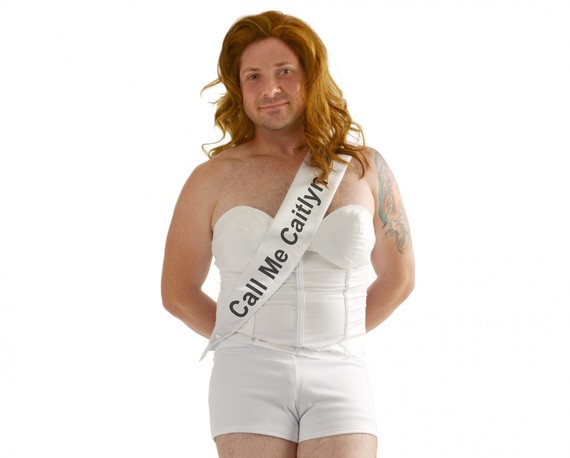 Call Me Caitlyn costume featured on Anytime Costume's website. Photo via Washington Post
But that hasn't stopped one costume retailer from taking a bold stance. HalloweenCostumes.com, a world leading online costume retailer working under the Fun.com umbrella, made a Facebook post Tuesday evening encouraging people to be more considerate of the costumes they wear: "2015 has been a banner year for celebrating Pride. Let's infuse our Halloween festivities with that same positivity and respect this year!" The post ended with #TransIsNotACostume and an image focusing on the difference between intent and impact.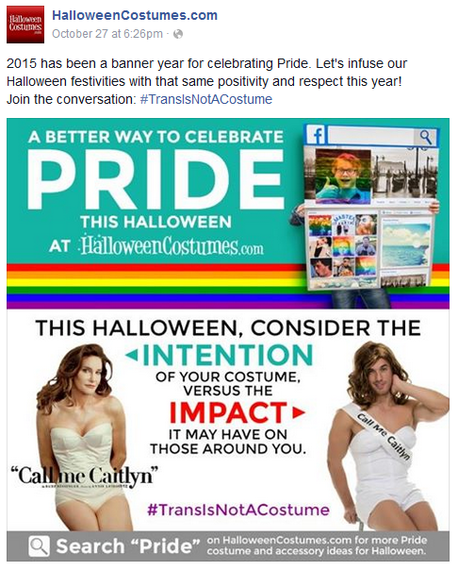 HalloweenCostumes.com's post in support of #TransIsNotACostume. Photo via Facebook
"I was actually shocked when Caitlyn Jenner supported the costume," Fun.com Vice President of Marketing Troy Eaves wrote to me in an email. "I think her role in the social acceptance [of trans identities] is immense and I really couldn't believe she was okay with mocking it." When asked about what the company's hoped outcome would be following the post, Eaves stated "I'm not sure of the impact this particular campaign will have, but I am proud that we actively decided not to sell the costume."
HalloweenCostumes.com has taken the initiative to be more trans-friendly this year, but the retailer still sells racially and culturally offensive costume, including costumes for people and pets that appropriate Indigenous American, Mexican, Japanese, Indian, Egyptian, and Romani identities. "I'm aware we do carry culturally appropriative costumes that some might view as hypocritical. Rightfully so. However, we are a company with a very large audience and demographic."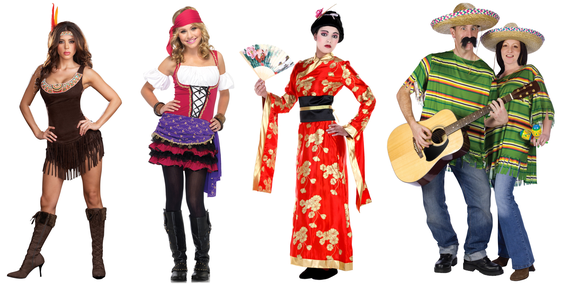 Costumes available online at HalloweenCostumes.com
For Eaves, not selling the Caitlyn Jenner costume is the first step in making the company more inclusive and sensitive: "We're working towards eliminating offensive costumes across the board, but it's not something we can do overnight. We don't actively promote 'sexy' or any other category that may alienate certain crowds. I will say that our couple costume selector tool is LGBT friendly. We made a DIY Pride filter costume this year that was very fun and garnered a lot of support."
Despite only one Halloween costume retailer openly condemning the Call Me Caitlyn costume and the fact that you're bound to run into someone wearing it for laughs this weekend, it is important to remember that mocking a person and their entire community is no laughing matter, and that #TransIsNotACostume.
REAL LIFE. REAL NEWS. REAL VOICES.
Help us tell more of the stories that matter from voices that too often remain unheard.