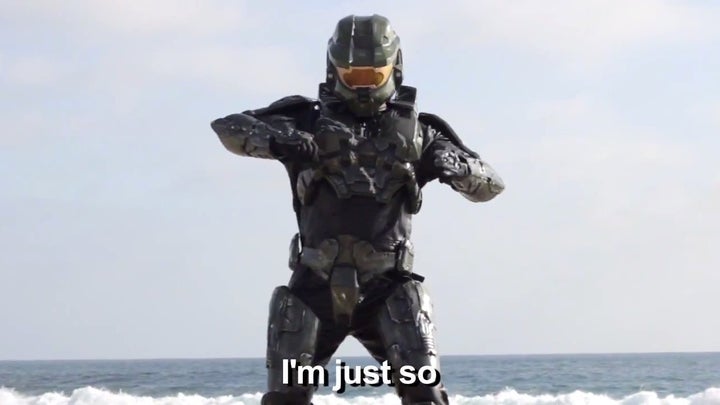 Last week, 343 Industries launched the web series Halo 4: Forward Unto Dawn to lead up to the release of the anticipated video game, Halo 4. The popular video game franchise is entering into a new era with this latest release as this will be the first new Halo video game since developer Bungie handed the reigns over to 343 Industries and Microsoft. Under the watchful eye of Franchise Development Director, Frank O'Connor, 343 Industries is looking to launch the Halo franchise and its hero, Master Chief, on a new adventure.
Leading up to the release of Halo 4 on November 6, 2012, a new episode of the live-action Halo series, Halo 4: Forward Unto Dawn, will be released each week. This series will tell the story of Cadet Thomas Lasky as he goes through military training and is thrown into battle, eventually leading to the meeting of him and Master Chief. The events in this series take place decades before the events of the first Halo game and will tie directly into the story of the upcoming video game.
With high production value, solid acting and great direction from director Stewart Hendler, Halo 4: Forward Unto Dawn is setting the stage to be a fantastic web series. Episode 1 was released on October 5, 2012, followed by Episode 2 on October 12, 2012, and so far is impressing fans everywhere. While a bit light on the action side - aside from some training exercises - the series so far has featured fantastic sets, great sound, a compelling story and characters with depth and purpose.
Halo 4: Forward Unto Dawn won't just please the hardcore video game fans out there, anyone who appreciates good sci-fi will enjoy it as well. "We knew there were a lot of people curious about the Halo universe, and were going to be curious about it," Frank O'Connor told Big Shiny Robot!, "and we wanted to give them a piece of fiction and a piece of story that could tell them a little bit about the Halo universe without being intimating and without being too gamey." Up to now, the only live-action Halo pieces that have been produced are commercials promoting previous games, aimed at the gamer community. Now, 343 Industries is looking to bring more attention to the franchise by producing this web series to introduce this universe to an audience that may necessarily be interested in the gaming aspect.
This web series is no standard fair, and it appears Microsoft and 343 Industries wanted to give their audience a feature film experience. With a budget of almost $10 million and a cast that includes Daniel Cudmore (X-Men: The Last Stand, The Twilight Saga) and Anna Popplewell (The Chronicles of Narnia series) audiences are treated to a 15-20 minute installment each week with the quality of big movie studio fare. "The production value on this was like any film or TV show I've worked on. It was very high, everyone was unbelievable, and from what I've seen -image-quality wise- it's going to be really cool, it's going to be feature-quality." Daniel Cudmore, who is the man under the armor portraying Master Chief,
told Big Shiny Robot! prior to the release of the first episode. Cudmore also prepared for his role just as he would for any other feature project he's worked on, even going as far as going through firearm training to he brought authenticity to the role.
With two episodes released thus far, Halo 4: Forward Unto Dawn seems to be proving that not all live- action features based on video games are created equal. With high production value, talented actors and a story that - while still in its infancy - grabs a hold of you right from the start, this web series isn't just looking to please fans of an established video game franchise, but to set a new standard as a sci-fi web series. Any fan of good sci-fi should do themselves a big favor and watch this series over the next several weeks as the story unfolds.
A new episode of Halo 4: Forward Unto Dawn can be seen each Friday through November 2 at Machinima.com, and the whole series will be collected into an extended 90-minute version available on DVD and Blu-ray this December.
Bryan Young is the editor of Big Shiny Robot! and this report was a collaboration with fellow robots Tyson Huber and Chris Robison.
REAL LIFE. REAL NEWS. REAL VOICES.
Help us tell more of the stories that matter from voices that too often remain unheard.