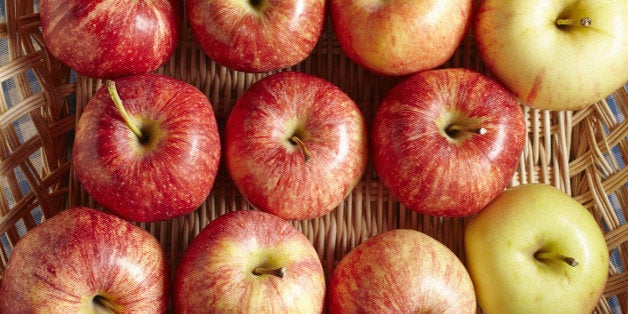 April 24 (Reuters) - U.S.-grown apples are widely coated with a pesticide that has been newly banned in the European Union amid health concerns, and the United States is at least a year behind in a required scientific assessment of the pesticide, an environmental group said on Thursday.
The Environmental Working Group, a nonprofit health and environmental advocacy group, sent a letter to the Environmental Protection Agency asking for the agency to halt the use of diphenylamine, also called DPA, until a new analysis shows DPA levels on food are safe, the group said.
DPA, which is sprayed on apples after they are harvested to help prevent browning, was first registered as a pesticide in the United States in 1947, according to the EPA.
But recent concerns about the pesticide's potential links to cancer led the European Union to ban fruits containing more than 0.1 part per million of DPA. That regulation took effect in March.
The EWG said consumers in the United States have reason to be concerned about their own consumption of DPA. The United States allows 10 parts per million of DPA residues in food. A 2010 USDA analysis of raw apples found DPA on 80 percent of the apples tested, EWG said.
"Apples, apple juice and applesauce are staples in the diets of millions of children, so if there are potential risks to kids from DPA, we need to know now," EWG senior scientist Sonya Lunder said in a statement.
U.S. Apple Association spokeswoman Wendy Brannen said DPA is safely used in U.S. apple production, and the residue levels on apples are well below tolerance levels set by the government.
"There is no cause for concern and certainly not a safety issue pertaining to DPA use here in the United States," said Brannen.
The EPA is required under the federal Food Quality Protection Act to conduct a scientific assessment of pesticides every 15 years. But the Environmental Protection Agency has not looked at DPA since the late 1990s.
In its last report, the EPA said DPA was "not likely" to be carcinogenic, but said diphenylnitrosamine - an impurity of technical grade diphenylamine - was classified as a probable human carcinogen based on increased incidence of bladder tumors in rats. The agency also expressed concern about the "structural relationship to carcinogenic nitrosamines."
The EPA said in a statement that its evaluation in 1997 found "reasonable certainty of no harm" and added that if new evidence challenges the safety of DPA, it will take action. (Reporting by Carey Gillam in Kansas City; Editing by Dan Grebler)
Calling all HuffPost superfans!
Sign up for membership to become a founding member and help shape HuffPost's next chapter
BEFORE YOU GO
PHOTO GALLERY
Top 10 Toxic Industries