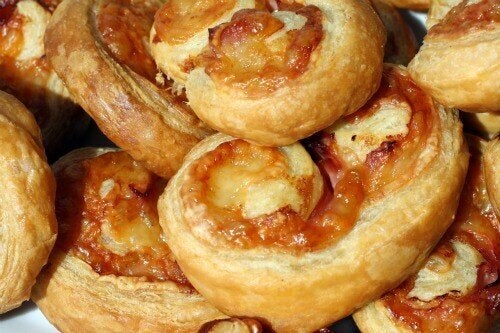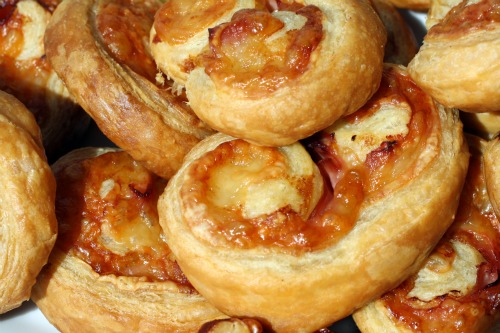 I am Kerry. I am twenty-eight. I am an only child. And I think palmiers may be the height of manipulation.
I don't know if it's just a stereotype, but this only child was physically unable to share until I was twenty years old, when my best friends staged a sharing intervention on me. But there was always one naughty, calculated, devious exception to the rule. One thing I would share: palmiers.
Palmiers, or elephant ears as we know them, are my mother's favorite pastry. I am convinced that the reason we call them elephant ears is because the original palmiers were always so big. Bigger than my face big. So when my mom would take me to the pastry shop and ask me what I wanted, I would smile angelically up at her and ask, saccharine notes dripping from my lips, "Would you share a palmier with me?" She would start back in gleeful surprise, eyes opened wide at the shock of it all, her selfish little girl offering to share her favorite pastry. But let's be honest: I wanted the sugary, buttery, crispy thing anyway, and it was probably the only thing in the shop that I couldn't finish by my little self. Eating good, and looking good, all in one sweet move.
I found from then on that palmiers are the secret to social success. I would share them with my mom, with my friends, with anyone who would have me. No one ever complained. And I suddenly looked sweet as the palmier itself.
It's not easy to make the giant palmiers at home, but it is easy to make an equally sharable batch of smaller ones. One of my favorite things to do is turn the tables and make savory palmiers, stuffed with tapenade or pesto or, in this case, the flavors of a croque monsieur: ham and cheese. Just roll ham and Gruyère in puff pastry, and bake until crisp. They are salty and buttery and smoky from ham and crispy cheese. I serve them with Dijon mustard, and a stack of cornichons, for the perfect party starter. See, they're still the secret to social success, only at this size, you can have one all to yourself.
1 sheet frozen puff pastry, thawed but cold, rolled out to 9½ by 9½ inches
3 thin deli slices of Black Forest ham
7 thin deli slices of Gruyère or aged Swiss cheese
2 tablespoons Dijon mustard
Cornichons (optional)
Preheat the oven to 400°F.
Lay the cheese and then the ham in a single layer over the entire surface of the rolled-out pastry. Starting at opposite ends of the pastry, roll both ends tightly so they meet in the center. Trim off the ends of the log, then cut the log into ½-inch slices. Lay the slices, the palmiers, flat in a single layer on a Silpat-lined baking sheet, leaving space between the palmiers for them to puff as they bake. Bake until puffed and golden-brown, about 25 minutes. Serve warm with Dijon mustard and cornichons on the side.

Popular in the Community