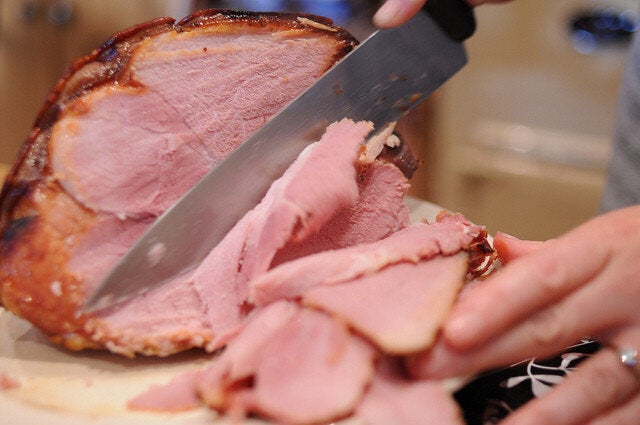 is a raw uncured uncooked ham, usually with the skin still on. The meat is the typical pale pink to beige color of raw pork. It can be roasted, skin on or off, and it is especially good with the skin removed and smoke roasted. Use the skin for
.
Remove the skin if it is still on the leg and save it for
. If you wish, you can brine the meat by using the same brine in my
recipe for up to 24 hours. Before cooking, apply a good pork rub like
. Roast over
with wood for smoke at 325°F and bring it up to 140°F in the deepest part (don't touch the bone with your thermometer). Then put on two coats of
or
. Put on each coat about 15 minutes apart. Make sure it doesn't burn. If it does, wrap it in foil. Bring it up to 145 to 150°F. That will bring it in tender and moist. You can take it up to 160°F as USDA recommends if you wish, but I think that's overcooked. Start early and if it finishes early, hold it in a
.
This ham is already smoked but it still must be cooked to kill microbes. There is no need to brine or smoke. Just roast at 325°F until it reaches 160°F internal. If it is not pre-glazed, paint with
or
during the last 15 minutes.
These hams have been brined, pre-cooked, often smoked, and can be eaten right out of the bag, but they are best when heated. Since they do not need to be cooked to be safe, you should not heat them too high or you can dry them out. 140°F is enough. If you wish, you can add more glaze during the last 15 minutes of cooking. I recommend
or
. Below are the standard cooking instructions for wet-cured hams, but I have a better way.
.
American Country Hams like true Smithfield Hams are extremely salty. Some are made in the European style and can be served in their natural state like European Uncooked Hams (below), but most need to be soaked and cooked. Begin by soaking in an ice water bath for 4 to 12 hours to draw out some of the salt, and if you can, change the water several times. Then simmer for 25 minutes per pound or until it hits 160°F internal. Then glaze with
or
. Then brown at 325°F for 15 minutes just to cook the glaze and caramelize the sugars.
European hams like Prosciutto, Iberico, and Serrano are rich in flavor, salty, and versatile. They are usually served uncooked, or crudo as they call it in Italy. They are sliced thin, often paper thin, and eaten unadorned. Sometimes they are used in a sandwich especially with cheese (a ham and cheese sandwich with Italian dressing), or chopped uncooked in a salad like bacon, or wrapped around melon or dates. Some chefs will wrap them around a filet of fish or chicken breast and pan sear them, or stuff a chicken breast, or used as an accent on grilled asparagus. Prosciutto often shows up on pastas in Italy too. Let your imagination run.
.
is a dry-cured French ham.
Popular in the Community