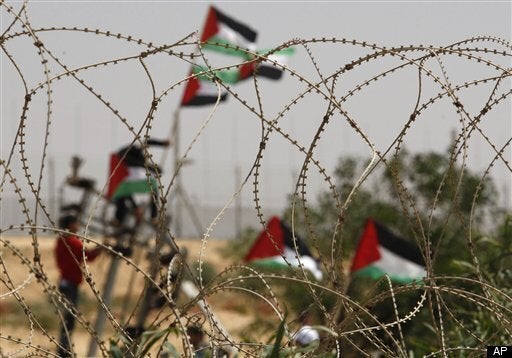 GAZA CITY, Gaza -- On a hot day in early April, men and school-age boys dig for stones and pieces of brick in the crumbling ruins of the Erez Industrial Zone. This former settlement housed Israeli and Palestinian textile, clothing and furniture factories that employed 4,000 Gazans before Israel's 2005 unilateral disengagement. The raw materials now scavenged from the Erez rubble are largely forbidden under the Israeli blockade, yet desperately needed for construction projects across Gaza.
Three months ago, when the scavenging industry at Erez was attracting more than 1,000 workers and at least 50 teams of traders, the Hamas government declared it public property and imposed a fee of 30 shekels ($8) per ton of rocks collected. Last month, after traders resisted the fee, police bulldozers sealed off the roads and donkey paths and impounded the trucks of traders caught without receipts.
"The government is living off the blood of the people," said one trader, whose anger was shared by many. "This area had a good income for a huge number of [people] who did not have jobs. Now we have almost no profits." This trader had been earning 1,000 shekels a day and now earns about 100 shekels a day. He is the sole breadwinner for a big extended family and had been unemployed before buying and selling materials from Erez six months ago.
Many traders have slashed the rates they pay to scavengers, citing the new Hamas fees. Nasha'at Hamad, 17, and his 14-year-old brother together used to earn about 300 shekels per day collecting about one ton of rocks. In poverty-stricken Gaza, this is a sizable income for unskilled laborers. Most taxi drivers earn 80 to 100 shekels for 12 hours of work. After Hamas imposed the fees at Erez, the brothers together brought home only 50 to 70 shekels a day. Both left school two years ago to scavenge at Erez because their family had no other source of income. "The situation is a disaster," said Nasha'at Hamad. "It's very hard work. You have to wake up at 5 a.m. Sometimes we go home sick."
At Erez and across Gaza, Hamas has introduced new fees that directly impact ordinary civilians, including a 25 percent tax on suppliers of cheap petrol smuggled from Egypt, a 20-shekel application fee for the thousands of Gazans seeking teaching jobs and a 900-shekel vocational license for small businesses.
Analysts suspect that Hamas is struggling to finance its bloated bureaucracy, which has grown from about 20,000 employees in 2008 to 30,000 employees, about half of whom are connected to the military or police. Over the past few months, Hamas -- which once prided itself on always paying salaries on time, in contrast to its Fatah rivals -- has paid the salaries of its teachers and doctors more than two weeks late.
In another apparent sign of financial trouble, Hamas policemen raided a local bank on March 29 and forcibly seized $270,000 from the account of a Hamas-affiliated charity. The account had been frozen by the Fatah-ruled Palestinian Authority.
Economist analyst Omar Sha'aban said, "There is a financial crisis. There is a shortage of resources. It's very clear. Like any country in financial crisis, Hamas is going to the people. But they're not thinking about how to reduce their expenditure."
Sha'aban emphasized two key issues regarding the fees collected at Erez and elsewhere: how the money gets spent and whether the people make enough money to afford the fees. He also challenged the notion that Erez was legitimate government property. "[The ruins of the Erez factories] are nobody's property now," he said. "They should be used [by Hamas] in a moral way -- a government project to build schools and homes, for example -- not to pay for soldiers' salaries."
Ibrahim Al-Jaber, deputy minister at Hamas's Ministry of National Economics, said that 30 shekels per ton was a "reasonable, minimum fee" and consistent with Hamas's policy of charging fees for extracting metals and stones from any destroyed building in Gaza. "The demand is very high for these resources, and the traders are selling these materials and getting good profits," he said. Al-Jaber declined to estimate the amount of money that Hamas has collected in fees at Erez, but said it was a "limited amount that doesn't deserve to be mentioned."
However, rough estimates of Hamas's financial gain can be surmised from the reports of the traders themselves. For example, one novice team of three traders paid about $7,600 in Hamas fees over a 15-day period. If 50 other teams paid similar amounts, this would mean that Hamas collected $760,000 in one month's time at Erez. Sha'aban estimates that the Hamas government requires about 20 million shekels ($5.4 million) a month to pay employees' salaries, which represents 70 to 80 percent of the government's total monthly budget.
In addition to enduring the burden of backbreaking labor at a much lower salary than before, the rubble scavengers at Erez worry derelict structures will collapse on top of them or that Israeli troops guarding the border will shoot at them. Workers report that Israeli snipers have fired warning shots in their direction. Others report that Israeli soldiers have killed their donkeys and horses. On March 20, Israeli troops raided the buffer zone near the border and arrested 17 rubble workers, some of whom remain in Israeli prisons.
Workers at Erez are now concerned about a seemingly positive development: pervasive but unconfirmed rumors that Israel might soon allow construction materials to enter Gaza. If true, these materials would provide great relief to the besieged coastal enclave, but would also eliminate these workers' only source of income. Workers report that some traders have stopped buying from them because they expect cheaper and better quality stones to come from Israel. Some suspect that this is a "trader trick" aimed at forcing workers to sell their materials at cheaper rate.
The number of people scavenging at Erez has sharply declined from about 1,000 in mid-March to only about 200 workers during the first week of April. While more than 50 traders bought from Erez most afternoons, now only a dozen or so come every day. Sha'aban attributes this sharp drop in business to three primary factors: security concerns, the rumored opening of the border for construction materials and the depletion of available raw materials at Erez. He added, "Of course the [new Hamas fees] are another reason because maybe people find that it's not profitable enough to be worth the risk."
One trader Abu Bassam Shaheen, who owns a metal-working shop and has collected materials from many destroyed buildings in Gaza, said "it's a government right" to collect fees at Erez. He added, "This is a very hard situation that an animal would not accept. Sometimes kids bring stones from Erez and I don't need them, but I buy them because I feel so badly about their situation."
Calling all HuffPost superfans!
Sign up for membership to become a founding member and help shape HuffPost's next chapter