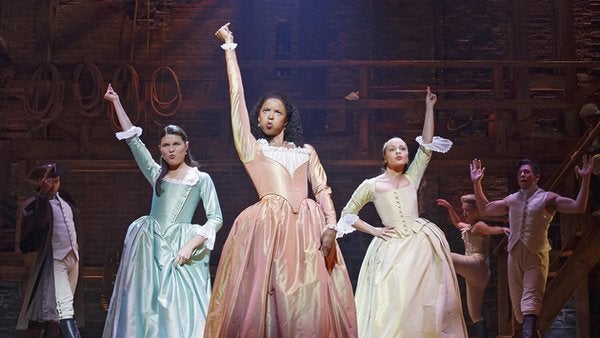 "Hamilton" cast members donated their salaries from Wednesday night's performance on Broadway in honor of International Women's Day, actor Javier Muñoz tweeted.
Wednesday marked International Women's Day as well as the "Day Without A Woman" strike, in which women in the United States and around the world highlighted their contributions to society by expressing their frustrations on social media, wearing red and taking to the streets to demonstrate. Many women did not show up to work, which closed schools around the country.
The "Hamilton" production included an insert in the evening performance's playbill to remind audiences that March is National Women's History Month. It also described how the show was honoring and celebrating International Women's Day.
At the end of Wednesday's performance, the cast shouted, "Happy Women's Day!" and the crew joined them on stage wearing an array of red shirts, many of them T-shirts bearing feminist slogans.
The gestures come on the heels of the original cast members for the Schuyler sisters adding the perfect line to "America the Beautiful" at last month's Super Bowl performance. Renée Elise Goldsberry, Jasmine Cephas Jones and Phillipa Soo sang "and crown thy good with brotherhood" but added "and sisterhood" before moving on to the next line.
The cast of "Hamilton" has been outspoken since the presidential election. On Nov. 18, Vice President-elect Mike Pence went to the show. Actor Brandon Dixon, who plays Aaron Burr spoke on behalf of the production when he addressed Pence directly and expressed concerns about the hateful rhetoric that dominated President Donald Trump's run for office.
"We, sir, we are the diverse America, who are alarmed and anxious that your new administration will not protect us, our planet, our children, our parents or defend us and uphold our inalienable rights," Dixon said to Pence. "But we truly hope that this show has inspired you to uphold our American values and to work on behalf of all of us."