Friday night, Vice President-elect Mike Pence took a moment out of his Trump administration-building duties to attend a performance of the musical "Hamilton." Many politicians have taken a seat at Richard Rodgers Theatre for the same musical. But Pence's experience was a little different.
"We, sir, we are the diverse America, who are alarmed and anxious that your new administration will not protect us, our planet, our children, our parents or defend us and uphold our inalienable rights, sir. But we truly hope that this show has inspired you to uphold our American values and to work on behalf of all of us."
"Hamilton," for those of you not familiar, is Lin-Manuel Miranda's musical take on Founding Fathers' history acted out by a cast of nearly all performers of color. As Dixon, who plays Aaron Burr (a former American vice president), reiterated, the performers playing historically white characters from America's revolutionary years represent "a diverse group of men, women, of different colors, creeds and orientations."
Miranda himself has spoken often about the production's significance in this year's vitriolic election season. "In a year when politicians traffic in anti-immigrant rhetoric, there is also a Broadway musical reminding us that a broke, orphan immigrant from the West Indies built our financial system," Miranda explained at an address at the University of Pennsylvania earlier this year. "A story that reminds us that since the beginning of the great, unfinished symphony that is our American experiment, time and time again, immigrants get the job done."
Nonetheless, writers and actors and fans across the internet have celebrated the cast's decision to send a peaceful, respectful message to a man who has attempted to institute policies harmful to the LGBTQ community. A man who supported "conversion therapy" as a member of Congress and gave a speech in which he said that marriage equality would lead to "societal collapse."
In his statement, Dixon welcomed Pence to the theater, discouraged booing from the audience, and calmly voiced his and his cast-mates' views to an audience they might never get again. The "Hamilton" cast took advantage of not only the fact that they, for one night, shared the same space as someone capable of influencing the make-up of our future presidential cabinet, but also the fact that "Hamilton" itself has an undeniable sphere of influence.
"Hamilton" has the power to capture the attention of the media. And it has the power to capture the attention of its audience ― two-thirds of which could constitute tourists not based in New York City. It's true that an overwhelming number of Broadway fans capable of affording tickets have college degrees (Trump won two-to-one among people without a college degree), and that people attending "Hamilton" were likely there because a like-minded ― and probably liberal ― acquaintance suggested they attend ("personal recommendation was the most influential factor in show selection," Broadway League reports).
Even if "Hamilton" isn't speaking directly to Trump and Pence supporters, the cast is certainly speaking to dissenters wondering how they can stand up against people and policies dangerous to marginalized people ― to people of color, Muslims, LGBTQ individuals, women. This is what free speech looks like, Dixon might have said to his audience. This is what solidarity looks like. This is what respectful disagreement looks like.
We should be capable of thinking simultaneously about the issues that need more investigative reporting and the reality of freedom of expression in the United States. Now that "Hamilton" has the internet's attention again, those of us spreading its message are capable of channeling that audience into action. So, here's a list of volunteer and donation opportunities those affected by Dixon's words can turn to. Here's another. And another. And another. As writer Lauren Duca suggested shortly after the performance, people can also donate specifically to Broadway Cares Equity Fights Aids.
Why not dedicate that donation to Pence?
Related
Before You Go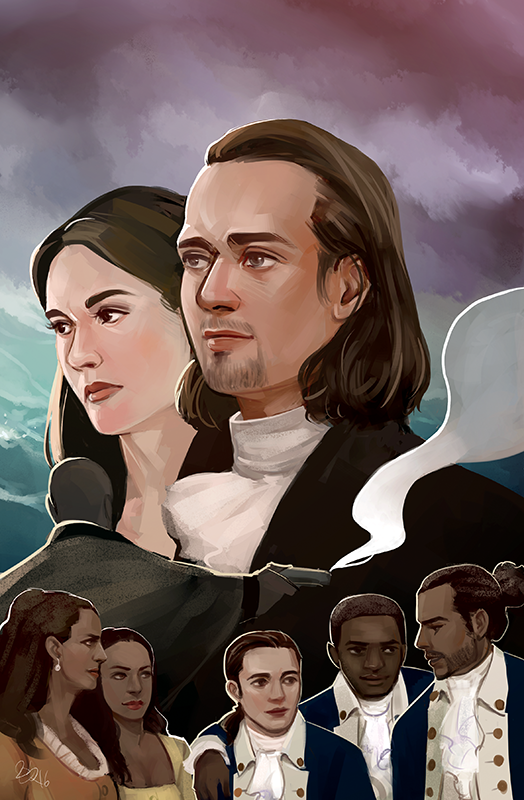 45 Illustrators Draw the 46 Tracks of "Hamilton"
Popular in the Community