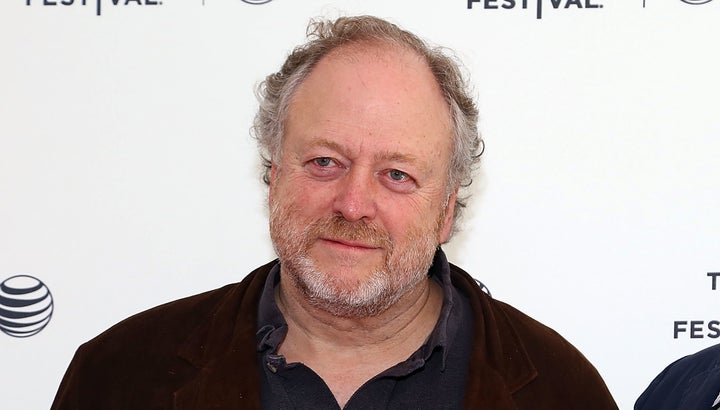 WASHINGTON ― The warnings came soon after Hamilton Fish was appointed publisher of The New Republic last year. Over email, over the phone, over coffee and drinks, people who had worked with Fish in the past, mostly women, slipped word to the female staffers of the liberal magazine that their incoming boss was trouble.
They told the women that he had grabbed the neck of a high-ranking female employee at The Nation Institute nearly 10 years ago, back when he was president of the nonprofit media organization. They told the women he could be demeaning, even creepy. It was the least they could do. The Nation Institute had parted ways with Fish — about two years after the neck-grabbing incident — but he left under cover of a sprawling non-disparagement provision. Nation Institute vets could warn his future charges only in secret.
The first public suggestion of Fish's alleged mistreatment of women came on Sunday, when the owner of The New Republic told staffers that it was launching an "immediate, independent investigation" into allegations surrounding Fish and his behavior toward female employees. Fish was taking a leave of absence from the magazine pending the investigation's outcome, New Republic owner Win McCormack wrote in a memo to the staff.
For many people who have worked under Fish, the reckoning was long overdue. At The Nation Institute, he was a well-connected fundraiser with impressive credentials. He had produced critically acclaimed documentaries and, as an owner in the late 1970s, helped revitalize The Nation magazine. His fate was thought to be bound up with that of the donor-dependent nonprofit he was leading. Speaking out against him, employees felt, might mean destabilizing The Nation Institute.
"A lot of people heard rumors about Ham's behavior but felt powerless to do anything about it," said Ari Berman, a senior reporter at Mother Jones and a fellow at The Nation Institute. "He was a powerful person who was being protected."
The most alarming of the whispers about Fish centered on the neck-grabbing incident one weekend nearly 10 years ago, when Fish was president of The Nation Institute.
Two sources with knowledge of that weekend's events described it to HuffPost:
Fish came in to work, and Taya Kitman, a high-ranking staffer at the time, and two other employees were in the conference room waiting for him. They needed to prepare the 400-person seating chart for the organization's annual gala. Kitman wanted to get it done and pressed Fish to help her. Fish seemed annoyed by her request.
Fish, who is well over 6 feet tall, approached Kitman from behind, put his hands around her neck and applied pressure, according to four people with knowledge of the incident.
One person said Fish meant it as a joke, but took it too far. He left red marks on Kitman's neck, the four sources said. Shaken by the encounter, Kitman tried to downplay it.
Board member Victor Navasky and The Nation Institute's lawyer at the time were briefed the following day about the incident. They told Fish to apologize, and Kitman didn't want to take things further.
In an email to HuffPost, Fish said: "The incident with Taya Kitman did not happen as described. Taya has been a friend and colleague of nearly 20 years, I have the utmost regard for her and the work she had done at the institute. We were partners in building the organization and we continue to collaborate on projects that we created together. I know it sounds self-serving, but anyone who knows me knows I would never harm a woman or another person."
Kitman declined to comment.
Reached by phone last week, Navasky praised Fish and insisted he didn't know anything about the alleged physical altercation between Fish and Kitman. "I don't know what you're talking about, so there's nothing to deny or not deny," he told HuffPost on Friday. "The Nation Institute is a private thing and the trustees aren't supposed to talk about anything that happened there, and I'm obeying their rules. But I'm just telling you that Hamilton was a great partner for me. Period."
When asked whether he was informed of the incident in a meeting with a lawyer, Navasky said, "OK, here's the thing: I am not permitted as a member of the board of the institute to discuss any personnel matters."
Fish's eventual departure from The Nation Institute was spurred by a staff revolt against its longtime president. Staffers felt he was failing to do his job ― which largely consisted of raising money for the nonprofit organization, which sponsors progressive journalism. But staffers were also disgusted with the way he treated female employees, said several people who worked with him at the time.
Fish often made bizarre or suggestive remarks at work — a problem that was compounded by the power he wielded over staffers' salaries, vacation days and parental leave. With no formal parental leave policy in place, it was up to Fish to decide how much time to give new parents, which could lead to "awkward" negotiations, said one source who was on staff during his time at the institute. Fish would joke that the babies were his, multiple women recalled; after all, he was paying for the health insurance. Another source recalled Fish waiting until the last minute to grant parental leave.
Fish acknowledged The Nation Institute did not have an employee handbook while he was there. "But we did provide maternity and paternity leave substantially in excess of state requirements," he said.
Multiple people who worked with Fish recalled another time when he told a woman that her lipstick tube looked like a dildo. Asked about the remark, Fish said the allegation "could only be coming from someone who has malice toward me or ill will toward The Nation Institute for unrelated reasons."
Fish also had a way of undermining his female staffers, according to several people who worked with him. He would sometimes assign top female employees menial tasks, like typing up his letters. He made comments to some of the mothers on staff that they felt implied they were too busy raising children to do their jobs well.
Fish treated The Nation Institute as his "personal domain," said a source who was on staff during Fish's tenure at the organization. "The patterns of inappropriate behavior ― whether it was the unwelcome shoulder massages, the commentary about women's bodies, their clothing, the way a woman walked, the overly sexual comments about dildos and lesbians ― it all took place against a backdrop where there was no personnel handbook and no one in an HR role. He was the lone decider on all personnel matters large and small."
Over time, Nation Institute staffers compiled their complaints about Fish, which they eventually took to the board of directors. Fish stepped down as president in 2009, about two years after the neck-grabbing incident.
Kitman is now executive director of the institute.
"I know that Taya recognized that Ham was a problem and did everything she could to get him out of there," Berman said. "Things have been much better since Taya took over. She's respected by the staff. She's respected by the fellows. She's respected by the donors. She's very hardworking. Taya is literally the exact opposite of Ham, and I mean that in the best way possible about her."
Berman added: "When Taya took over, the office became a lot more functional and pleasant to be in."
The reports of the neck-grabbing incident were apparently never taken to the board, and some members at the time were left in the dark. When asked about the incident, former board member Catharine Stimpson gasped. "You astonish me," she said. Fish was not dismissed, she maintained. His departure "was reached reasonably [between] parties who had known each other for a long time and respected each other."
While Fish may have departed from the institute, he still worked on a documentary commemorating The Nation magazine's 150th anniversary. "In retrospect, that assignment was an error," The Nation magazine wrote in a statement after the publication of this story. "He has no role at The Nation now and will not in the future."
Fish disputes the notion that he was dismissed: "In the fall of 2009 I had reached a point where I felt after nearly 15 years it was time for me to leave, we had lost most of our funding after the crash and I was feuding with the board. I resigned effective December 2009 and I signed a consulting agreement. The chair thanked me publicly for my part in helping to build the organization and I continued to work for the institute through July 1, 2010."
With Fish gone, Nation Institute employees strove to make the organization a better place to work — especially for women.
"The Nation Institute is committed to fostering a workplace that is free of all forms of harassment and discrimination of any kind, including, in particular, sexual harassment," David R. Jones, the chair of the organization's board, said in a statement.
The staff is now unionized; there are policies against sexual harassment, discrimination and whistleblower retaliation; there is a mandatory annual in-person sexual harassment training program and a competitive parental leave policy. The Nation Institute's top three positions are held by women.
But Fish's treatment of women remained a secret, to be discussed only sotto voce between friends and colleagues. Employees were reminded as recently as last week to abide by the non-disparagement provision, which the institute's lawyers claim applies to all staff, including those who hadn't seen or signed the document.
With his reputation still mostly intact, Fish went on to hold top-level positions and consulting jobs at The Washington Spectator, Lapham's Quarterly, The Baffler and, eventually, The New Republic. People who had worked with Fish at The Nation Institute say they were surprised and alarmed when McCormack appointed him publisher of The New Republic in February 2016.
One person who had worked with Fish met with several female New Republic staffers over a drink in New York to offer advice on how to deal with the new publisher. The staffers had warned one another internally to keep their distance from him. One current staffer emailed Katrina vanden Heuvel, the editor and publisher of The Nation magazine, and asked her to tell McCormack about the circumstances under which Fish had left the institute. (Vanden Heuvel did not respond to requests for comment.)
New Republic staffers were wary of Fish from the start, in part because of these whispered warnings about his past. Several people who worked with Fish at The New Republic described him as keeping a lower profile at the magazine — but they say some questionable behavior surfaced at TNR.
Fish would approach women from behind, put his hands on their shoulders, sometimes massaging them, two people who worked with him at TNR said. "He would generally make dismissive jokes and physically leave the room when I brought up problems," a former New Republic staffer said. "I often felt disrespected and looked down upon."
HuffPost learned that J.J. Gould, who became editor of The New Republic on Sept. 25, found out about the issues with Fish last week. Female staffers at the magazine drafted a complaint detailing their grievances with Fish. It was signed by editorial staffers and delivered to top management. On Sunday evening, McCormack announced the internal investigation into Fish and his leave of absence. Fish declined to comment on his conduct at TNR while the investigation is ongoing.
One woman who worked with Fish said she hoped the disclosures would at least mean female members of the media would have better choices than to quietly acquiesce to the culture around them.
"As a woman who came up in journalism and as an editor at that time," she said, "I never had the possibility of not playing their game. And what I do hope for these pieces that are coming out is that the younger women that are coming up now don't have to make the funny little jokes and be the get-along girl like I was. And that they can just be taken seriously on their own merits, on their own work, whatever their personality happens to be."
After this story was first published, Taya Kitman released the following statement:
Some of you may have seen news reports of allegations against Hamilton Fish, the current Publisher of The New Republic and former President of The Nation Institute. I want you to know that Mr. Fish departed The Nation Institute eight years ago and, for a variety of reasons, I won't address past events. But I want to be clear that The Nation Institute is absolutely committed to creating a safe, inclusive workplace free from harassment or discrimination of any kind.

We have reiterated this in a statement to press, but I want you to know that under my leadership we have worked to make The Nation Institute a supportive workplace and an organization where abuse and harassment are not tolerated. Our staff is now unionized; we have strong policies in place against sexual harassment, discrimination and whistleblower retaliation; we have a strong anti-harassment training program and a parental leave policy which grants four months paid leave to all employees. Four of our five top positions are held by women.

These were intentional choices made by The Nation Institute leadership and, as an organization, we are deeply committed to gender justice and workers' rights. We are pained to see these stories, but we stand with women and employees at any institution, including The New Republic, who make the choice to speak out against harassment and abuse.
Related
Popular in the Community