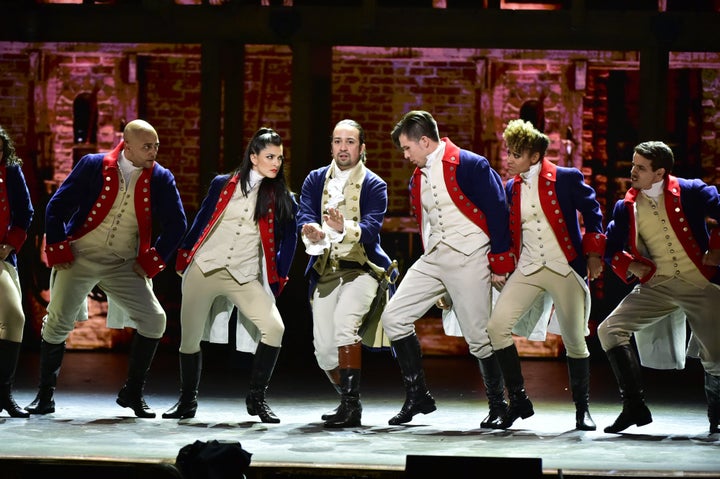 Thousands of public school students across the country are about to realize exactly how lucky they are to be alive right now. History is happening. And this time, not just in New York.
During an interview with The Rockefeller Foundation president Judith Rodin, "Hamilton" creator Lin-Manuel Miranda announced that his celebrated #EduHam program is expanding. What started as a project dedicated to helping 20,000 New York City public school students see the Tony-winning musical for just $10 (a Ham for "Ham," as Miranda has described it) will grow to include thousands more students in cities set to host the musical on its national tour next year.
"We are very excited to announce today that we're going to bring 'Hamilton' to 100,000 school kids around the United States," Rodin explained to an audience at Thursday's Insight Dialogues event.
The Rockefeller Foundation has pledged $6 million to the expansion, funds that are meant to provide resources to local school districts, similar to the program piloted in New York City. The national program is set to take hold in cities like Chicago, Los Angeles, San Francisco and Washington, D.C., with others joining as "Hamilton" tours. Like the NYC version, the national program will facilitate special, interactive matinee performances for students -- at just $10 a ticket.
"#EduHam will find partner schools and basically continue this extraordinary thing, which has been the greatest things for our cast and our company" Miranda added, "to have the opportunity for students to see the show."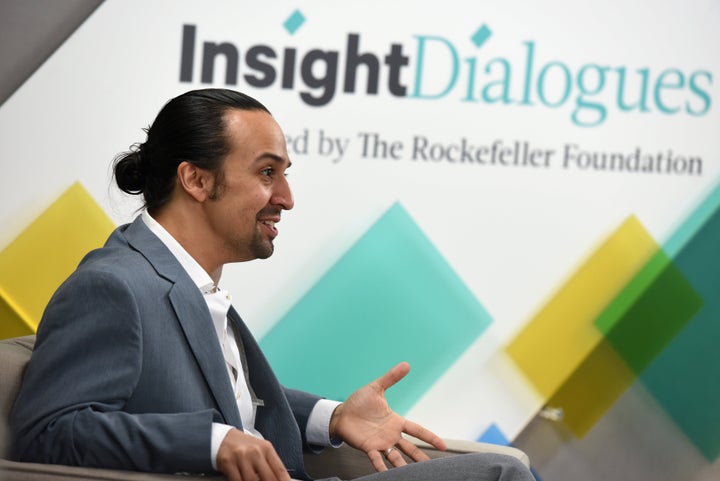 As a part of the #EduHam phenomenon in NYC, the Gilder Lehrman Institute developed the "Hamilton Education Program," described as an in-class curriculum inspired by the lessons embedded in the musical. According to The Rockefeller Foundation, this curriculum will be integrated into participating Title I schools across the nation, where the majority of students are eligible for free and reduced-price lunches.
The Gilder Lehrman program also includes a "Hamilton Student Performance and Study Guide" and an online "Hamilton" portal that provides students with a creative platform for developing and producing their own original performances -- be it poetry, rap, musical theater, or any other facet of performance they can think of. In New York City, students performed those original productions before their "Hamilton" matinees in the Richard Rodgers Theatre.
"By part of the curriculum being that they have to tell stories, and that they're not using necessarily the 'Hamilton' characters or stories [...] they're learning that they get to tell all the stories in their lives in ways that really mean something to them," Rodin added.
Miranda credits his own experience with early arts education as the catalyst behind his theater career today. During the Insights Dialogue discussion, he spoke highly of his elementary school teacher Ms. Ames, who, for the record, has seen "Hamilton" several times since it opened. She cast a 12-year-old Miranda as Conrad in "Bye Bye Birdie" and the rest is history.
Students from the Thomas Edison High School in Queens, who were part of the #EduHam program, were notably present in the audience at The Rockefeller Foundation on Thursday. For them, Miranda's words cut particularly close.
"We're not going to get 1,300 musical theater writers when these 11th graders see the show," Miranda said. "They're not all going to go into theater. They might write this piece for the show and never write anything again. But, I do believe firmly that approaching history in this way [...] that it forces you to reckon with what you're going to do with your life. And I think it forces you to confront what it is to live a life of meaning [...] whether that's theater or whether that's architecture or whether that's medicine or biology."
Related
Before You Go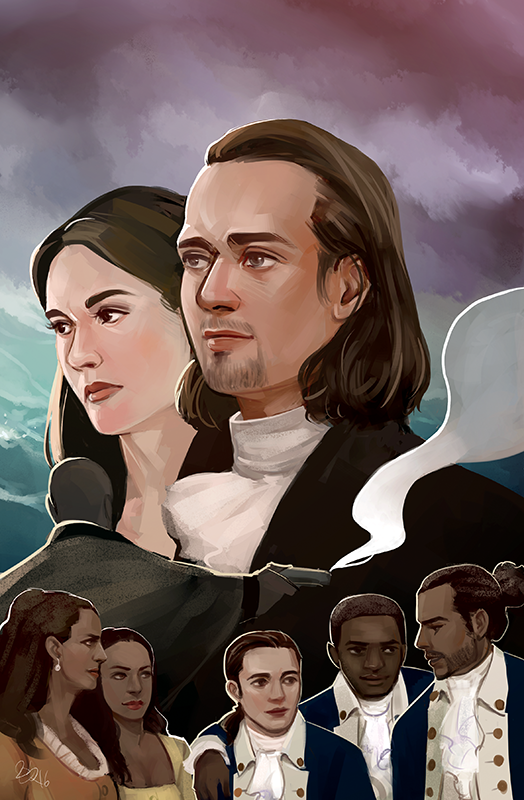 45 Illustrators Draw the 46 Tracks of "Hamilton"
Popular in the Community