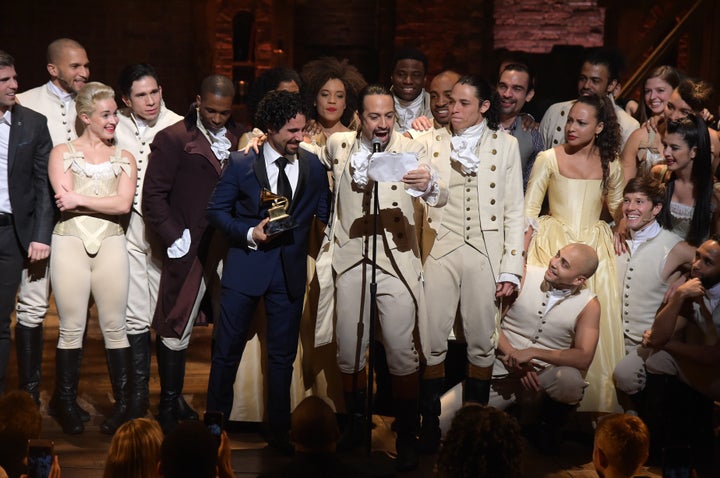 "Hamilton" is a Broadway musical.
More specifically, it is a wildly popular musical about "a scrappy young immigrant who forever changed America." That scrappy young immigrant from the Caribbean is the titular Alexander Hamilton, played by prolific composer/lyricist/rapper (also a MacArthur "Genius Grantee" and, swoon, the show's writer) Lin-Manuel Miranda.
On stage, Miranda is supported by a hyper-talented and racially diverse cast of singers, rappers and dancers who deftly act out the highs and lows of Founding Fathers-era America. Together, they offer an unlikely, hip-hop-inspired retelling of the United States' revolutionary history, punctuated by dramatic, character-driven stories of ambition and revenge, all influenced by Miranda's serendipitous decision to read a Hamilton biography while on vacation.
You might have caught wind of the show on the Grammys Monday night. Or, perhaps you've been listening to their album -- the first-ever cast album to hit No. 1 on the Billboard Rap Album chart. Or maybe you've actually seen the show, though that's unlikely since tickets are near impossible to track down. Regardless, you're probably finding it difficult to avoid the "OMG HAMILTON" tweets, particularly this week, in the wake of the cast's awards season debut.
If you're new to the hype, let me first welcome you to planet Earth, or congratulate you from moving out from beneath that rock you've called home for at least six months. Now that that's over with, here are a few things die-hard fans would like you to know about the hit show:
1. You do not need to see the Broadway musical to love it.
2. That being said, you should at least try to nab tickets.
Fans no longer have to wait in lines, in the cold, to secure tickets, because the lottery is now digital. And, for those of you not located in or around New York City -- the production is due for a national tour.
3. Lin-Manuel Miranda is a godsend.
He's a MacArthur Fellow, so you know he has credentials. The New York City-born writer and performer, of Puerto Rican descent, created the Tony Award-winning musical "In The Heights" when he was just a sophomore in college. He starred in that production, too.
4. But, so is the rest of the cast.
While Miranda kills it as Alexander Hamilton, the other characters are hardly second-rate. "Smash" star Leslie Odom Jr. plays Aaron Burr, the man who killed Hamilton in an unforgettable duel. Renée Elise Goldsberry and Phillipa Soo play the women in Hamilton's life -- Angelica Schuyler Church and Eliza Schuyler Hamilton, respectively. There's Christopher Jackson as George Washington and Jonathan Groff, of "Spring Awakening" fame, as King George III. The list goes on.
5. You really, really, really don't need to love history to get into "Hamilton."
Sure, the play is inspired by non-fictional events -- Hamilton really did grow up in the British West Indies, Burr really did kill Hamilton in a bitter duel. But the musical is just as much about pop culture as it is about history. As Rebecca Mead noted in The New Yorker, "Hamilton also reminded Miranda of Tupac Shakur, the West Coast rapper who was shot to death in 1996."
Be prepared for references to theater staples like Rodgers and Hammerstein, Stephen Sondheim, and "West Side Story," as well as nods to hip-hop icons: Biggie Smalls, the Fugees, even Jamie Foxx.
6. However, history nerds, you will not be disappointed.
If you're versed in popular theater and hip-hop knowledge AND you also read Ron Chernow's 800-page Hamilton biography, you are in for a treat. But really, there's some serious American Federalist history intrigue here.
7. "Hamilton" is not just a retelling of revolutionary acts. It is revolutionary.
While most of the characters in "Hamilton" are based on white historical figures, the cast is -- for the majority, save for King George III and a few others -- noticeably diverse. The color-blind casting technique, along with the infusion of hip-hop sounds, allows, as Kendra James wrote in The Toast, "younger students who hear or see this musical [...] to start drawing connections between Miranda's revolutionary 'Hamilton' and current events."
"Melding a love of the musical with a pop culture sensibility, Miranda is expanding the conventions of mainstream theater," the MacArthur Foundation notes of Miranda's masterpiece, "and showcasing the cultural riches of the American urban panorama."
8. In fact, we'd like Hollywood to take note -- diversity matters.
Think a diverse cast isn't "universal" enough? Please.
9. It's not the next "The Book of Mormon." It's better.
There have been loads of comparisons to "The Book of Mormon" and "Rent" and even "Billy Elliott;" essentially, all other musicals that have managed to rustle attention outside of the typical musical fans. But take our advice, "Hamilton" is something different.
10. Broadway, this is how you attract new, young audiences.
11. Please, just give us more Lin-Manuel Miranda.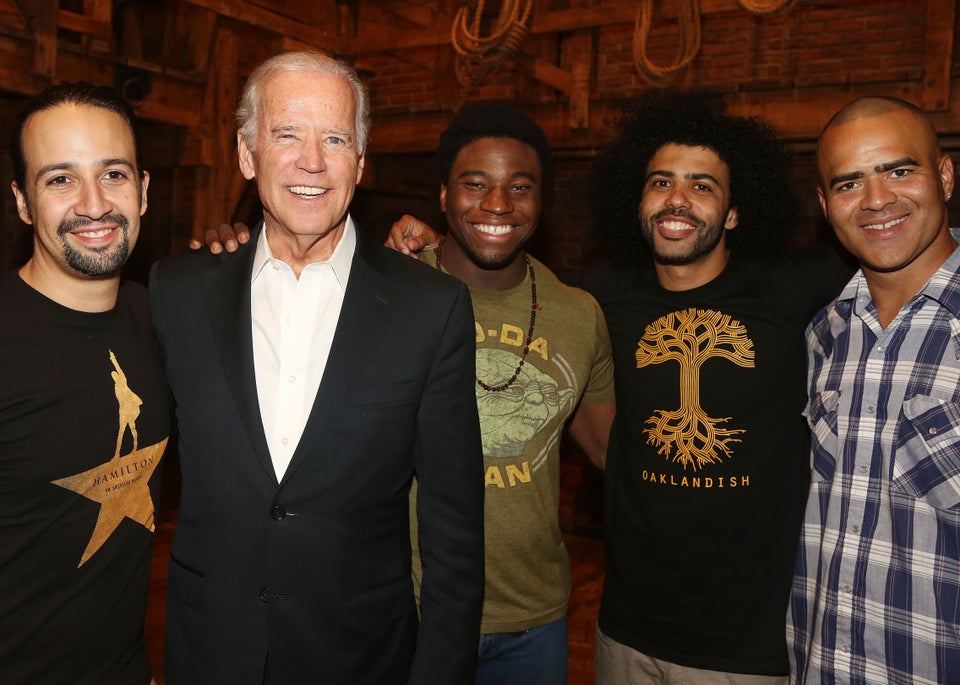 Biden with the Cast of Hamilton
Related