"Hamilton" is the most beloved show on Broadway that few can actually see.
For even its diehard fans, the sold-out musical tends to exist in a digital ether, somewhere between Lin-Manuel Miranda's Twitter account, the #Ham4Ham channel on YouTube and Spotify. Especially for those outside of New York City, "Hamilton" can seem more like an internet phenomenon than a real, physical, Tony-nominated production that exists in a finite space eight times a week.
And yet, "Hamilton" exists, in a finite space, eight times a week -- and we have designer David Korins to thank for that.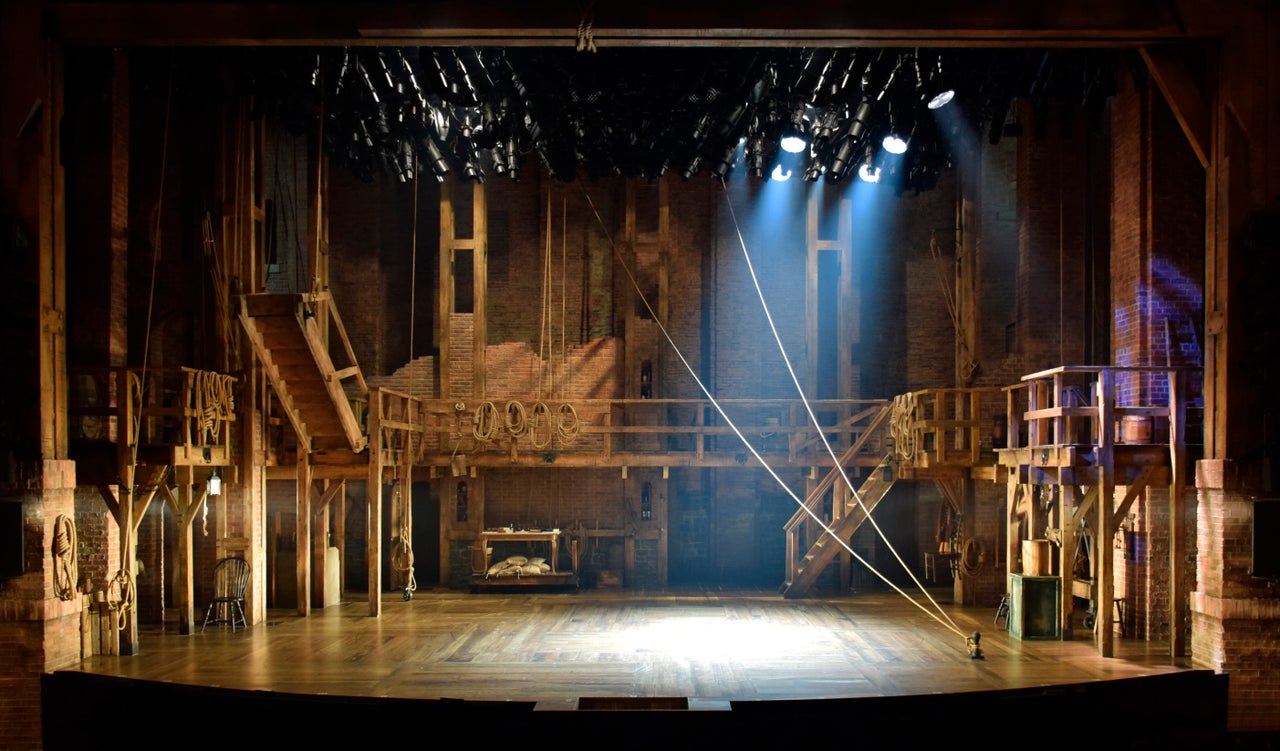 "There's a million things I haven't done, just you wait."
"I don't think that people realize -- relative to the amount of people in the world -- no one's seen the show," Korins, set designer for "Hamilton" and head of David Korins Design, explained from his New York City office in May.
I think it's safe to say some people have noticed, but it doesn't change the fact that only 1,400 ticket holders can feast their eyes on Miranda's sweeping, hip-hop-inspired celebration of the Founding Fathers every night. It's unlikely you'll meet a single person unaware of the significance of the lyric, "Who lives, who dies, who tells your story?" But you're even less likely to meet someone who's sat in the Richard Rodgers Theater and watched Miranda, Leslie Odom, Jr., Daveed Diggs, Phillipa Soo and the rest of the "Hamilton" cast dance across a rotating floor painted to look like wood.
Even Korins -- responsible for the design of past shows including "Misery," "Annie," "Motown" and "The Pee-Wee Herman Show," and whose work on "Hamilton" earned him one of the 16 Tony nominations associated with Miranda's critically acclaimed musical -- thinks of "Hamilton" as the first internet show. But that doesn't make him any less proud of the massive, highly detailed set design that endeavors to bring the tale of Alexander Hamilton and Aaron Burr to life.
From delicate ropes and pulleys to sizable staircases that move and walls that grow, Korins built the "Hamilton" universe from scratch, faux wood and all.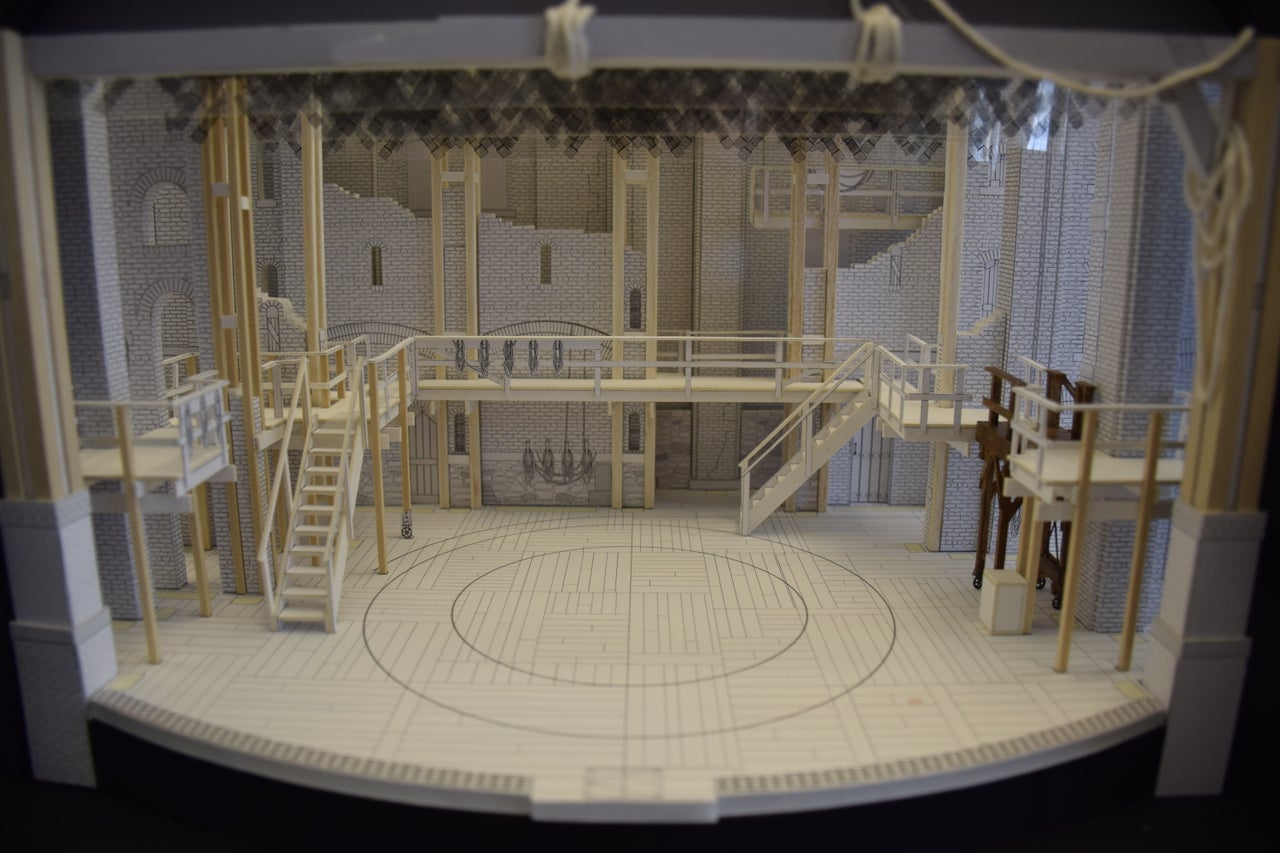 "I'm not throwing away my shot."
"I'd worked with Lin a couple of times, I'd worked with Tommy [Kail, director] several times, I'd worked with Andy [Blankenbuehler, choreographer] a lot of times, and I'd worked with Alex [Lacamoire, orchestration] many, many times. They're all my friends," Korins explained.
He'd heard rumblings of "Hamilton," based loosely on Ron Chernow's 800-page biography, while it was still in the works. And he became intrigued enough to throw his hat in the ring for the role of set designer. "Really, no one knew what it would be," he said. "It wasn't like, 'Oh god, I want to try to hook onto this juggernaut.' It was just like, these are my friends! These are my guys."
After a few subtle nudges to Kail and his team, Korins finally got the call from the Public Theater, the original "Hamilton" home before it moved to Broadway, asking him to come in for an interview. Korins says he took the opportunity very seriously. He did a lot of research beforehand, studied the architecture and shipbuilding methodology of the time, created a scene breakdown, sketches, and collected a bunch of ideas both good and bad. He likened himself to James Madison (and Kail to Thomas Jefferson) in the actual interview. "I literally said, 'I'm not throwing away my shot. You've got to hire me.'"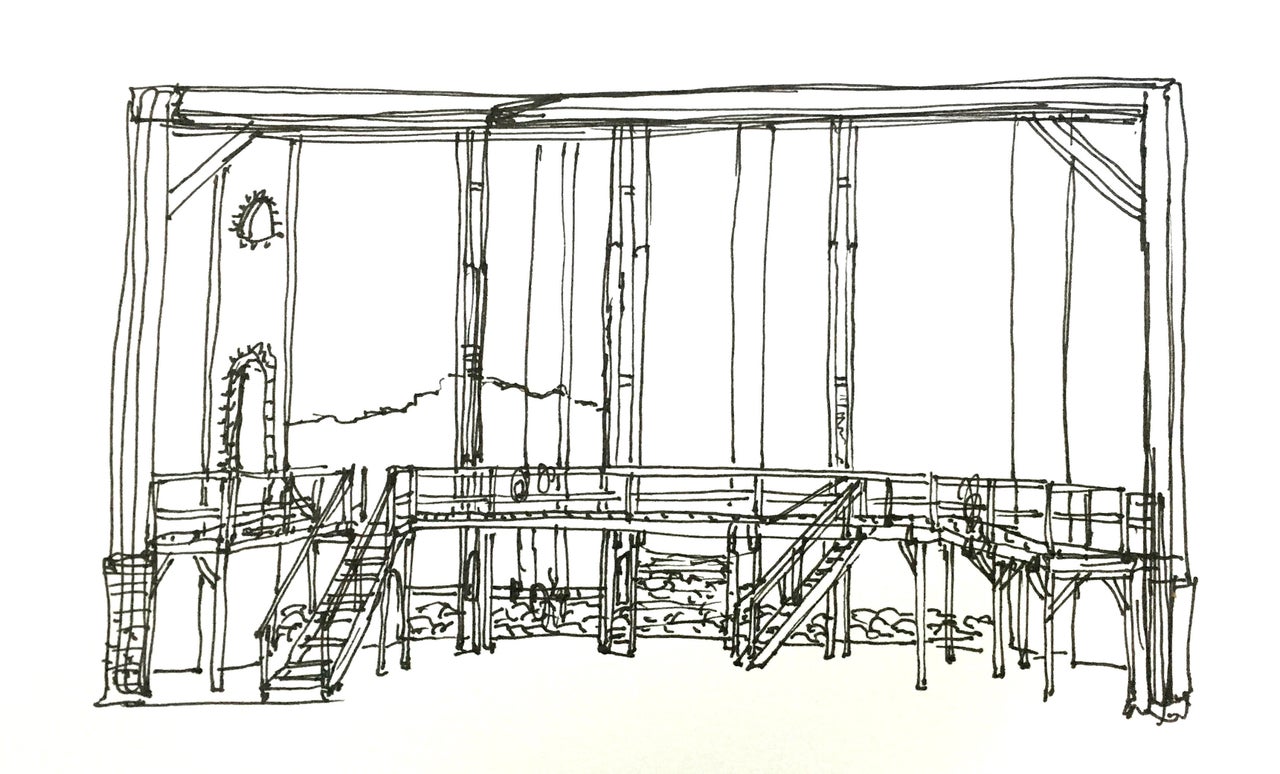 "I was chosen for the Constitutional Convention!"
From there, more research followed. Korins had no blueprint for the show -- where it was located, when exactly the scenes took place. So he started abstract. "I had, from the very first reading of the show, this feeling of swirling momentum," Korins said. "I don't know if it was the hurricane that swept Hamilton in Nivus, or the political storm that he finds himself in, or his cyclical relationship with Aaron Burr, but I always kind of felt like this thing was swirling."
Inspired by the Capitol Building's round dome and the dramatic concept of operating theater, Korins quickly landed on an essential component of the "Hamilton" staging: the turntable. As early sketches like the ones above show, Korins' set involves a double turntable arrangement, framed by scaffolding and a second-level catwalk, designed in the style of the ships that brought Alexander Hamilton from the British West Indies to America. The spinning turntable allows the musical to swirl, the choreography and period garb to leap off the stage.
There are other, more subtle components of the two-level set that resulted from Korins' research into the depths of early American history, including the painted floors, made to look like rough-hewn wood and the ropes and pulleys meant to look like details from the inside of a boat. "There are really overt and obvious things that the set is doing. And then there are incredibly subtle things that the set is doing, that are just as impactful that no one knows about," Korins explained.
For example, at intermission, the walls grow. Korins' team physically brings in eight-foot sections of brick wall and the entire set expands from Act I to Act II. They also change out some of the more militant, utilitarian elements of the prop design. "We go from rifles and racks to scrolls of parchment and maps and fine china, because now they are coming home to govern the country, and start writing laws," he said, noting that the musical follows the Founding Fathers through the Revolutionary War and straight into independence. "And you know, no one sees it. We lose ropes, we tie things off, we buoy and hunker down and become the fledgling nation that we are. No one sees it. They see the turntable, and they're like, 'Congratulations, you made a turntable!'"
"What is a legacy? It's planting seeds in a garden you never get to see."
Though the turntable was an early idea that made it into the final scenery, it was actually scrapped for a bit in favor of some more spectacular design ideas that would eventually fall by the wayside. "There were a million bad ideas," Korins underscored.
One of his first sketches revolved around a giant, gilded picture frame that would have been used to create a tableau scene of the Founding Fathers, one that the characters would break through to begin the show. Another idea involved a huge piece of parchment paper with a quill sticking out of it, and another around an opening montage where the Founding Fathers, six of them, were on tall columns that would lower to the ground.
Korins went "very, very far down the road" with a set that centered on a reflecting pool. The pool, consisting of real water built into the stage, was meant to evoke an "otherworldly place," a "heaven, kind of." Korins' team built it, and subsequently cut it after two previews at the Public Theater. "We drained the pool, we plugged the hole, and we opted for storytelling over spectacle," he said. "It was beautiful, but it wasn't right."
Most surprisingly, Korins says, they almost did the show entirely in modern dress -- on a modern set. The cast members were going to be in high-tops and jeans, singing and dancing amidst an all-black set with a metal catwalk. "It was going to be a slick modern thing to match the language," he said.
Thankfully, the turntable came back in the nick of time, elevating scenes like the fatal duel between Hamilton and Burr to new heights.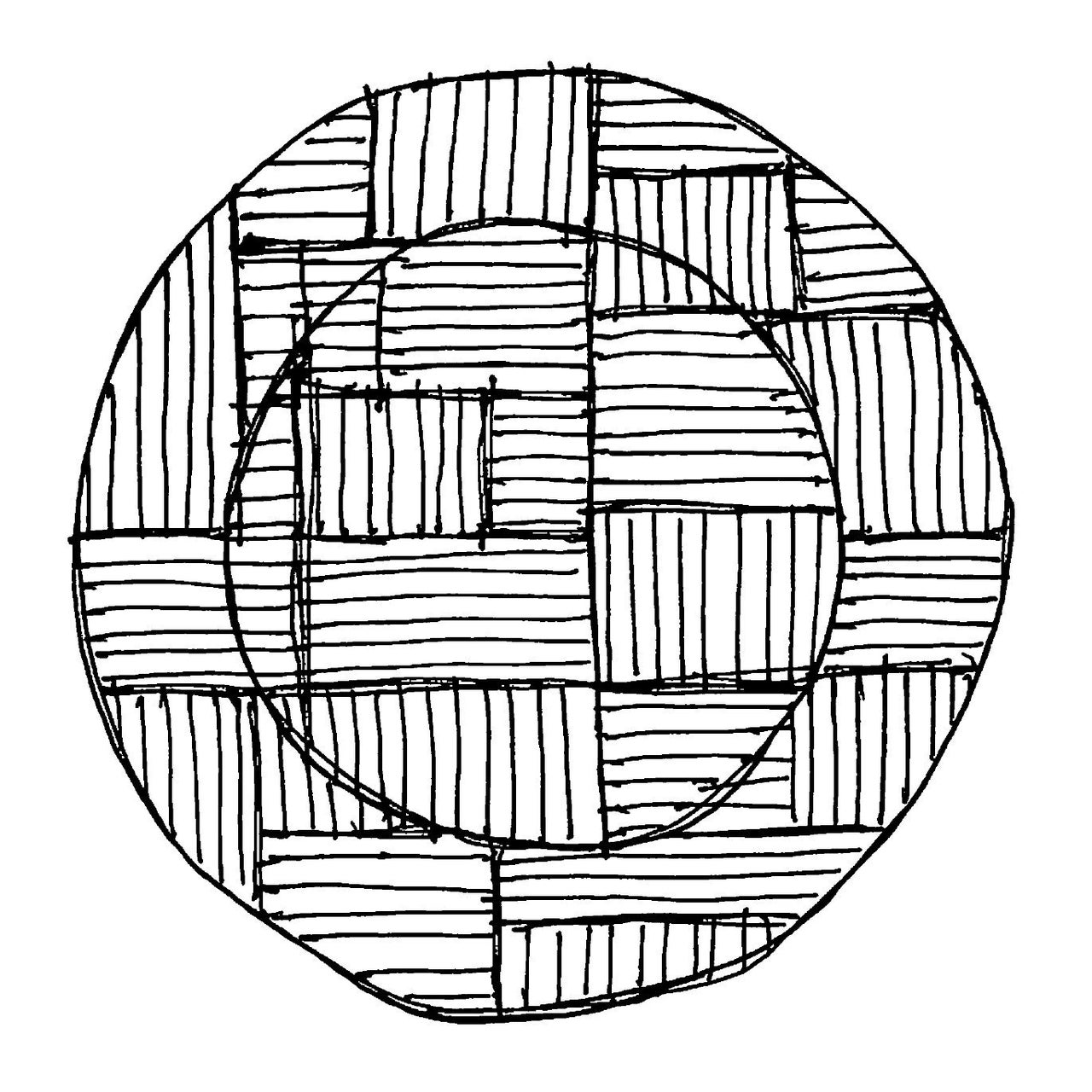 "I'm past patiently waitin'. I'm passionately smashin' every expectation."
Korins describes the set he built as "aspirational." Why? Because he believes it's not the designer's job to tell the story; it's the designer's job to help tell the story. "Designers have the ability to make really cool and interesting things," Korins explained. "But you have to always buck against that impulse to try and find the truth of the storytelling."
His "Hamilton" design, he says, subconsciously affects viewers. With scale, texture, line, perspective, color -- his team uses these tools to subtly affect how an audience member feels. "Emotionally, the growing of the walls does affect people," he said. "They might have no idea, but it does affect you. The walls get taller! Eight feet taller. Imagine this room growing like that!"
Theater is not realistic, Korins is quick to remind you. Even if a play or musical is meant to take place in a perfectly recreated time period or place, there's always a level of resistance amongst the audience and actors. "I've always come from a place of: We all know it's not the real thing, and it's not the real thing," he added. "Hamilton," he notes, is not the real thing. Every single prop, from the Reynolds Pamphlet to the letter to Washington to the quills on the president's desk, cues viewers with pops of historical accuracy. But there's room to see "Hamilton" as not necessarily the tried and true biography of the first Secretary of the Treasury, but a more universal story of ambition, growth and progress.
"That's what great theater does," Korins said. "Of course, 'Hamilton' is about Alexander Hamilton and the Founding Fathers, but when George Washington steps down you can't help but think about Obama stepping down. When he says he's teaching a nation to move on by stepping down, you think about what it must feel like in the current sitting president's presidency, what goes on in a leader's mind. Through the minuscule, it gets magnified into a total universal human experience."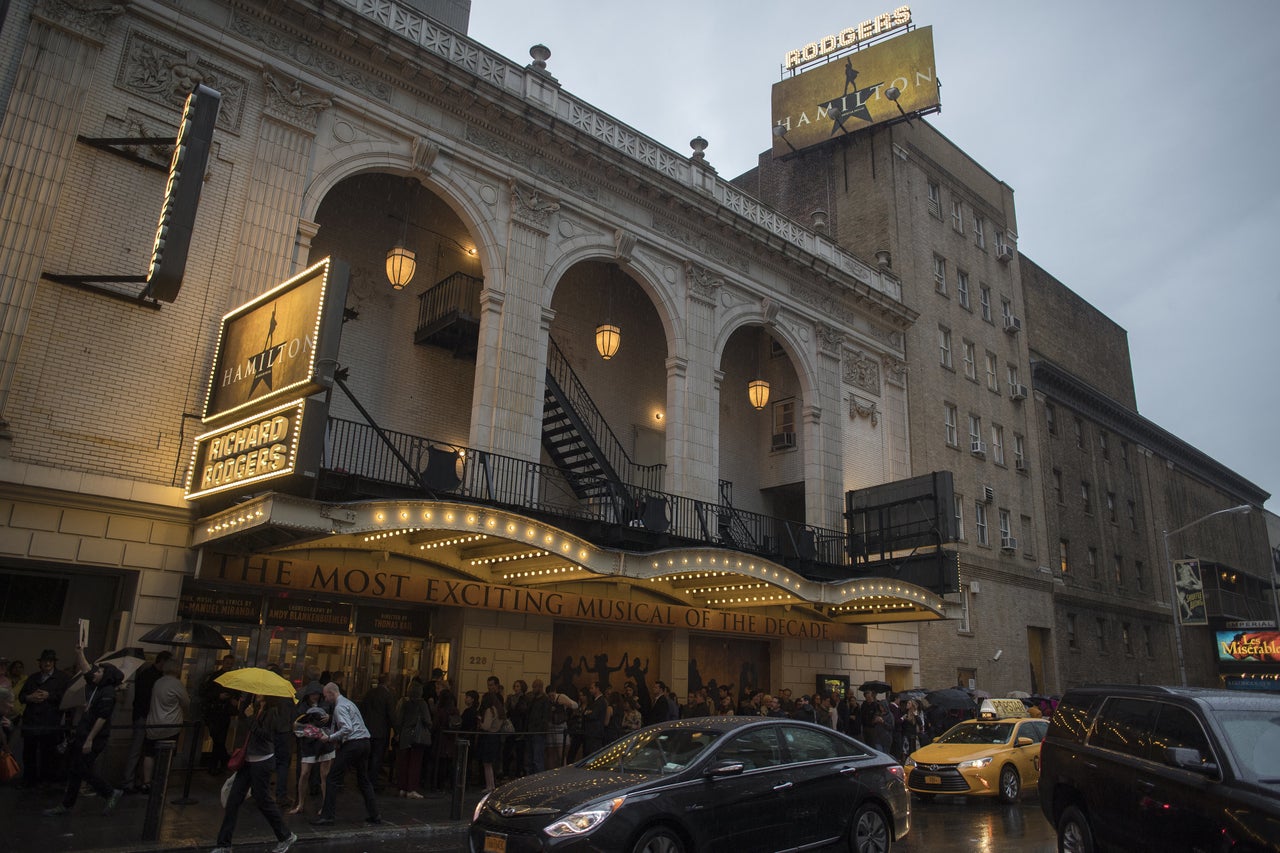 "But when you're gone, who remembers your name? Who keeps your flame?"
This year, a nod for Best Scenic Design marks Korins' first Tony nomination. In fact, he's never been to the Tonys before, despite several of his past 15 shows securing nominations beyond set design. With the ceremony just around the corner, and a national tour on the horizon, Korins seems more fixated on the musical's move to Chicago in the fall of this year than on any awards preparation.
He's already figured out a way to put his design in Chicago's PrivateBank Theater. It's done and being built as we speak, he noted. His team is just starting to wrap their heads around how to tour it, though. His mammoth design has to fit into a certain number of trucks and work under a certain set of loading parameters.
"Our set is deceptively simple-looking, but it's an incredibly complicated set, actually," Korins said. "There's a huge amount of square footage of it. You don't realize how big and tall those walls are, and when we loaded it into Broadway it took many, many, many, many weeks to load it in. And we took so much time and effort to patch everything that came off-site, so that the bricks seemed solid and singular. And of course we can't do that on tour, because we're going to be breaking it down and putting it back together. That challenge falls pretty squarely on this office."
The "Hamilton" set has only been in this world for 10 months, glimpsed by only those special crowds of 1,400 each. But this time next year, Korins explained, 10,000 people per night will see it. Theaters outside of New York, in Chicago and Los Angeles and San Francisco and beyond, are much bigger, he pointed out. The reach of his "internet show" is about to get even bigger.
For Korins, this moment -- just one over the course of a 17-year career encompassing approximately 468 design projects including stages for Kanye West and "Grease: Live" -- is monumental enough.
"['Hamilton' is] an obvious career highlight, because even as a show, it has put theater at the center of cultural conversation," Korins concluded. "And as a theater geek from way back, that is so cool to see a word-driven medium in a world filled with visual assault become this important. That it's my show is a total 'pinch-me' moment."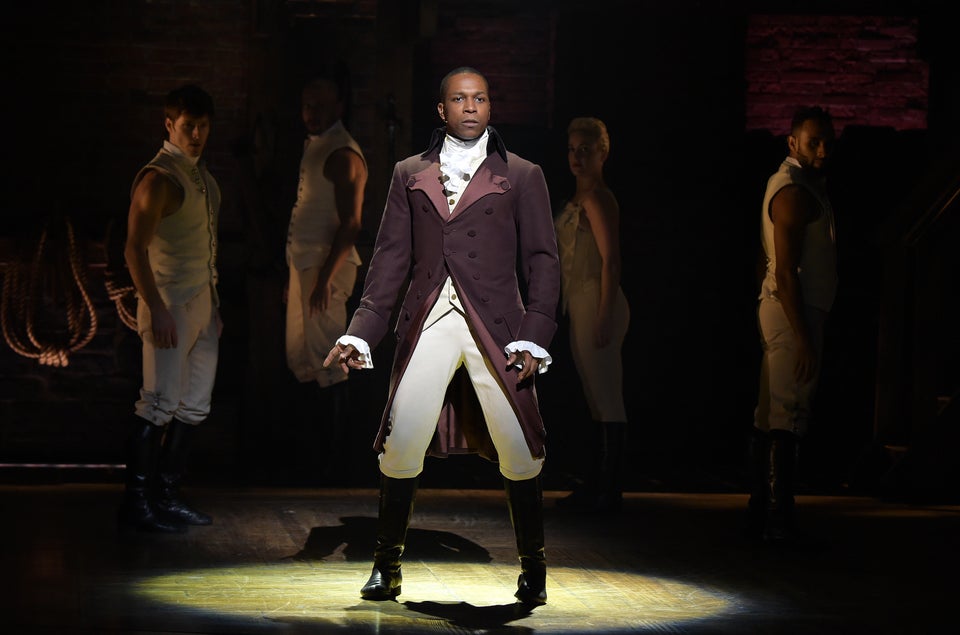 Hamilton
Popular in the Community