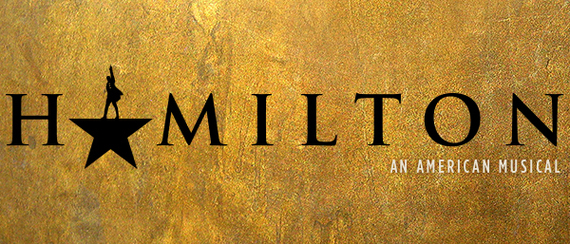 At last, I can talk about Hamilton. It hasn't been easy, waiting, wondering: what is all the fuss about -- is it for real? Not that I doubted Hamilton. I just couldn't get a ticket. I therefore maintained a modicum of dubiousness just to take the edge off my enforced outsider alienation.
I first tried to see Hamilton when it was still down at the Public Theater and generating a growing Chorus Line-like noise. I promised the Public's press staff that I would write the show up immediately if they would only grant me access. But they just yawned.
Then Hamilton rocketed uptown in a thundering burst of hype and hosannas. Again I pursued press seats (from a different team of press flacks), in the name of my Huffington punditry. "But we don't need press," a senior flack flippantly informed me.
That's true, I thought. You don't.
What to do? The box office offered no hope. Hamilton's reach was already beyond anything that I'd ever experienced; the only show on Broadway that all of Lea's friends and all of Sara's friends actually wanted to see, every one of them, even those who hated musicals.
How in heck could I possibly come up with three seats??
I have known Jeffrey Seller, the esteemed producer of Hamilton, for years now (wow, almost 25). We met at a table in my friend Jonathan Larson's Greenwich Street loft during one of Jonathan's "Peasant Feasts" -- a pot-luck holiday luau kind of thing that penniless Jonathan hosted yearly for his teeming family of friends. This night, Jonathan introduced me to two new friends (kids, they seemed to me then, just like us), Jeffrey Seller and Kevin McCollum, who were interested, Jonathan told me, in producing Jonathan's then-seemingly unproduceable musical, Rent. I listened as Jeffrey and Kevin effusively spilled out the supremely unconventional production plans they had for Jonathan's baby.
I then watched, over the ensuing months, no -- years, as they made those plans absolutely real.
I weathered with Jeffrey and Kevin and everyone else, the tragedy of Jonathan's unbearably premature death and the ensuing wild ride of Rent's ascent.
I really did not want to bother Jeffrey for tickets to Hamilton. We've been through a lot together and he's got enough going on. Finally though, it became clear that the girls and I would be seeing Hamilton sometime around Lea's college graduation (she is still in middle school), if I didn't ask.
He couldn't have been nicer, but that's Jeffrey. We set no dates. Whenever three together became available, we would just go. And these would not be press "comps." I insisted on paying.
The call came last week; for Saturday night, no less. Three on the aisle. I won't say what row because that would be rubbing it in.
Of course, Lea and Sara were over the moon. So was I. Hamilton, at last.

And how was it?
It was more. How often does anything live up to its hype? Hamilton transcends the buzz. It is a truly monumental Broadway musical, one of the greatest I've ever seen. It is also a truly monumental achievement of hip-hop expression, the greatest that I am aware of, but I'm no aficionado. Confession: at first, Sara (my 10-year-old) and I both had trouble catching all the words. By the curtain, though, we were clinging to them (along with 13-year-old Lea, who is a hip-hop aficianado), savoring Lin-Manuel Miranda's extraordinary, capacious, enveloping rhymes; his bracing, all-embracing wordplay.
The production itself is electrifying, a whirlwind of continuous motion that sweeps history and every one of us into its orbit. The performances were a diadem of star turns, one jewel after another, each performer heart-stoppingly brilliant in such profound and unexpected ways. I want to name the entire cast. I can't here. Well, all right, except for Daveed Diggs, who so knocked me out as both Marquis de Lafayette and Thomas Jefferson. And Lin-Manuel Miranda himself, of course, as Hamilton himself. And, oh my god, Leslie Odom Jr. as Aaron Burr! And Christopher Jackson as George Washington. Phillipa Soo's enrapturing Eliza Hamilton. Renee Elise Goldsberry's ennobling Angelica Schuyler. Anthony Ramos, who gets to die twice -- as John Laurens, Hamilton's best bud, and as Phillip, Hamilton's son. Oh, yes, and Rory O'Malley! Beyond description as King George III.
So what is there left to say that has not already been said about Hamilton? Here's what I think: Hamilton represents everything that frightens a frightening swathe of our fellow Americans today. It stands for everything they are dead ready to reject. Hamilton is about inclusiveness, magnanimity, community, the pre-eminence of an American social fabric knit together by visibly different ethnic and social strands. It is about forgiveness and love. It has not a vicious or divisive sinew in its exquisitely complex anatomy.
How can Hamilton be all of these things and still be so universally popular? How can one musical transcend categories and camps and divisions and parties? The night we went was a Saturday night, as I've said. The audience was anything but inclusive. I counted two black faces in the entire orchestra section, unofficially. Down in the Men's room, I heard two guys talking about having been out on the golf course all day. I will not speculate as to their political affiliations, at least not here.
They all loved this show. The Richard Rodgers Theater was positively brimming with love for Hamilton: a rap musical about our immigrant founding father (though, let's face it, they all were immigrant offspring, those founding fathers).
I looked around at that beaming, joyous audience last Saturday night and I felt one thing so deeply: No-one sitting here right now can possibly vote for Donald Trump. To experience this show is to eradicate that darkness.
The thought gave me hope. It lasted into the night.
REAL LIFE. REAL NEWS. REAL VOICES.
Help us tell more of the stories that matter from voices that too often remain unheard.