Updated May 29th
to reflect cell phone tweets from the Original Broadway Cast since the Prince Tribute went viral.
---
Using Prince's death to excuse behavior that disregards traditional etiquette and copyright law.
Lin's perceived opinion on bootlegs is holding back many fans from indulging in the widely spread, high definition Hamilton bootleg. It is important to go into this article accepting as fact that people take Lin's word as "The Bible" of Broadway.
The issue is Prince's death is being used to excuse behavior that disregards traditional etiquette and Prince's stance on the Internet.
Lin sets an example for new theater fans.
If anyone is going to decide anything about Hamilton, it should be Lin Manuel-Miranda. Lin did not tweet footage that bared any indication he requested or condoned it be taken. After the show, Lin retweeted the video (which implies he approved of it being filmed).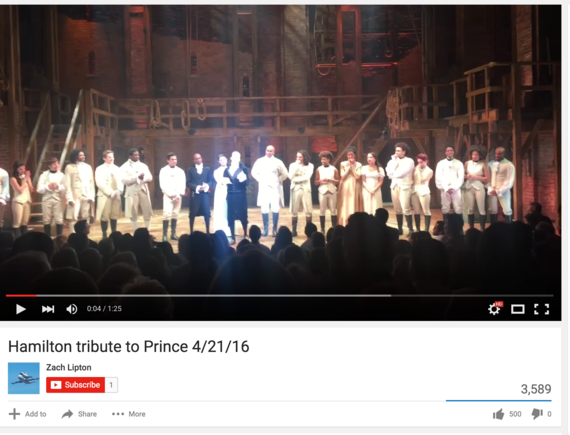 This is an example of a video that does not appear to be an unauthorized bootleg:
Lin could have used the tribute leak to make Prince's point. Instead, he retweeted it for it to be consumed by thousands. Lin can be proud of the performance but condone the recording and distribution of the tribute. The Hollywood Reporter just published an article embedding bootlegs from Hamilton and The Color Purple.
The only person who did this correctly was an EW reporter! I applaud her, she is awesome. She cannot be the only person with influence who bothers to be a downer and point this out.
Respect can be disrespectful.
While reporters seem to instinctively ask the bootlegger for permission, what about the cast of Hamilton? And, what about, Prince's rights?
Prince's work is not in the public domain because he passed away this morning. Prince felt strongly about intellectual property. I speak of intellectual property in the sense that Prince believed artists should be fairly compensated for their work. Prince was an advocate for any and all artists. It is irresponsible to share this content.
Lin once chose theater-etiquette over Madonna.
Lin Manuel-Miranda is a lot like Prince in this sense. Lin opted out of the social media attention that would follow from taking photos with Madonna. He instead made it clear she was not welcome backstage because she was texting during the show. Miranda previously made a song about texting during a show for Freestyle Love Supreme.
Lin Manuel-Miranda was mad the Congratulations lyrics were on Rap Genius because they were [incorrectly] transcribed only due to a bootleg.
Does Miranda have to take on every social injustice because he wrote Hamilton? Absolutely not. He has been so generous to us. He gave us Hamilton. He was just on Inside Amy Schumer. He's going to be on Season 2 of Difficult People.
What part of this "tribute" made filming the cast of Hamilton performing on stage at the Richard Rogers ok? Are we taking too much of Ham4Ham inside?
REAL LIFE. REAL NEWS. REAL VOICES.
Help us tell more of the stories that matter from voices that too often remain unheard.