Although the roots of blues music came from the United States, it doesn't mean that you have to be from here to have the blues. Case in point: Hamish Anderson. This twenty-something guitar player from Australia got a taste of the blues listening to his father's record collection and since then, has spent the last ten years crafting his own unique blend of music.
Buzz from his first two EP's now has him working on his first full-length album due out in 2016. In this interview we talked about fitting into a specific genre of music, Eric Clapton being a triple-threat and being a romantic.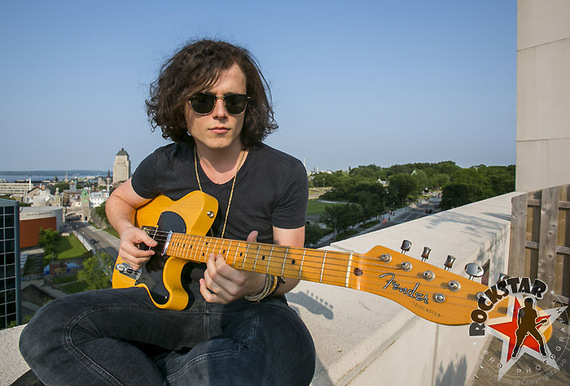 Photo by Scott Legato.
So, some are calling you the future of the Blues. How heavy is that?
HA: That's a funny one. I kind of feel like I'm just getting started.
As for the Blues scene in Australia, were there a lot of local musicians showing you the ropes, or were you studying the masters from afar?
HA: In Australia, there's definitely a blues scene, but there isn't a huge market for it. I use to study my dad's old records -- he listened to all those old blues and rock guys. I kind of picked it up from that -- as much as I could learn from the CD's, books and videos.
Who were the initial blues cats that you were listening to?
HA: Buddy Guy, Albert King, B.B. King, Freddie King, Robert Johnson, Elmore James, Son House. I first got into my dad's vinyl collection which was like The Rolling Stones, Led Zeppelin, Cream and The Beatles, and from that, every interview that I read with Eric Clapton or Keith Richards, they'd always be talking about people like Muddy Waters or Howlin' Wolf, which would make me travel back to some of the early guys like Robert Johnson.
Has your musical taste changed from when you started to play guitar up to this point?
HA: I love all types of music, but it is kind of still the same music I always go back to: All the Chess stuff, The Stones, Zeppelin -- they are my go-to. Blues music and the rock n' roll take on that is the type of music that speaks to me the most.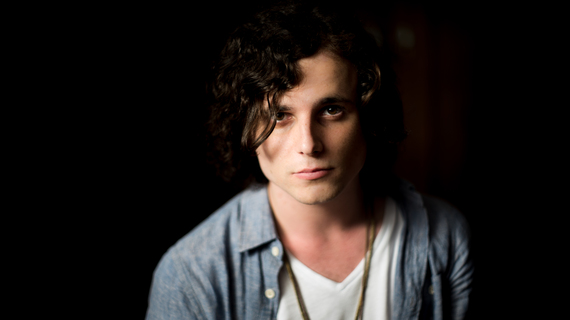 Photo by Richie Branco
If someone out there wasn't familiar with your music, and you could choose two past or present musicians to compare yourself to, who would they be?
HA: Probably Eric Clapton. I admire the range of music that he can do. He was really an inspiration to me and kind of how he was always that triple threat -- a great singer, guitar player and songwriter. That's something that I definitely look up to. The second, which is a little bit out in left field would be Jeff Buckley, who is someone who had a big influence on me when it came to songwriting.
Do you remember the moment you knew that making it as a musician was actually going to become a reality?
HA: I think there have been a few of those moments for me. The first time being in a studio and recording was one of those moments where it was like, you can actually kind of do this. This is real and not just sitting around in my room dreaming about it. Also, just thinking about the past year of my life and coming to America and getting a lot further and doing things like opening for B.B. King. All these things made me feel like I was on the right path.
So you ended up getting a gig opening for B.B. King on what would become his last tour. If you had been able to ask him one question, what would've it been?
HA: I'm sure his answer would have been, 'for the love of music', but I would have asked, how were you able to do it for so long? I think that was the main thing, taking away from it, was the longevity. He was really one of those people who did music his entire life up until the very end. That was really inspiring -- to see and to witness.
You're writing these bluesy/rock songs akin to a John Mayer but they seem to be evolving and having more of a pop sensibility. What genre of music do you want your music to fit into?
HA: I think it's hard to stuff things into one genre, but for me I guess at the core of it, I always call it blues, because all my foundation is the blues. All my favorite records are in the genres of rock n' roll, and blues, soul, country and folk, and all these things kind of mix. The blues for me is the most interesting. The records that I like, like The Beatles White album or Exile of Main Street (Rolling Stones) were just an array of genres. I call my music rock n' roll because for me it's like an umbrella and it has all those elements to it.
Do you fancy yourself as a romantic? I sense some of these tunes on your first two EP's are about love and relationships.
HA: Yeah. I think that a lot of the old blues stuff had some of that. I remember there being a human element about it and a likable aspect. I remember hearing Elmore James song The Sky Is Crying when I was probably like 14 or something and going through my first breakup and being able to relate to every lyric and could feel that someone else is going through what you're going through and that you're not the only person. And with songwriting, and the songwriters that I like, there's kind of an aspect of romance about them.
Tell me about your guitars. Are you more of an acoustic guitar player, or electric guitar player?
HA: I definitely now think I'm more of an electric guitar player. I'm still finishing up my first full-length album, which I think is a good progression beyond the EP's and showcases more of the guitar and the rock n' roll blues sound. It's always been important to me to be able to play both.
What is your favorite album of all time?
HA: Exile on Main Street is really up there on my list.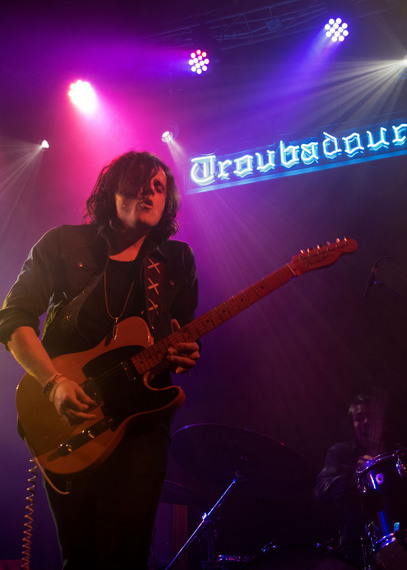 Photo by Alex Huggan
You've been in the studio working on your first full-length release. What can we expect on this album?
HA: I got really lucky being in L.A. and met some really good people to work with, like the producer Jim Scott, who has worked with everyone from Tom Petty to Tedeschi Trucks -- these are all people I really admire. He understood what I wanted to do this time and it was really about trying to capture the live sound as much as possible. We recorded pretty much all of it live and with very little overdubs. It turned out to be a mixture of rock n' roll, blues, and soul. I feel that with certain songs on my EP like the song Burn, I got the electric blues sound that I was comfortable with. And now I'm really comfortable with my guitar playing, and kind of feel like I have my own voice as a guitar player. I think that's the kind of things that will come across.
Favorite Tracks:
Burn -- Little Lies -- Howl
REAL LIFE. REAL NEWS. REAL VOICES.
Help us tell more of the stories that matter from voices that too often remain unheard.