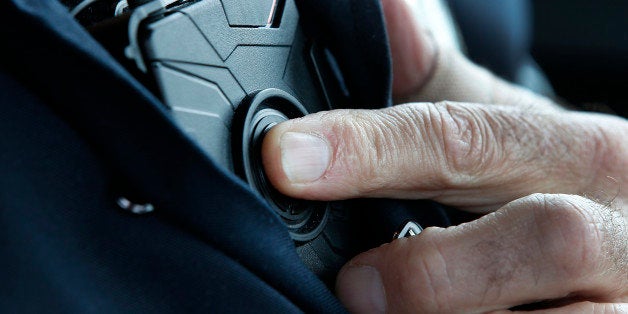 All uniformed officers in northwest Indiana's Hammond Police Department will start wearing body cameras just seven months after cell phone footage of a traffic stop went viral and sparked accusations of police brutality.
Hammond is not alone. Police departments across the nation are adopting the use of body cameras in the wake of high-profile police-related deaths like those of Michael Brown in Ferguson, Missouri, and Eric Garner in New York City, although the long-term effects of this practice are not yet clear. Early evidence reveals a mixed bag: decreases in community complaints against cops as well as unexpected surveillance and budget liabilities for police departments.
But for Hammond Mayor Thomas McDermott, the decision to spring for cameras was easy.
"When Hammond was in the national news [in 2014], there was nothing else going on but [our] trying to defend ourselves. Business stopped for a week -- we had satellite crews here 24/7," McDermott told The Huffington Post on Tuesday, a day after he announced the start of the body camera program. "I never want to go through that again."
In September 2014, Lisa Mahone was driving, along with her boyfriend Jamal Jones and two children, to visit Mahone's ill mother when they were pulled over by Hammond officers on a seat belt violation. Mahone's 14-year-old son recorded what happened next: A police officer smashed the window of the family's car and stunned Jones with a Taser after he refused to get out of the vehicle. The incident prompted a federal lawsuit against the department and an FBI investigation.
Hammond has now paid $160,000 for 156 Axon cameras from Taser International plus the price of storing the daily recorded footage -- a cost that came in after the year's budget had more or less been decided, McDermott said.
"We had an incentive that other PDs didn't have," McDermott said. "We had to reprioritize."
The mayor said "the public is happy" to have the cameras and even the police force has embraced them.
"Traditionally, before 2014, the police department, the union itself and members of the Fraternal Order of Police were the ones who didn't want this type of camera, and now they enthusiastically support it," McDermott said. "It helps everyone out. It helps police in the case of a difficult arrest, and it helps the citizen if the police officer is acting aggressively or improperly."
McDermott said the cameras will also benefit judges, juries, the police chief and the mayor himself.
"I don't want to see a 30-second snippet of [an incident that's under question]. I want to see the whole thing," McDermott said. "I'd like to think I'm not biased one way or another when it comes to arrests, but this is going to make my job easier as mayor so appropriate punishment can be handed down as necessary. And it can help the public because usually when it's an officer's word against the civilian's, the police officer usually wins."
He also hopes footage of disputed incidents will quell unrest among citizens if it shows that officers, in fact, acted fairly.
Hammond police have used dashboard cameras for the past 16 years, but the mayor said body cameras are "a natural response to cell phone cameras."
As part of the new program, officers will undergo specialized training in procedural justice and police legitimacy, which is designed to help them "give the citizens they encounter a voice by listening, remain neutral while making decisions, show respect and build trust within the community," the mayor's office said in a statement.
Hammond's police force is the first in northwest Indiana to adopt body-worn cameras as part of the standard issue equipment for uniformed officers. Neighboring Gary launched a pilot program in March.
REAL LIFE. REAL NEWS. REAL VOICES.
Help us tell more of the stories that matter from voices that too often remain unheard.