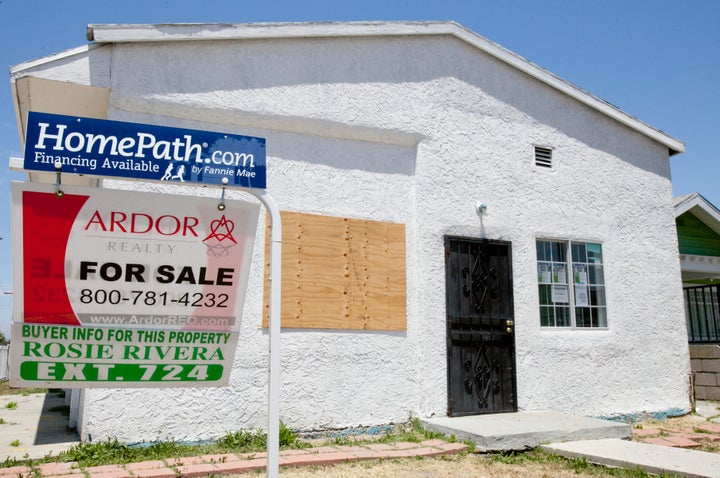 WASHINGTON -- For the third consecutive month, the Obama administration's signature housing help plan posted the lowest numbers of preliminary mortgage modifications since the program's start in the spring of 2009.
Just 13,000 homeowners received initial mortgage modifications from the Home Affordable Modification Program in August, down from 14,000 in July and 15,000 in June, already the fewest since April 2009.
When President Obama announced HAMP in February 2009, he said the program would use subsidies to encourage bailed-out banks to modify mortgages for as many as 3 or 4 million homeowners. So far, fewer than 700,000 homeowners have received lasting help from the program, which is overseen by the Treasury Department and was initially funded with billions of dollars from the Wall Street bailout. The slowing of new trial modifications suggests HAMP is less likely than ever to meet its goal.
Former bailout watchdog Neil Barofsky called the program's administrative failures "breathtaking" in remarks prepared for a congressional hearing on Thursday. He said that numerous studies and anecdotal reports, including a Tuesday ProPublica story, "confirm the widespread abuse suffered by homeowners at the hands of the mortgage servicers charged with implementing HAMP."
"The foreclosure crisis continues to wreak havoc on millions of American homeowners," said Barofsky, now a senior fellow at New York University Law School. Barofsky noted that while there have been fewer foreclosure filings in 2011 compared with last year, the slowdown will likely be temporary as banks get past the paperwork fraud scandal that erupted last year.
As of August, 690,969 homeowners remain in permanent modifications, which reduce monthly payments by hundreds of dollars for eligible borrowers who complete three or four months of reduced payments during a "trial" period. Trial periods have frequently stretched for longer, as homeowners have complained that banks repeatedly lose paperwork. Nearly 1 million trial and permanent modifications have been canceled.
The administration says that HAMP deserves some credit for "proprietary" modifications that happen outside of the program. It said that 55,700 homeowners received non-HAMP modifications in July. Altogether, 5.1 million modifications have been started since April 2009.
"These programs have now set standards for the industry that have led to millions more homeowners receiving assistance at no expense to taxpayers," said Treasury official Tim Massad in a statement. "We recognize that there are homeowners who are still struggling but eligible for assistance and remain committed to reaching those homeowners."

Calling all HuffPost superfans!
Sign up for membership to become a founding member and help shape HuffPost's next chapter