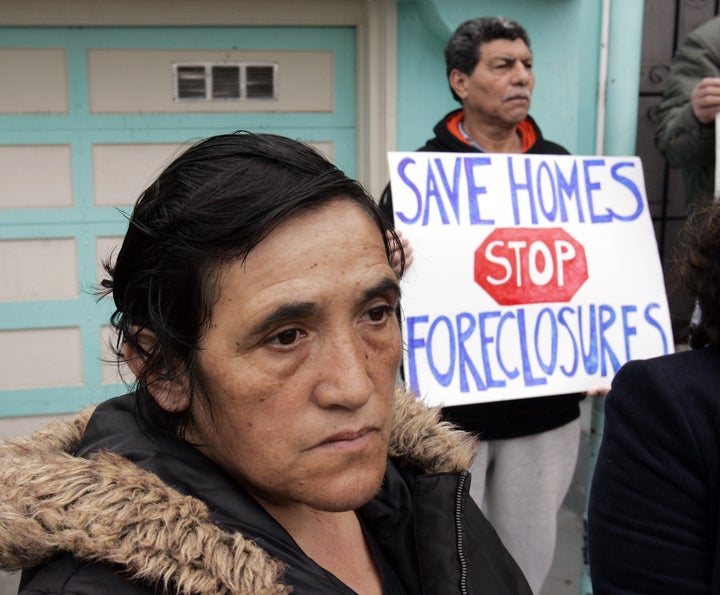 More than five times as many homeowners were kicked out of the Obama administration's primary foreclosure-prevention program last month than were granted new relief, new data released Monday show.
Nearly 155,000 homeowners were bounced from the administration's Home Affordable Modification Program in May versus about 30,000 who were offered new temporary trial plans of lower monthly payments.
About 48,000 more homeowners were granted five-year plans of lower payments compared to April, with an undisclosed amount offered five-year plans that have yet to complete the paperwork.
All told, last month about twice as many homeowners were bounced from a program that promised to help struggling families hurt by the firms at the heart of the worst financial crisis and subsequent economic downturn since the Great Depression. Those firms received hundreds of billions of dollars in taxpayer cash and guarantees.
Meanwhile, 16 months after President Barack Obama told a crowd in Mesa, Ariz. of his plan to "help between seven and nine million families restructure or refinance their mortgages so they can afford -- avoid foreclosure," nearly 436,000 homeowners have been kicked out of the centerpiece of the administration's $75 billion plan to help distressed borrowers, while only about 340,000 homeowners have received permanent relief.
"There's no question that today's housing market is in significantly better shape than anyone predicted 18 months ago," HUD Secretary Shaun Donovan told reporters before reminding them of the dire forecasts and statistics that dominated headlines when the new administration took office.
"Seventeen months after President Obama took office, our housing market is stabilizing and our economy has created jobs for five straight months for the same reason: Because we did act. Because this administration immediately upon taking office took swift and comprehensive action," Donovan said.
After seven months of increases in newly-initiated five-year modification plans, the pace slipped 30 percent in May to an increase of 47,724. It's the lowest monthly increase since December, Treasury data show.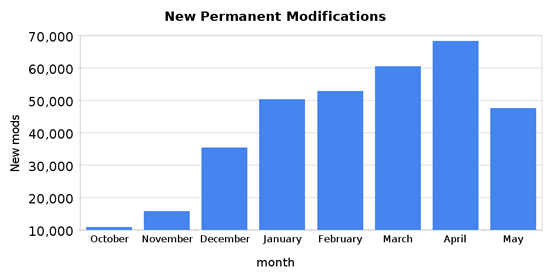 The pace of new trial modifications, which were designed to be three-month plans that would lead to a five-year, permanent reduction in monthly payments, continued its monthly slide: just over 30,000 new homeowners joined the program in May, a 19 percent drop from the previous month and a 67 percent decline from January. The number of new entrants has declined for the past five months.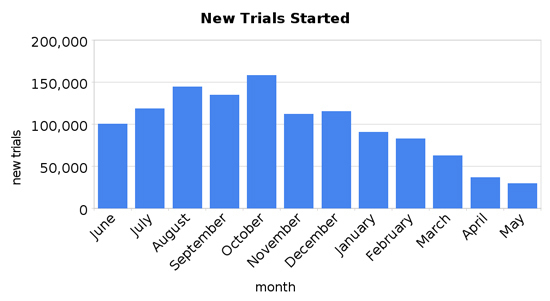 Over the same period, the number of new canceled modifications skyrocketed by 154,626, or 55 percent.
"It would a national tragedy and shame if the hundreds of thousands of families that entered HAMP with the hope of a permanent modification now face foreclosure once more," said Richard H. Neiman, New York's top bank regulator and a member of the Congressional Oversight Panel, a bailout watchdog. "In many cases we are talking about people who made month after month of payments and may now be being pushed out of HAMP due to document disputes with their mortgage servicer."
Treasury allocated $50 billion for its plan to help struggling homeowners, with an additional $25 billion to assist government-controlled housing giants Fannie Mae and Freddie Mac in its efforts as part of the administration's overall foreclosure-prevention plan, called Making Home Affordable.
By comparison, the nation's four biggest banks by assets received a combined $140 billion alone in taxpayer cash as part of a larger bailout of Wall Street.
While the pace of five-year and trial mods declined 30 percent and 19 percent, respectively, in May, the pace of newly-canceled mods jumped 25 percent, Treasury data show. The pace of canceled mods has been slowing over the past three months, however.
Administration officials pointed out that nearly half, or 49 percent, of homeowners bounced during the trial modification phase through April were placed in alternative modification plans, according to Treasury data based on statistics from the eight largest mortgage servicers in HAMP. Just over 9 percent either lost or are in process of losing their homes through foreclosures and short sales/deeds-in-lieu, the data show.
Treasury figures, however, don't show whether those homeowners are in sustainable modification plans, defined as those that ultimately avoid foreclosure through affordable monthly payments.
"Although the report indicates that 50 percent of the families who are losing their HAMP modificiation will receive non-HAMP alternatives, the true test is in the details of these alternatives and seeing that families are truly ending up better off, and not worse," Neiman said.
Donovan and two other Treasury officials, meanwhile, tried to focus reporters on the median decline in monthly mortgage payments experienced by the 340,459 borrowers in five-year plans ($514.31, or a 36 percent decrease compared to pre-mod payments); the fact that housing prices have leveled off, and are starting to tick up; that more than six million homeowners have refinanced their mortgages thanks to historically-low interest rates, and more than 2.5 million families have purchased a home using the temporary homebuyer tax credit; that the pace of new foreclosures is slowing; and that Americans' equity in their homes has risen by more than $1 trillion since the first quarter of 2009.
Combined, this shows that the housing market has stabilized, and that more homeowners are being helped than hurt by the administration's efforts, officials stressed during the call, citing data from another, more detailed report.
But HAMP was touted as a program that "will enable as many as 3 to 4 million homeowners to modify the terms of their mortgages to avoid foreclosure," as Obama put it Feb. 18, 2009.
Housing experts are increasingly doubting the program's eventual success.
"It's sorta hard to tell if any of this 'makes sense' without a boatload more data on how the loans have been performing during the trial period (and in subsequent mod programs)," wrote Thomas A. Lawler, a former top official at Fannie Mae now a consultant on housing and mortgage matters, in a note to clients. "Cynics could easily feel that the whole 'process' is starting to feel like a 'kick the can down the road' program, where if one 'step' doesn't work one just adds another designed solely to keep the number of foreclosures down, even if the borrower's case is 'hopeless.'"

Yet while the administration tries to stem the tide of foreclosures -- especially in time for November's Congressional elections -- the biggest mortgage servicers aren't making it easy.
Citigroup, for instance, has placed 34,675 homeowners in five-year plans through HAMP, Treasury data through May show. But the bank, the nation's third-largest by assets, kicked out 60,607 borrowers from trial plans through April. That number likely rose in May.
Wells Fargo, the nation's fourth-largest bank by assets, put 40,759 of its borrowers in five-year HAMP plans, data through May show. However, the bank kicked 59,910 homeowners out of trial plans through April, according to Treasury. The number of homeowners bounced from the program also likely rose in May.
Put another way, the number of homeowners Citigroup and Wells Fargo have tossed from HAMP trial plans is 60 percent greater than the total number of homeowners they've granted permanent relief.
"This scorecard isn't only about sharing the good news about our housing recovery, but also the areas where we still need to see improvement," Donovan said.

Calling all HuffPost superfans!
Sign up for membership to become a founding member and help shape HuffPost's next chapter