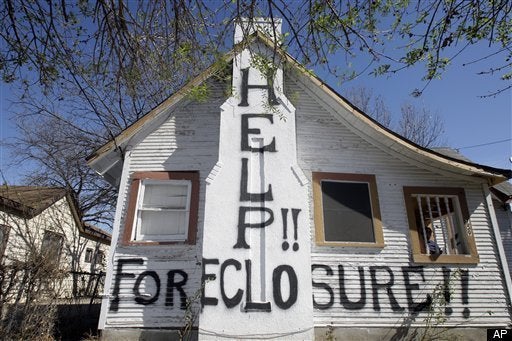 The number of new homeowners entering the Obama administration's signature foreclosure-prevention effort dropped 35 percent to a one-year low in June, the third straight month during which the number of new enrollees was surpassed by the number of homeowners bounced from the program, newly-released government data show.
About 15,000 new homeowners began temporarily benefiting from lower monthly mortgage payments in June, according to new Treasury Department figures released Tuesday about the Home Affordable Modification Program, or HAMP. That marks a 35-percent drop from the previous month, and a 90-percent decrease from the program's peak of 159,000 new enrollees this past October.
HAMP lowers mortgage payments for struggling homeowners to 31 percent of monthly income. It's part of the administration's $75-billion effort to reduce the record-high foreclosure rate. Lenders expect to repossess more than 1 million homes this year, according to information provider RealtyTrac.
The program allows homeowners to permanently reduce their monthly payments after successfully completing a trial period, typically three months, which requires them to stay current on their mortgage and provide documentation substantiating their financial situation.
But once homeowners enter HAMP, there's still no guarantee they'll benefit from the possible five years of reduced payments. About 51,000 homeowners received such "permanent" modifications in June, up slightly from May but significantly down from the highs reached in March and April, when an average of about 64,000 homeowners were receiving permanent relief each month, according to Treasury data.
Instead of either temporary or permanent relief, an increasing number of distressed homeowners are being kicked out of the program. Nearly 94,000 homeowners were bounced from HAMP in June, compared to 66,000 homeowners who were granted some kind of payment relief. It's the third straight month more homeowners were kicked out of the program than entered some phase of it.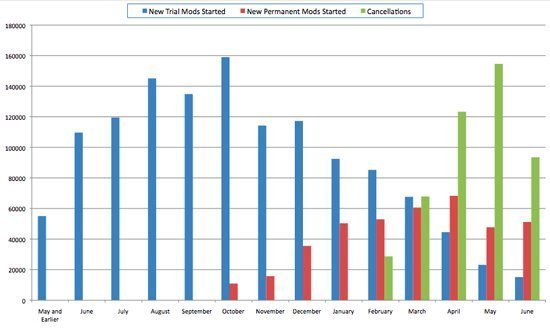 *Source: Treasury Department
Through last month, about 753,000 homeowners were enrolled in HAMP in either temporary or permanent programs. Total enrollment hasn't been that low since last November, Treasury data show. It's decreased every month since the March peak of just over 1 million.
The soaring number of cancellations -- more than 529,000 -- means that, through June, two out of every five struggling homeowners who entered the program with a promise and expectation of permanent relief were ultimately expelled.
"The ever-increasing number of homeowners being pushed out of HAMP does, and should, raise serious questions about whether these cancellations are being properly processed by servicers or if they continue to be plagued by the same documentation mistakes that we have seen in the past," Richard H. Neiman, New York's top bank regulator and a member of the Congressional Oversight Panel, a bailout watchdog, said in a statement.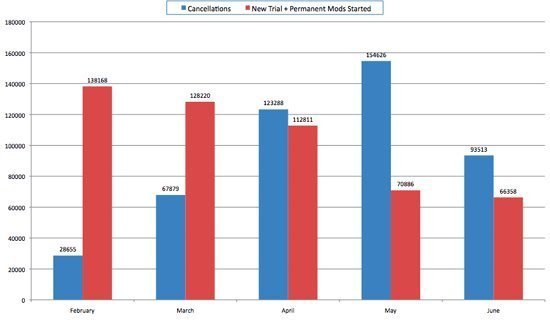 *Source: Treasury Department
The housing market, meanwhile, is sputtering. Housing starts are down, homebuilders are reporting the weakest conditions in more than a year, repossessions are climbing, and pending home sales plunged 30 percent in May with the expiration of a temporary tax credit for first-time homebuyers.
An uptick in the number of HAMP cancellations leads to an increase in the amount of homes available on the market, potentially depressing home prices and retarding the nascent economic recovery.
Members of Congress have referred to HAMP as a "failure." Some have called for the program to be scrapped altogether.
"There's a real disconnect between the false image of success and propaganda that the administration is desperately trying to project and the facts, which report another month of more homeowners being kicked out of HAMP than are receiving permanent mortgage relief," Rep. Darrell Issa (Calif.), the ranking Republican on the House Committee on Oversight and Government Reform, said in a statement.
Alan White, a law professor at Valparaiso University who has written extensively on mortgages and foreclosures, said HAMP's effectiveness "has to be judged in comparison to the foreclosure crisis."
In December, about 153,000 new homeowners received either temporary or permanent monthly payment reductions through HAMP, Treasury data show. That month, foreclosure filings were reported on about 350,000 homes, according to RealtyTrac.
But while the number of foreclosure filings has steadily dropped, the number of new HAMP mods has plummeted. In June, foreclosure filings were reported on about 314,000 properties. By comparison, there were just 66,000 new HAMP mods.
So while there were about two new homes in some stage of foreclosure for every new HAMP mod in December, by last month there were nearly five homes in foreclosure for each and every new mod.
"So, [HAMP is] helping somewhat, but not turning the situation around," White said in an e-mail.
While critics say HAMP isn't living up to its expectations, the administration seeks to place it in the context of the larger housing effort, which they say has played a role in stabilizing the market.
"We're absolutely not claiming victory, but due to the Obama administration's efforts, improved home affordability is continuing to provide opportunities for prospective, qualified, homebuyers, while promising neighborhood stabilization efforts are helping hard hit neighborhoods start to recover," Raphael Bostic, the Department of Housing and Urban Development's assistant secretary for policy development, said in a statement.
There are some data points in Bostic's favor: Home prices have stayed relatively constant, and thanks to record-low interest rates courtesy of the Federal Reserve mortgages are more affordable than ever before.
More than 389,000 borrowers are benefiting from a median permanent reduction in their monthly payments of about $510. Homeowners in active trial and permanent modifications have saved a collective $3.2 billion.
And HAMP homeowners in permanent modification plans have a significantly lower re-default rate than the industry average.
Just under 6 percent of the roughly 50,000 homeowners who have been in permanent modifications for at least six months have ended up at least 60 days late. For the 4,000 or so who have had permanent mods for at least nine months, that same delinquency rate climbs to just under 8 percent.
"It's still early, but re-defaults below 10 percent are a significant improvement over pre-HAMP modifications from 2007 and 2008 that defaulted at 40 percent to 60 percent rates," White said. "I am impressed."
But if Treasury began mandating that lenders reduce the outstanding principal on the mortgages -- rather than reducing the interest rate or lengthening the life of the loan -- White said more homeowners would be helped.
"I think if Treasury got serious about strategic principal reduction, we could turn the corner on the foreclosure crisis," he said. "For now, however, it's crisis status quo: triple the normal level of foreclosures, with the resulting drag on home prices, the housing industry and the economy."
*This story was updated at 12:41 a.m. ET on Wednesday to correct two typos made during the editing process.
*************************
REAL LIFE. REAL NEWS. REAL VOICES.
Help us tell more of the stories that matter from voices that too often remain unheard.