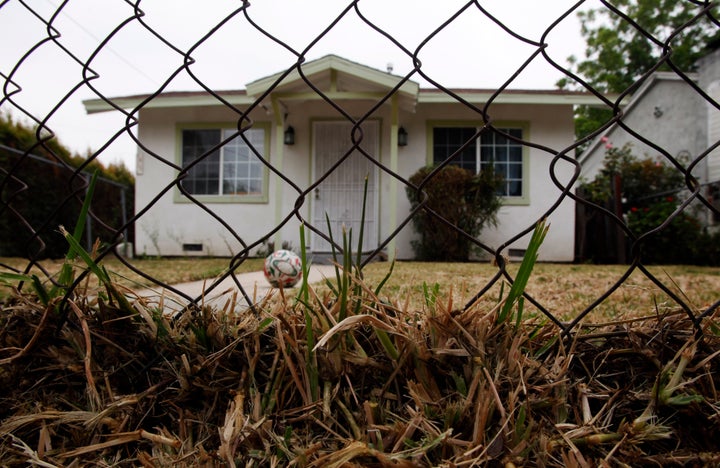 WASHINGTON -- Fewer homeowners entered preliminary mortgage modifications under the Obama administration's signature foreclosure prevention initiative in June than in any month since April 2009, according to government data released Friday.
June saw just 15,000 new trial modifications under the initiative, which the administration confirmed was the smallest number of any month almost since the program launched. (The administration said some June modifications may not have been reported yet. More than 30,000 trial modifications were converted to permanent ones in June.)
Since the Home Affordable Modification Program launched in the months following President Obama's inauguration, nearly 870,000 struggling homeowners have been kicked out of the initiative, while just 657,044 remain in permanent modifications.
For eligible borrowers, HAMP lowers monthly payments to 31 percent of their monthly income by reducing interest rates, extending the term of a loan and temporarily forbearing payments. If a borrower successfully makes reduced trial payments for three months, the modification is supposed to become permanent -- but in its early history the program has been notorious for its drawn-out and often hopeless trial mods.
President Obama said in 2009 that the program would help 3 to 4 million households modify their mortgages. The Treasury Department, which administers HAMP, backed away from that goal last year and started measuring the program's success mainly by the number of modifications across the entire mortgage servicing industry.
"Tens of thousands of additional homeowners are getting real relief from the Administration's programs every month," Tim Massad, a senior Treasury official, said in a statement. "These programs are setting standards across the industry that are yielding more sustainable assistance for homeowners in the face of the worst housing crisis in a generation."
The Treasury Department suggested in a release that the slowdown of new applicants owed partly to a decline in the rate of prime home loans more than 30 days delinquent, which fell from a 2010 peak of 5.9 percent to 4.4 percent in June. "As new delinquencies decrease across the nation," the release said, "the number of new homeowners seeking assistance through the Administration's programs may also decrease."
But Treasury data show that nearly a million people are more than 60 days delinquent and eligible for the program. (Borrowers who are only at risk of falling behind, but have not yet missed a payment, are also eligible.)
"The HAMP program continues to underwhelm," said Alan White, a law professor at Valparaiso University and expert on HAMP. "Mortgage servicers are doing twice as many 'proprietary' or non-HAMP modifications as HAMP mods. The number for all modifications is steadily declining and HAMP continues to be barely relevant."
According to the Department of Housing and Urban Development, non-HAMP modifications were down from 57,000 in April to fewer than 53,000 in May, the most recent month for which data is available.
Housing experts say the $1,000 payments mortgage servicers get for successful modifications, and the lack of consequences for disobeying program guidelines, don't provide enough incentive to modify many mortgages.
The Treasury Department said in June that it would withhold payments from a handful of bad banks but eventually hand the money over if their mortgage servicing improved.
"When the Treasury Secretary himself acknowledges that the incentive structure is 'not powerful enough' and then does nothing to address it," Neil Barofsky, the Treasury Department's former bailout watchdog, said in an email, "when the abysmal performance of the mortgage servicers is met with a gimmicky so-called sanction to temporarily suspend payments for less than a handful of servicers, and when rather than confront these flaws Treasury attempts to spin more than 800,000 HAMP failures as successes, it is not surprising that already anemic HAMP results continue to get worse and worse."
Barofsky continued, "The downward trend of this failed program will continue unless and until Treasury admits its mistakes and makes a real effort to revamp HAMP so as to deliver on its original promise to the American people."
An oft-cited explanation for the program's failure is that it was designed primarily to help homeowners who'd taken out adjustable rate mortgages that left them unable to refinance after the housing market collapsed. But rather than bad mortgages, the foreclosure crisis is now driven by unemployment and reduced income.
"How do you do a modification for someone who's unemployed?" asked attorney Ira Rheingold, executive director of the National Association of Consumer Advocates.
To improve the program's chances of helping jobless homeowners, in July the administration announced the unemployed would be eligible for a full year of forbearance, as opposed to just three months -- something homeowner advocates had long recommended. Barofsky had pushed more forbearance in his role as the Treasury Department's special inspector general for the Troubled Asset Relief Program, better known as the Wall Street Bailout. HAMP is funded with leftover bailout money.
President Obama said in July that his administration's response to foreclosures has "probably been the area that's been most stubborn to us trying to solve the problem." HAMP will fail to meet Obama's goal of modifying 3 to 4 million mortgages.
"Foreclosure starts and foreclosure sales are down somewhat from their peak in 2009, but on the other hand they are still well above their 2006 pre-crisis levels," White said. "So we still have a serious foreclosure problem, adding about one million new completed foreclosure sales to the inventory every twelve months. HAMP at best is resolving about one-third that number."
Shahien Nasiripour contributed to this report.

Related
Popular in the Community