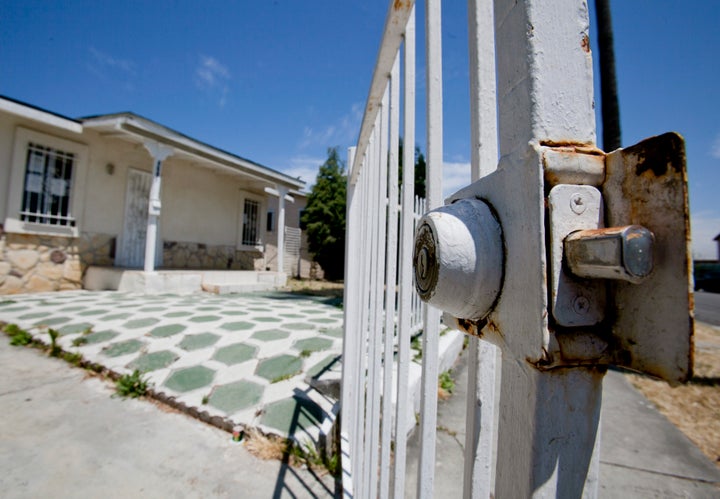 WASHINGTON -- The Obama administration announced more disappointing numbers for its signature anti-foreclosure initiative and said Thursday that it would continue to withhold payments from two banks running the program.
Just 14,000 homeowners received trial modifications under the Home Affordable Modification Program in July, the fewest of any month since shortly after the program's launch early in 2009. The previous low came in June. (The Treasury Department, which oversees HAMP, said 22,079 modifications in total have been reported since the June numbers came out, but some of those modifications happened in previous months.)
The administration also released its second quarterly review of homeowner treatment by banks and companies and that service mortgages, finding that Bank of America and JPMorgan Chase have continued to do such a bad job that incentive payments for completed modifications would be withheld.
"While tens of thousands of additional homeowners benefit from the administration's programs each month, we need to keep the pressure on servicers to effectively assist those homeowners who are still struggling and eligible for assistance," said Treasury official Tim Massad in a statement. "These assessments provide an unprecedented level of information about servicer performance and are designed to help more eligible homeowners walk away from this process with better results."
HuffPost readers: Trying to get a mortgage modification or a refinance under the Home Affordable Refinance Program? Tell us about it -- email arthur@huffingtonpost.com. Please include your phone number if you're willing to do an interview.
HAMP lowers eligible borrowers' monthly payments to 31 percent of their income by reducing interest rates, extending the terms of the loan, and temporarily forbearing principal payments. Qualified borrowers who make three monthly payments are supposed to be put into permanent modifications, and servicers get $1,000 incentive payments. Homeowners don't need to be behind on payments to qualify, though they must at least be at risk.
As of July, 675,447 homeowners were in permanent modifications, while nearly 900,000 trial and permanent mods had been canceled. President Obama said when HAMP launched that it would modify mortgages for 3 to 4 million homeowners, but that goal now seems unreachable. Instead, the Treasury Department has focused on improvement throughout the entire mortgage servicing industry, noting Thursday that "[m]ore than 5 million mortgage aid arrangements were started between April 2009 and the end of July 2011."
Alan White, a HAMP expert and law professor at Valparaiso University in Indiana, pointed out that mortgage servicers prefer to do non-HAMP modifications by a rate of five to three, even though borrowers in HAMP modifications are about half as likely to fall behind on payments.
"This is a crazy situation, where ideology and servicer culture seems to prevail over economic logic," White said. "As with the economic stimulus, it is true that things would be worse without HAMP. Nevertheless, to get a grip on the home price slide and the housing depression, we need to simplify this program and enforce the program contracts."
In June, the administration announced that it would withhold incentive payments from Bank of America, Chase and Wells Fargo. On Thursday, Treasury announced that Wells had been let out of the dog house -- but Bank of America and Chase had not.
Chase and BofA both received particularly low marks for miscalculating borrowers' income. Treasury is withholding $18 million from Bank of America and $28 million from Chase. Together the two banks posted $9.1 billion in net income in the second quarter of 2011.
"We continue to make significant improvements to our processes and controls," said a Chase spokesman. "We expect future scorecards will reflect that."
"We are working to improve the ratings that would allow reinstatement of incentives, but we are not driven by that goal," said a Bank of America spokesman. "We lead the industry with completed HAMP modifications and Bank of America is driving one in four modifications completed in the program so far this year. More than 910,000 Bank of America customers have received mortgage modifications through all of our programs to date, and our team will continue working very hard to prevent foreclosure for our customers who are experiencing hardships as a result of unemployment, underemployment and other continued economic conditions in our country."
Once their mortgage servicing practices improve, Treasury will let the banks have their money back.
This story has been updated to include comment from Bank of America.