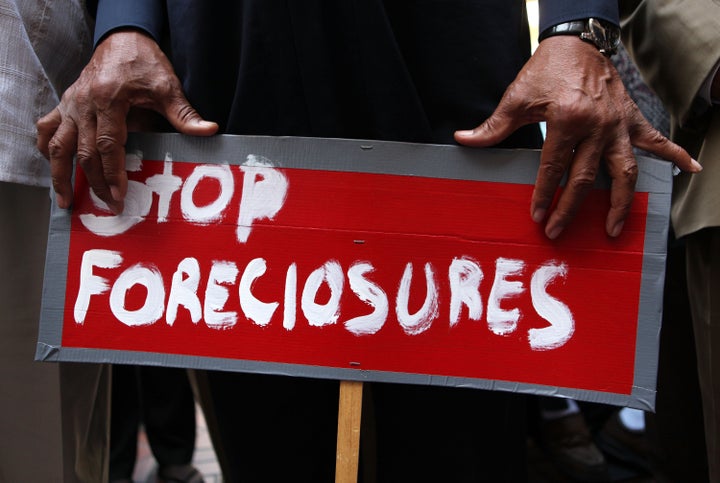 More than twice as many homeowners were kicked out of the Obama administration's signature foreclosure-prevention program last month as were granted permanent relief, new data released Monday show.
More than 123,000 homeowners were bounced from the administration's Home Affordable Modification Program in April versus about 60,000 who were offered five-year plans of lowered monthly payments.

This is the first month since the administration started reporting cancellation figures that the number of canceled modifications outpaced the number of new permanent modification offers.
The number of canceled modifications skyrocketed 82 percent in April compared to March.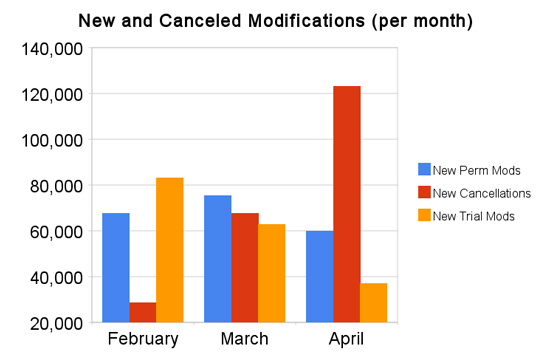 "I think it's important to remember that our focus has been on getting homeowners in trial modifications through the decision," said Phyllis Caldwell, chief of Treasury's Homeownership Preservation Office, during a conference call with reporters. "As those decisions get made, it's certainly expected that there would be some that would fall out of HAMP and be considered for other foreclosure alternatives."
"The number is a very, very small percentage of the total amount of permanent modifications," Caldwell added.
More than 295,000 homeowners currently are in five-year modification plans, which are considered "permanent" because the interest rate won't increase very much over the life of the loan. Interest rates are at historic lows.
There were more cancellations in April than there were new permanent and trial modifications combined. The number of cancellations was about 27 percent higher than the number of new trial and permanent plans, according to Treasury Department data.
"I think it's great to take these numbers in context... with the broad efforts to stabilize the housing market," said David Stevens, chief of the Federal Housing Administration. Stevens pointed out that home prices and the number of new foreclosures have started to stabilize. He credited the administration's efforts in keeping down interest rates with helping homeowners to refinance their existing mortgages into lower rates, resulting in lower payments.
Trial modifications have been offered to more than 1.2 million homeowners during the year-long program.
"You know, while enabling eligible homeowners to modify their mortgages is vital to addressing the housing crisis with HAMP, it's also extremely important to keep this in context that this is just one part of the administration's comprehensive approach to assisting homeowners and stabilizing the housing market," said Stevens, assistant secretary for housing at the Department of Housing and Urban Development.
"We don't claim that the housing market is totally out of the woods, but it's certainly showing signs of stabilizing," added Herbert M. Allison Jr., assistant secretary for financial stability at the Treasury Department.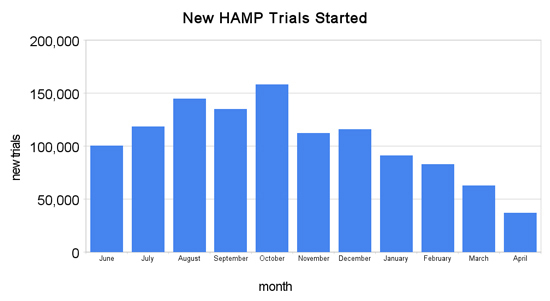 Allison pointed to the fact that the program, part of the administration's $75 billion effort to stem the rising tide of foreclosures, initially allowed homeowners to state their income when applying for three-month trial plans, rather than submitting documents proving their income. That's played a large role in the number of cancellations, he said.
The program lowers homeowners' monthly payments by reducing their mortgage payments to 31 percent of their monthly income. Beginning in June, the initiative will require homeowners to prove their income before qualifying for a trial modification. Mortgage servicers have already begun to apply this upcoming requirement.
Allison predicted that by June, after servicers clear through the stated-income trial mods, "we will see a higher level of permanent modifications."
The conversion rate of eligible trial plans to permanent status is currently at about 30 percent, Treasury data show. Allison said it "eventually will be about 100 percent" since servicers will be requiring documentation up front.
He cautioned that "perhaps" more homeowners also will be bounced from the program.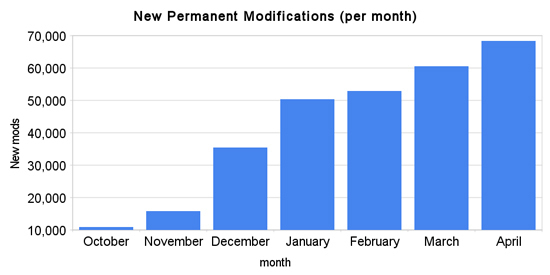 Christina Marie Fierro contributed to this report.

Popular in the Community