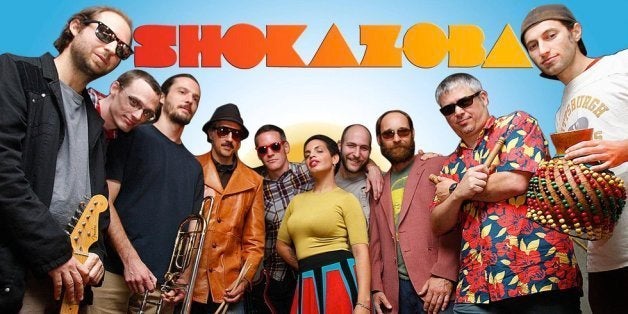 Shokazoba, an afrobeat band based in Northampton, Mass., received an email from Hampshire College (located in the nearby town of Amherst) on Thursday that said a decision had been reached to cancel the group's performance at the Friday event. The email, obtained by The Huffington Post, did not provide a reason for the sudden cancellation. However, a statement posted on the private liberal arts college's website noted that controversy over the band's mostly white membership had caused concern among students at the school.
"Some members of our student community questioned the selection of [the] band, asking whether it was a predominantly white Afrobeat band and expressing concerns about cultural appropriation and the need to respect marginalized cultures," explains the statement read.
"Some students were having a discussion on Facebook about whether having a band play Afrobeat music was cultural appropriation," Hampshire College Communications Director Elaine Thomas explained to HuffPost on the phone. "It had to do with discussion of how the history of certain kinds of music has become affiliated with income made by people, who is chosen to perform music and how wealth is distributed," she said.
"But Internet trolls injected themselves into the conversation, [saying things] that frankly had nothing to do with the event," Thomas also said, adding that the "aggressive" nature of some of the comments called into question the college's ability "to have a safe and healthy event."
The band had been "psyched" at the opportunity to play at the party, which is a big deal in the area, Shokazoba keyboard and percussion player Jason Moses told HuffPost on the phone Tuesday. But that excitement quickly turned to dismay.
"We were appalled that our band was not considered multicultural enough to play Hampshire College," Moses said. "It's absolutely absurd. They are censoring us."
While the college still offered to pay Shokazoba the full amount that had been previously agreed upon for the show, Moses said that offer rubbed him the wrong way.
"Our band is not for profit. It's a labor of love. When you're in a 10-piece band, who the heck gets paid anyway?" he said. "It just felt like a dirty bribe, you know, 'Shoo, shoo, take this money and go away.'"
Related
Popular in the Community