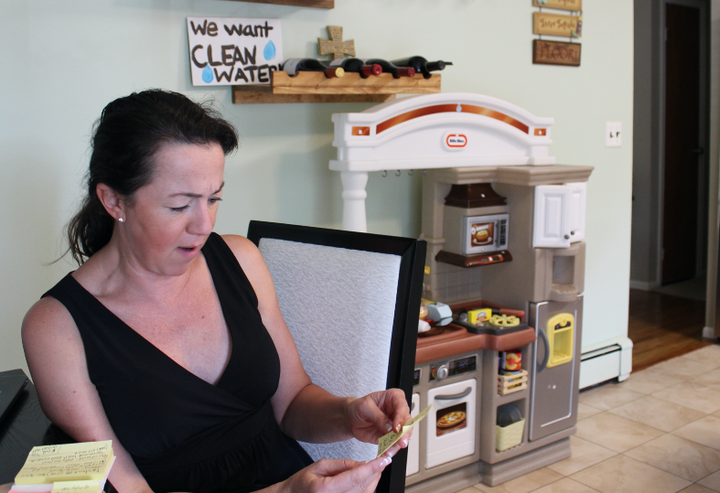 HAMPTON BAYS, N.Y. ― Dena Castello-Janesh knew something was wrong with the water in her new house when it got in her eye during a shower and burned. She'd just moved to Hampton Bays a week earlier, in June 2017, and freaked out about her two-year-old son bathing and drinking from the tap. She hired a plumber to replace the pipes and install a full-house filtration system, and even added an extra reverse-osmosis filter in the kitchen for good measure.
She didn't know it at the time, but this quaint, seaside hamlet on Long Island's southern fork had been dealing with toxic water contamination for more than a year.
In May 2016, water authorities discovered perfluorooctane sulfonate, or PFOS, a toxic chemical linked to cancer, thyroid problems and chronic kidney disease, in the water supply. The chemical came from firefighting foam that ran off into a nearby well. The town shut the contaminated well down within a week. Within days of Castello-Janesh moving in, officials found PFOS in another well the city draws from and shut it down. In August, a third city well had to be shuttered.
The town began work installing a special carbon filtration system with a $720,000 grant from the state. But late last month, Castello-Janesh awoke to find black and brown sediment in her toilet. The water coming from her faucets was murky, too. While PFOS is an invisible, odorless chemical that clings to water molecules, this was something different. Another type of contamination had breached her filters.
Castello-Janesh panicked. She called the town. Water authorities assured her there was nothing to worry about ― that it was the result of too many people watering their lawns. With three wells offline, heavy use was taxing the already-diminished water supply. The woman on the phone compared the situation to a car with a drained gas tank, operating on fumes, and insisted there was nothing to worry about.
"I mean, what the fuck. Are you kidding me? I'm flipping, losing it," Castello-Janesh, 43, said in her kitchen on a recent Saturday afternoon. "I feel like we're being lied to."
Hampton Bays fits a pattern in New York, where a number of municipalities face water contamination crises. Like other municipalities with water tainted by PFOS or similar chemicals, the town is small, sleepy and working-class. The state has doled out money for filtration systems, but many residents are concerned officials aren't doing enough to clean up the contamination at the source, leaving them feeling abandoned and paranoid about the efficacy of filters.
But Hampton Bays stands out as a slow-burner, an infrastructure disaster that simmered to boil over two years. Officials acted quickly to shutter wells where PFOS levels exceeded a conservative federal health advisory. But critics say authorities failed to respond proactively, allowing the wells to remain in use even though mountain evidence suggests the federal limit is far too high. And they say local officials have neglected a dwindling water supply, allowing sediment to build up in pipes and spew into homes.
The dark, silty residue is harmless, state officials say. Robert King, the town's water superintendent, said it's rust that naturally accumulates in pipes that was kicked up by unusually high demand on the district's remaining active wells.
"The water was rushing through the pipes so fast because we didn't have the three wells running," King said. "It was actually causing turbulence."
He said the water is safe and that most residents "have been very understanding" about the issues.
But in a town already surprised three times by a spreading, toxic contamination, the black and brown dregs gushing from faucets and toilets are a terrifying menace, sending residents scrambling for bottled water. Some wonder if this problem would be handled differently if it were happening in one of Hampton Bays' neighboring vacation enclaves for the ultrarich.
"This is a town where the help lives," said Castello-Janesh, who works in medical sales but whose husband, Rob, is a chef at a nearby luxury golf course. They moved here because it was his dream job.
"Is it because we're working-class?" said Shelley Borkowski, 63, who has lived in Hampton Bays for six years. "Is it because we're not East Hampton or Southampton?"
Empire State Behind
The family of chemicals known as PFAS was first invented in the 1930s. The first was polytetrafluoroethylene, or PTFE, which went into commercial production in the 1940s for use in nonstick coatings. It set off a boom in the chemicals known as polyfluoroalkyl substances, or PFAS. By the 1950s, perfluorooctanoic acid, or PFOA, became a popular ingredient in protective coatings. About the same time, PFOS found its way into many stain and water-resistant products and later became common in firefighting foam.
Despite their widespread use, the health and environmental impact of PFAS remained largely ignored for decades. In the late 1990s, a crusading lawyer sued the E. I. du Pont de Nemours and Company over a massive PFOA contamination in Parkersburg, West Virginia, that killed livestock and sickened and deformed many residents in the rural Appalachian community that surrounded the chemical company's plant. The legal battle continued for years, during which time DuPont divested of its Chemours division. The companies finally reached a $670 million agreement to settle 3,550 personal injury lawsuits in February 2017.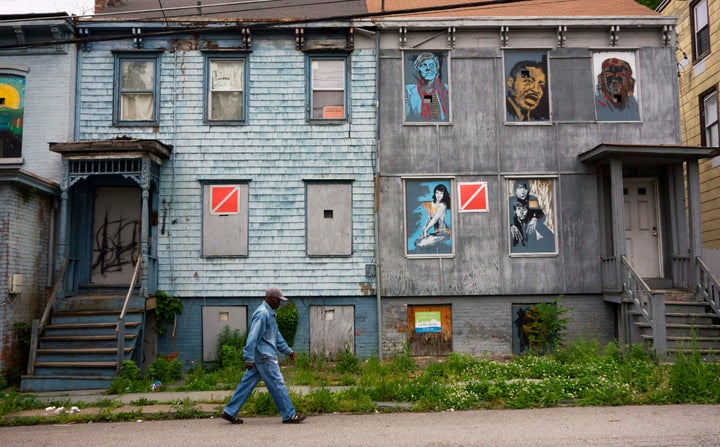 Yet throughout the entire process, the chemicals remained unregulated on the federal level. In January 2009, the EPA issued its first advisory in response to contamination in Alabama, stating that PFOA only posed a health risk in concentrations higher than 400 parts per trillion. For PFOS, the EPA pegged the figure at 200 parts per trillion. In 2013, EPA mandated that utilities serving 10,000 people or more should "periodically" sample for PFAS. In 2014, the Hampton Bays Water District first discovered PFOS, though at levels below the advisory threshold.
Then, in late 2015, Hoosick Falls, a quiet former mill town roughly an hour northeast of Albany, discovered dangerously high levels of PFOA in its water after a local resident, distraught over his father's sudden death from kidney cancer, carried out his own tests.
The lead crisis in Flint, Michigan, had been attracting national attention for about a year, and as parallels emerged in Hoosick Falls, New York Gov. Andrew Cuomo (D) moved to make New York the first state to regulate PFOA as a hazardous substance in January 2016. The state added PFOS to the list of hazardous chemicals in April 2016. A month later, the EPA issued a new health advisory, lowering the risk threshold to 70 parts per trillion for both PFOS and PFOA.
The new federal advisory limit set off a chain reaction in New York, where municipalities had been warily monitoring the chemicals but had previously believed it was safe at up to six times the new limit. Newburgh, an impoverished Hudson Valley city of 28,000 nearly two hours north of New York City, found PFOS levels at nearly four times the advisory threshold in the city's water main source ― the result of years of firefighting foam leaking into a stream that flows from a nearby Air National Guard base into its reservoir. City officials declared a state of emergency, banned certain water uses and stopped drawing from the reservoir. In Hampton Bays, officials shut down the well that exceeded the new advisory level.
The contamination has become a hot political issue in New York and across the country. Cynthia Nixon, the actor and progressive activist challenging Cuomo in September's Democratic gubernatorial primary, launched her campaign with an ad that features shots of downtown Newburgh and has visited Hoosick Falls, where she accused the governor of ignoring the problem.
More concerning, however, is the federal report the White House and EPA suppressed until last month. The Agency for Toxic Substances and Disease Registry found that PFOA and PFOS still pose a health risk at the currently advised maximum of 70 parts per trillion ― and the limit should be lowered to 11 parts per trillion.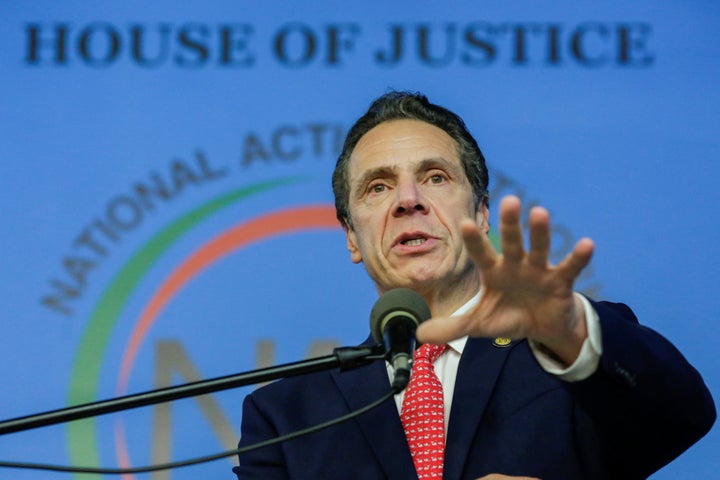 Judith Enck, who served as New York's regional EPA administrator for eight years under President Barack Obama, said the EPA needs to expand its oversight of state water supplies ― something that seems unlikely at a time when the EPA budget is shrinking and the White House is demanding even more dramatic cuts. States like New York should either increase the budget and broaden the mandate for state regulatory agencies, or create new entities to deal with specifically with tainted water infrastructure.
"The status quo doesn't work," she said. "I know everyone says we don't need more bureaucracy, we don't need another agency, but what is more important than drinking water? There needs to be a fundamental change."
One such change would be for New York to establish a maximum contaminant level ― a legally enforceable rule that requires state testing and action when chemical concentrations exceed the mandated level ― for PFOA and PFOS. In February, the Natural Resources Defense Council called on the state to adopt a maximum contaminant level for both chemicals at a combined concentration below 4 to 10 parts per trillion.
Erin Silk, a spokeswoman from the New York State Department of Health, said setting enforceable limits "remains a top priority" for the governor's Drinking Water Quality Council. But the panel has been criticized in the past as bogged down in "bureaucratic malaise," meeting only a handful of times over the past year.
"We are currently working to schedule a meeting time that ensures all parties are present for this important discussion," Silk said.
Other states, meanwhile, are now ahead of New York. In November 2017, New Jersey set a maximum contaminant level of 14 parts per trillion for PFOA and 13 parts per trillion for perfluorononanoic acid, a related compound known as PFNA. Last month, the New Jersey Department of Environmental Protection formally recommended a 13 parts per trillion maximum contaminant level for PFOS.
In May 2017, Minnesota lowered its advisory levels to roughly half that of the EPA's ― setting a limit of 35 parts per trillion for PFOA and 27 parts per trillion for PFOS. Vermont set a 20 parts per trillion advisory for PFOA and PFOS in 2016 and expanded the advisory to include three other PFAS chemicals earlier this month.
'You Start To Lose Faith In The System'
In a joint statement to HuffPost, officials from New York's Department of Health and Department of Environmental Conservation said the state is working on a database to track PFAS contamination and has set aside $600,000 to help municipal fire departments dispose of contaminated foam. The statement said more than 20,000 gallons of foam had been collected by the end of 2017.
The sediment in Hampton Bays is naturally occurring "in the drinking water infrastructure (pipes and storage tanks) and for that reason, water systems routinely flush pipes with increased water flows to remove those sediments," the statement read. "Large demand may increase water flow beyond normal use, resulting in sediment at the tap."
"I know everyone says we don't need more bureaucracy, we don't need another agency, but what is more important than drinking water? There needs to be a fundamental change."
But Theresa Francolini, 81, has spent her entire life in the town and said she has never experienced anything like this. She's found rust in the water every once in a while over the years, the result of aging pipes.
"But it was rust color, it wasn't black," she said. "Now they're telling us, what, that this is rust? It's very frustrating."
"Lately, it's been happening every morning," she said, holding up a Poland Spring water bottle filled with a layer of dark sediment that looked like dirt or ash settled at the bottom.
Francolini was one of five residents HuffPost interviewed who said they never received automated calls or other warnings from local water authorities to inform them about the nature of the latest water problem.
"The biggest problem is the lack of communication," said Kathleen Gaffney, 58, who lives in Nassau County but spends her weekends at a small second home here. She said she only learned about the extent of both the PFOS and sediment contamination after she joined a closed Facebook group of Hampton Bays mothers, who all shared photos and details of what they found in their water.
"Once I joined that, I felt like I got a lot more information just from the social media than from the town," Gaffney said. "That's pitiful."
On Saturday, the Hampton Bays Water District put two of the three drinking wells back into service as the carbon filtration system came online. King said his team is running tests on water in the third well.
But to some, the damage is already done.
"You start to lose faith in the system when now this is the third time and the third well," Joan Leary Matthews, a water expert at the NRDC who lives in Hampton Bays, said in an interview at her home.
The problem seems to be spreading. Last week, 45 private wells in the neighboring town of East Quogue tested positive for PFOS ― though only two wells showed levels higher than 70 parts per trillion.
Before You Go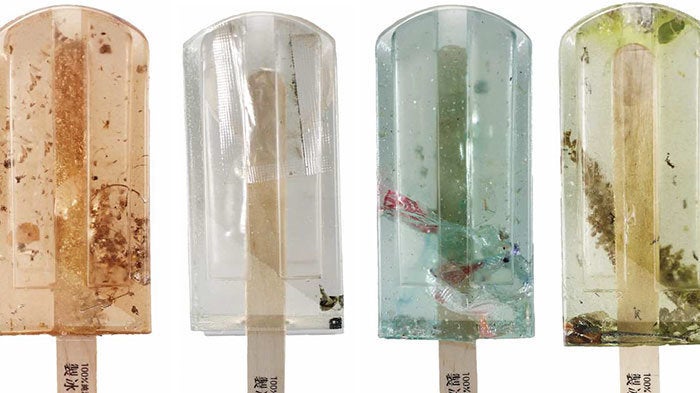 Polluted Water Popsicles
Popular in the Community