WASHINGTON ― When Jamycheal Mitchell, a mentally ill 24-year-old, died at Hampton Roads Regional Jail last August after his arrest for a $5 theft, reporters and state officials jumped to investigate. The jail has since come under intense scrutiny, and last week Virginia Attorney General Mark Herring requested a federal civil rights investigation into the conditions inside the facility.
But less than three months after Mitchell died, a 60-year-old man named Mark Goodrum, who faced a misdemeanor charge for smoking marijuana in his own home, was rushed from the same jail to a nearby medical center, where he died.
Goodrum's death, unlike Mitchell's, did not receive news coverage. Most jail deaths, even at controversial facilities like Hampton Roads, don't attract the attention of the national media or state attorneys general. So Goodrum's death was reported for the first time in The Huffington Post's jail deaths investigation, which set out to record every jail death that took place in the year after Sandra Bland died in Texas on July 13, 2015. Only Goodrum's name and date of death ― Nov. 13, 2015 ― appeared on the state records we obtained through a public records request. Now we have more details.
Goodrum had severe medical issues, and although there are well-documented problems with medical care at Hampton Roads Regional Jail, it is not yet clear whether jail officials are at fault in his death.
What we do know is that Goodrum spent a month in custody, and that he only ended up there because he couldn't come up with $100 to purchase his freedom — all for smoking marijuana in his own home.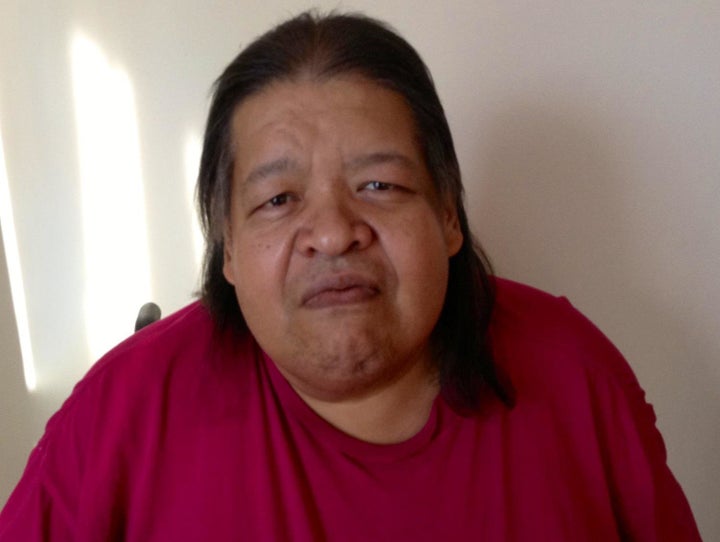 The Huffington Post was able to piece together some of the details of Goodrum's story through interviews, public records requests and a review of court records and social media.
On the afternoon of Jan. 8, 2014, two city police officers were dispatched to a towering apartment building in Newport News, Virginia, after residents complained about the smell of marijuana on the first floor. In a report, an officer and his partner reported detecting a "strong odor of marijuana" as they approached the door. When they knocked, Mark Goodrum answered.
Although much of the report is redacted, records indicate that Goodrum was cited for misdemeanor possession of marijuana, and material suspected to be marijuana was seized from the home. The victim in the report was listed as the "Commonwealth of Virginia."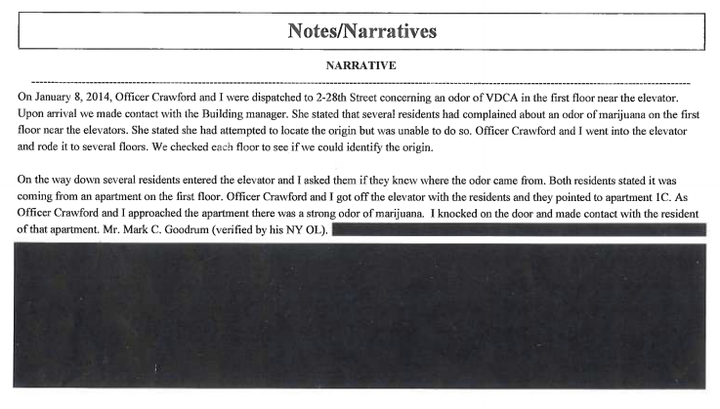 Public records indicate that Goodrum was soon evicted from that apartment. He missed his first court date, then suffered a serious medical setback.
"He had a stroke," Elvis Blunt, a friend who had served as caretaker for Goodrum, said in an interview. "He lost all movement on his right side, and then he was an amputee so [he] only had one leg, and that was on his left side, and his right leg didn't work no more. He was pretty much bedridden."
As he continued dealing with his medical issues, Goodrum missed another court date. He faced two additional charges for failure to appear, and warrants were put out for his arrest.
Goodrum didn't exactly hide his love of marijuana. His Facebook cover photo was an American flag rolling paper filled with buds, and his last name on the social network was a marijuana reference. (Elvis Blunt, on the other hand, really is named Elvis Blunt.) When a friend started a crowdfunding campaign for Goodrum, he wrote a post reassuring potential donors that he wouldn't be spending the money on marijuana. But Blunt, who said he has spent time in prison, said that Goodrum was just a marijuana user, not a dealer.
"He couldn't go nowhere," Blunt said. "That's just what he did to cope with his pain."
Court records show that Goodrum fell behind on rent at another apartment shortly before his death. Goodrum did not show up in court ― he may have been unable to ― and a default judgment was entered against him on Oct. 9, 2015. Officers arrested him a few days later.
"When he got evicted, the police came and found out he had the warrants, and they locked him up," Blunt said.
Goodrum "was all right until he got locked up," Blunt said. "When he got locked up, he died."
Goodrum arrived at Hampton Roads Regional Jail on Oct. 14, 2015, Lt. Col. Eugene Taylor, an assistant superintendent at the jail, told HuffPost. Goodrum was being held on two bonds for $1,000, one secured and one unsecured. If he'd had $100, he likely could have paid a bail bondsman a 10 percent fee and been released until his court date. Like thousands of other people in the U.S. every day, Goodrum only remained locked up because of his lack of funds.
"There's widespread evidence that cash bonds don't do a thing to ensure an appearance, and people should not be held just because they can't post a bond," said Maria Jankowski, deputy executive director of the Virginia Indigent Defense Commission, which certifies lawyers to represent indigent clients in court. "It's unfortunate and wrong, if you want my opinion, but I've seen it happen."
Goodrum was represented by a public defender, according to a Newport News court official. Neither the public defender nor the judge who oversaw the case responded to a request for comment.
""He was all right until he got locked up... When he got locked up, he died.""
Goodrum did have serious medical issues. The Office of the Chief Medical Examiner in Virginia told HuffPost that Goodrum died of "end stage renal disease" ― that is, kidney disease ― and that he had a history of "hemodialysis, hypertension, anemia of chronic disease, peripheral vascular disease, tobacco use, diabetes mellitus, and history of stroke contributing."
But Hampton Roads Regional Jail was recently named the deadliest jail in Virginia by the Richmond Times-Dispatch, which noted that inmates there died nearly nine times more often than at any local or regional jails in Virginia over the past three years. The Huffington Post's analysis places Hampton Roads Regional Jail among the deadliest jails in the U.S., with more deaths than some facilities several times its size.
Reviews of records kept by NaphCare, the jail's former medical provider, "raised significant concerns regarding the quality of assessment, care, follow-up, and documentation," according to the Virginia Office of the State Inspector General.
Although NaphCare is no longer in charge of medical operations at the facility, simply changing up the medical provider "offers limited promise of improvement in care or documentation in the absence of a change in oversight practices," the State Inspector General report said. A federal civil rights lawsuit filed by Jamycheal Mitchell's family alleges that NaphCare and its employees "failed, among other things, to carry out basic procedures and provide proper care" at Hampton Roads Regional Jail.
Goodrum's daughter, who did not respond to HuffPost's requests for comment, wrote after his death that she was disturbed by what happened to her father.
"I am besides myself with regret that he was alone in his final hours and had been in the jail last month on some ridiculous weed charge," she wrote in an online tribute. "He deserved better."
In the meantime, Hampton Roads Regional Jail is currently accepting applications for guard positions. Although a pending charge of misdemeanor marijuana possession may have kept a poor person like Goodrum locked up there for a month, a similar conviction wouldn't necessarily keep candidates off the guard force. Only convictions involving "drugs other than marijuana" are automatically disqualifying.
Last month, another man, 60-year-old Henry Clay Stewart, died at Hampton Roads Regional Jail. Stewart, locked up for violating probation on a shoplifting charge, was barely able to eat for two weeks and was vomiting blood and begging guards for help before he died, according to stories published last week by the Richmond Times-Dispatch and The Virginian-Pilot.
Henry Stewart's mother, Martha, who has terminal lung cancer, wondered in an interview with The Virginian-Pilot whether others have died at Hampton Roads Regional Jail without anyone noticing. "Who knows how many have died in there and they got away with it?" she said.
In addition to Jamycheal Mitchell and Mark Goodrum, The Huffington Post logged four more deaths at Hampton Roads Regional Jail between July 13, 2015, and July 13, 2016:
William Thrower, 69, died on March 20 of acute gallstone pancreatitis with hypertensive atherosclerotic cardiovascular disease contributing.

Christopher Boyce died on March 23 of hepatic failure with hepatitis C and cirrhosis contributing.

Ronnie Lee Proffitt, 69, died on April 27 of acute coronary insufficiency due to congestive heart failure.

Valerie Anderson, 60,

died

on May 26, the day after she was transferred from Hampton Roads Regional Jail to a mental health facility. Her family was

never notified

of her death.
Although the state of Virginia logged just 27 jail deaths in 2013 and averaged 38 deaths a year from 2000 to 2013, HuffPost identified 50 deaths between July 13, 2015, and July 13, 2016, which would be the second highest number of jail deaths recorded in the state in a single year since 2000.
Sign up for the HuffPost Must Reads newsletter. Each Sunday, we will bring you the best original reporting, longform writing and breaking news from The Huffington Post and around the web, plus behind-the-scenes looks at how it's all made. Click here to sign up!
Popular in the Community