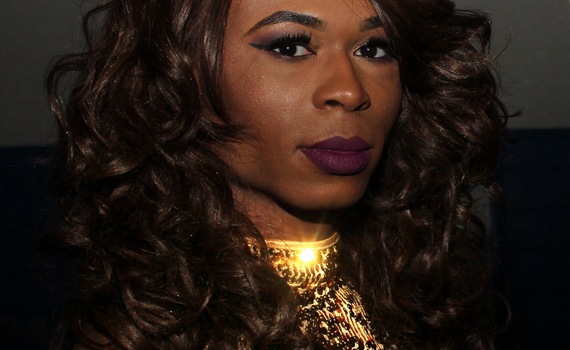 Joanna Rowell Photography

Towards the end of March, I, Matthew Gates, made history as Ms. Rose Evergreen, Hampton University's first drag queen. Daring to go against the norm was nerve-wracking, however, having the opportunity to open this new door of queer representation, on my campus, overpowered all of my doubts. I debuted Ms. Rose Evergreen during a Beyoncé dance showcase competition, at my university, held during our annual spring fest.

If three years ago, during my freshman year, someone were to have told me I would be making history as the campus' first drag queen, I would have been in complete disbelief. I entered college as a closeted gay man, with no intentions of letting my colors shine. However, with the support of amazing friends and family, I found the courage to set into who I truly was.
I have always wanted to do drag at my University, but I never knew when the time would be right. Recently, my university's first LGBTQ+ organization became approved, on our campus, which was encouraging. Ever since the approval, my fellow queer and ally students, along with myself, have been pushing to have queer representation as visible as possible, to the student body.
One day, when I was scrolling through my social media and saw the advertisement for the dance showcase, I said to myself, "now is the time." It wasn't long before I had my outfit, heels, and wig picked out. I then decided on the name 'Rose Evergreen,' by calling attention to two important names in my family's history, which are "rose" and "green." I reached out to four of my fellow Hampton women, to accompany me on stage, and they were immediately onboard. We spent many weeks rehearsing, knowing a majority of our classmates would be in the audience, anxious for a great performance.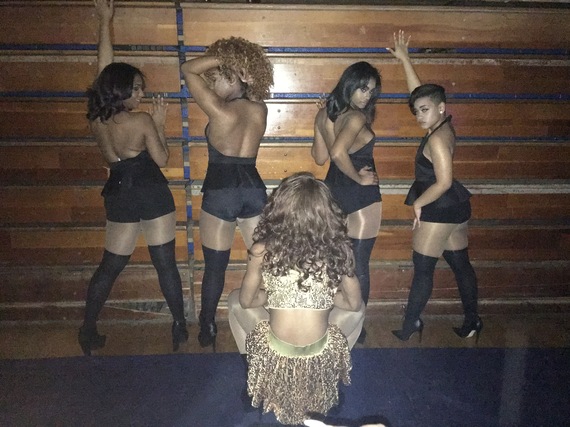 On the day of the showcase, my nervousness was at an all time high. Nobody knew I was going to be in drag besides my competition group and a few close friends. The event coordinator told my group that we were marked to open the show. I remember sitting backstage and hearing the sounds of the venue flooding with people and my mind being curious as to what their reaction might be. Eventually the lights went off, we were called to the stage, and the music started.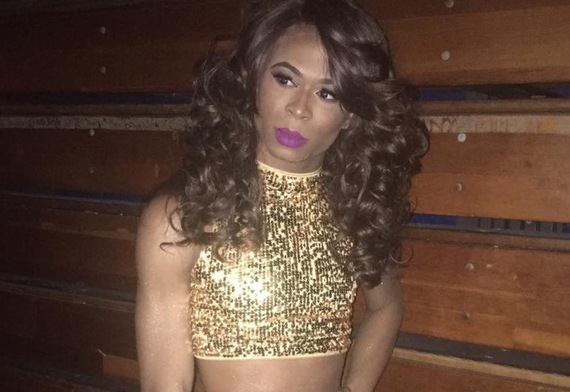 Once I took the stage, all my worries went out of the door. It took a few moments for the crowd to realize that what appeared to be this alluring lady, was actually myself in drag. In that moment of realization, I was encouraged with loud chants and cheers from my fellow classmates. My adrenaline rush was visible through my dancing, lip-syncing, and hair twirling. Once I landed my last dance move on the final beat of the song, the crowd erupted into roaring cheers and applause. In that final moment, I said to myself, "you did it."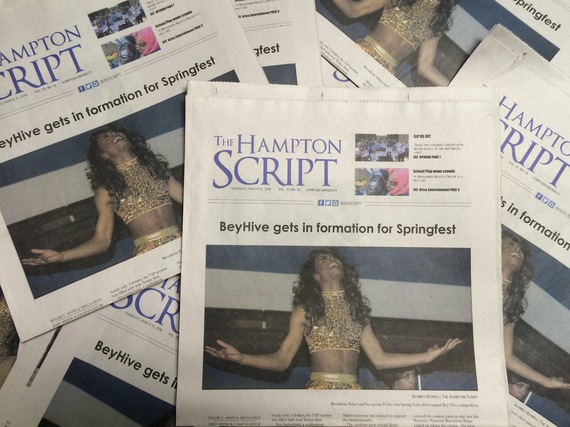 Ms. Rose Evergreen makes the front page of Hampton University's weekly newspaper, The Hampton Script.
REAL LIFE. REAL NEWS. REAL VOICES.
Help us tell more of the stories that matter from voices that too often remain unheard.