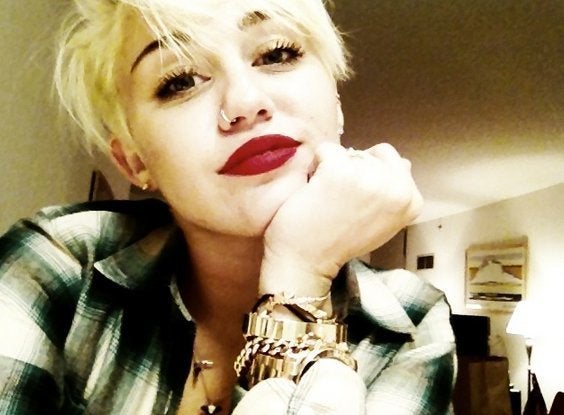 Rounding his shoulders and shuffling his steps, Alec Baldwin does a sheepish, lowkey Justin Bieber. Strutting tall and leggy, Christie Brinkley does a bravura Miley Cyrus, explaining how the teen's name morphed from Destiny to Smiley, to, well, you know, and how lucky she was when free tampons poured forth from a vending machine just as she'd run out of change.
The body language is all affect but the words come from the actual autobiographies of these famed youth who have barely lived or done enough to merit a complete sentence, but that's the conceit of Celebrity Autobiography, the hilarious brainchild of playwright and actor Eugene Pack. "We could not make this stuff up," Pack said of an evening at Guild Hall on Friday night that also included the wisdom of Diana Ross (Dayle Reyfel), David Hasselhoff (Jerry O'Connell), Ricky Martin (Pack), and poetry by Suzanne Somers (Brinkley), to mention a few whose words spoken make for unintentional comedy.
The high point of this entertainment was a skit concocted of snippets from tell-alls by Debbie Reynolds (Dayle Reyfel) and Elizabeth Taylor (Ileanna Douglas) on the scandalous marriage of Eddie Fisher to each. Fisher (Pack) comes off as prime loser in a Rashomon of adultery and betrayal that also features Richard Burton (Scott Adsit) with a rasping cackle, guilty of some marital transgressions of his own.
Last weekend, Bob Balaban directed a staged reading of Eugene Pack's new play Columbus and Amsterdam, about two couples on the trendy Upper West Side and a woman they'd known in the past, now back from a failed marriage in Los Angeles. Edie Falco, Chris Bauer, Dayle Reyfel, Scott Adsit, and Kyra Sedgwick starred. Citarella, a presence in both East Hampton and that Manhattan neighborhood, and evoked several times in Pack's clever script, provided a fine reception in Guild Hall's garden following the performance.
Nearby at Mulford Farm, Charles Ludlam's 1983 breakout masterpiece The Mystery of Irma Vep: A Penny Dreadful is currently revived with tour de force performances by Trevor Vaughn and Isaac Klein, playing a total of seven characters in a camp mash-up of Daphne DuMaurier meets the Werewolf, Vampire, and Mummy. Director Kate Mueth, sensitive to the satire of this piece from the founder of the Theater of the Ridiculous, stays close to Ludlum's original staging from his small theater at One Sheridan Square, now in a barn with a fine set by Brian Leaver and lighting by Sebastian Paczynski. Ludlum died in 1987, an early AIDS epidemic casualty, and no one has yet replaced his peculiar, erudite and silly genius.
Calling all HuffPost superfans!
Sign up for membership to become a founding member and help shape HuffPost's next chapter