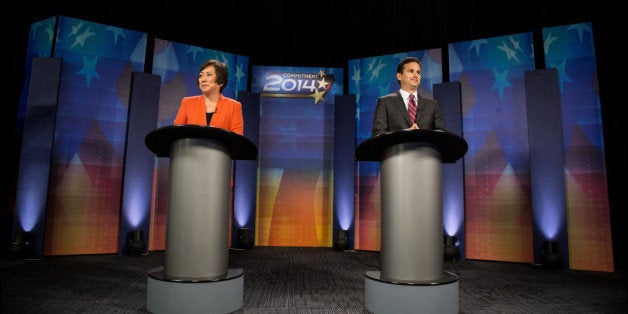 HONOLULU -- U.S. Rep. Colleen Hanabusa (D-Hawaii) still doesn't have anything nice to say about Sen. Brian Schatz (D-Hawaii).
Hanabusa, who's trailing in the polls and in fundraising, took several swipes at the sitting senator during their first televised debate Monday on KITV.
In their third encounter in a week — the first two debates were broadcast only on the radio and the Internet — Hanabusa was more restrained. But she came out swinging in this first encounter where large numbers of voters around the state were examining them side by side.
In many ways, her aggressiveness was to be expected from a challenger who needs to take an incumbent down a peg to make up lost ground. The question is whether voters liked what they saw.
When one of the three moderators asked Hanabusa to pick a positive accomplishment of her opponent, she responded with a series of backhanded compliments.
She called Schatz a political "survivor" who, after stepping down from the Hawaii House and failing to reach Congress in 2006, became chair of the state Democratic party and then lieutenant governor.
It was in that position where Hanabusa said Schatz "convinced" Gov. Neil Abercrombie to appoint him to the U.S. Senate after Daniel K. Inouye died.
"That's an amazing feat," Hanabusa said. "One vote created somebody as the United States senator for the state of Hawaii. That's something you got to admire."
It's no secret Hanabusa is bitter about Schatz's appointment to the U.S. Senate, especially when it was Inouye's dying wish to send her there instead. Inouye's wish could also be seen as one vote.
The representative's attack seemed all the more harsh when juxtaposed with the senator's answer to the same question just a minute before.
Schatz praised Hanabusa for her role in a Hawaii Senate investigation into the state's bungling of the Felix Consent Decree, which required sweeping reforms to special education services.
He also called her a friend.
"One of the things that I like about Colleen — as tough as we sometimes get with each other — is we don't take it personally," Schatz said.
"We've been able to remain friends. We've campaigned together. We've campaigned against each other. But we have never taken it personally because we are both Democrats."
There were other tense moments during Monday's debate, including when Schatz pushed Hanabusa over differences in their voting records related to issues, such as Social Security and warrantless wiretapping.
Hanabusa also jumped on Schatz's chief of staff, Andy Winer, who was recently outed as one of the architects behind the Pacific Resource Partnership's successful 2012 campaign attacks on mayoral candidate and former Hawaii Gov. Ben Cayetano.
Winer later joined Sen. Schatz in Washington D.C.
Hanabusa has been trying to take advantage of the disgust over the tactics used to defeat Cayetano, and made a point Monday to ask Schatz what he knew about his top aide's involvement.
Schatz responded similarly to the way he did in a candidate forum on the Big Island. He defended Winer, called PRP's tactics deplorable and vowed to run a positive campaign.
"I set the tone in my campaign, I set the tone in my office," Schatz said. "I found what happened in 2012 to be objectionable, as many people across the state of Hawaii did. I will not allow those kinds of tactics to occur under my watch."
Despite the more confrontational moments, Monday's debate, which was sponsored by Civil Beat and KITV, again highlighted just how much Schatz and Hanabusa have in common, especially on issues like renewable energy, veterans benefits and self-determination for Native Hawaiians.
But while both candidates agreed on many core Democratic issues, they also staked out ground that might sway voters in one direction or the other.
In the highly contentious debate over genetically modified organisms, Schatz said states should be allowed to set their own rules when it comes to labeling and regulation.
Hanabusa, on the other hand, said that would only serve to confuse farmers and hurt agriculture. She also highlighted how genetic engineering helped save the Hawaii papaya, which she said she eats.
"I do not believe GMOs are unhealthy and I stand with the farmers on that," Hanabusa said. "And I also believe in the science that we have on GMOs."
But those views did not mark a philosophical divide on states' right. On medical marijuana it was Hanabusa who argued that states should be able to develop their own laws to regulate its sale and use, while Schatz said he doesn't think Hawaii or the U.S. is ready to pursue such a path.
Instead, he called for a national discussion about drug policy and the incarceration of people for such nonviolent offenses.
The candidates also disagreed over the presidency of Barack Obama, who has endorsed Schatz.
Among other things, they differed over the president's proposal to create the world's largest marine sanctuary in the Pacific Ocean, something Hanabusa is skeptical of, but Schatz was optimistic about.
"We've got a sustainable long-line fishery in the state of Hawaii and it's a big Pacific Ocean," Schatz said. "My very simple view is this: We think we can move forward with some conservation plans and keep our sustainable fishery going. It is one of the bright spots in our economy. We all love eating the fish that they bring home."
Schatz and Hanabusa have two more debates scheduled before the Aug. 9 primary.
The AARP Hawaii and KHON are sponsoring a debate that will air July 15. The final forum, sponsored by Hawaii News Now and the Honolulu Star-Advertiser, will take place July 17.
• Stay plugged in to campaigns and candidates this election season with Honolulu Civil Beat's Hawaii Elections Guide 2014, your source for information on federal, state and local elections.
Nick Grube is a reporter for Honolulu Civil Beat. You can reach him by email at nick@civilbeat.com or follow him on Twitter at @nickgrube.
REAL LIFE. REAL NEWS. REAL VOICES.
Help us tell more of the stories that matter from voices that too often remain unheard.
BEFORE YOU GO
PHOTO GALLERY
Senate Seats Up For Grabs In 2014