The oldest elephant in Japan, dubbed the world's "loneliest elephant" by animal welfare activists, died Thursday at the age of 69.
Hanako the elephant lived at Tokyo's Inokashira Park Zoo for 62 years, according to The Japan Times. Thailand initially gave her as a gift to Japan in 1949, and she lived at Ueno Zoo five years before being transferred to Inokashira in 1954.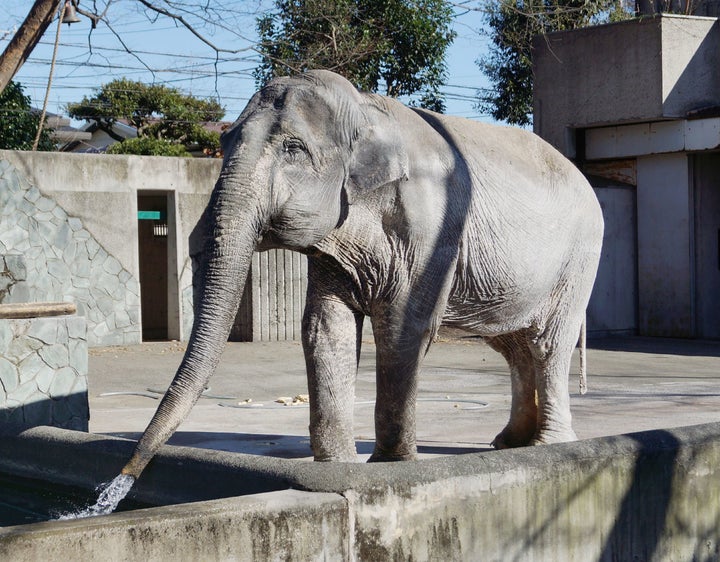 Nakagawa accused the zoo of keeping Hanako isolated with no mental stimulation or enrichment.
"Totally alone in a small, barren, cement enclosure with absolutely NO comfort or stimulation provided, she just stood there almost lifeless  ―  like a figurine," she wrote. "There was absolutely nothing else for her to do. It was beyond painful to take in."
Following Nakagawa's blog post, more than 450,000 people signed a petition asking that Hanako be moved to a Thailand sanctuary. When the zoo said the elephant's advanced age would make a transfer impossible, animal advocates asked that the zoo at least put some green plants in Hanako's enclosure and allow her to interact with other animals, The Telegraph reports. A crowdfunding campaign raised nearly $40,000 to go toward improving the elephant's life.
Zoo manager Hidemasa Hori told CNN in March that people who signed the petition "didn't know much about Hanako." He called her a "killer elephant," citing two instances where she'd trampled someone to death ― a drunk man who'd entered her enclosure, in 1956; and a zookeeper, in 1960.
Hori also said that Hanako had become bad-tempered in her old age and needed to be kept in isolation.
Elephant expert Carol Buckley visited Hanako earlier this year and offered a bittersweet assessment of the animal's situation, ultimately agreeing with the zoo's decision to keep Hanako where she was:
No one is more heartbroken than I that Hanako will never experience her birthright, living in a natural environment with trees, grass and other elephants. It would have been a dream come true, if not for Hanako's advanced age, lack of teeth, failing eyesight, frailness, change in sleeping habits (she no longer lies down to sleep) and inability to cope with change. Hanako's reality is that she is a senior citizen in hospice care.
But the zoo did make a few improvements. At Buckley's suggestion, zookeepers added infrared heaters and new toys to the enclosure. As of March, Hanako was playing with toys like a tube and a tire filled with frozen fruit.
But she wasn't able to enjoy these new conditions for long. On Thursday, workers found Hanako collapsed on the ground, and she died within hours. Officials haven't yet determined a cause of death.
Calling all HuffPost superfans!
Sign up for membership to become a founding member and help shape HuffPost's next chapter
BEFORE YOU GO
PHOTO GALLERY
Elegant Elephants