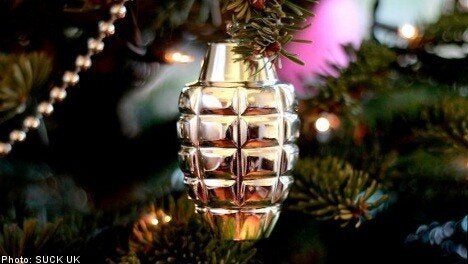 You won't find these hanging on Bill O'Reilly's tree.
The Swedish Army Museum in Stockholm is coming under fire for selling Christmas tree ornaments shaped like hand grenades.
The Stockholm museum is selling the ornaments to raise money for Christian Aid, a charity that combats poverty and helps with disaster relief. The museum's website says the ornaments are "a subtle reminder of those who are less fortunate than we are during the holiday season," according to UPI.com.
But visitors like Elinor Lindeborg feel the grenade ornaments don't really fit the "peace on Earth, goodwill toward men" sentiment associated with the season.
"Quite simply I think it's distasteful, especially if they are raising money for charity," Lindeborg told Sveriges Television (SVT). "This is a museum frequented by children, and it's hard to explain to them why there are hand grenades in the Christmas trees."
She believes that even though the ornaments are being sold at an army museum, the gifts sold there should "still try to highlight a non-war perspective," reported TheLocal.se.
The new ornaments are apparently bombing with other Swedes. One woman griped to a Swedish radio show: "How in Lord's name can they come up with such an idiotic idea to make Christmas tree balls shaped like hand grenades? Sick! Shameful."
Despite the explosive reaction, the museum's division head Helena Martinsson claims the response has been mostly positive.
"Having a decoration like this on the tree can get people to reflect on how good we have it here in Sweden and that there are people who have it much worse," Martinsson told the Swedish language newspaper The Expressen.