Warning: This post contains nudity and lots of it.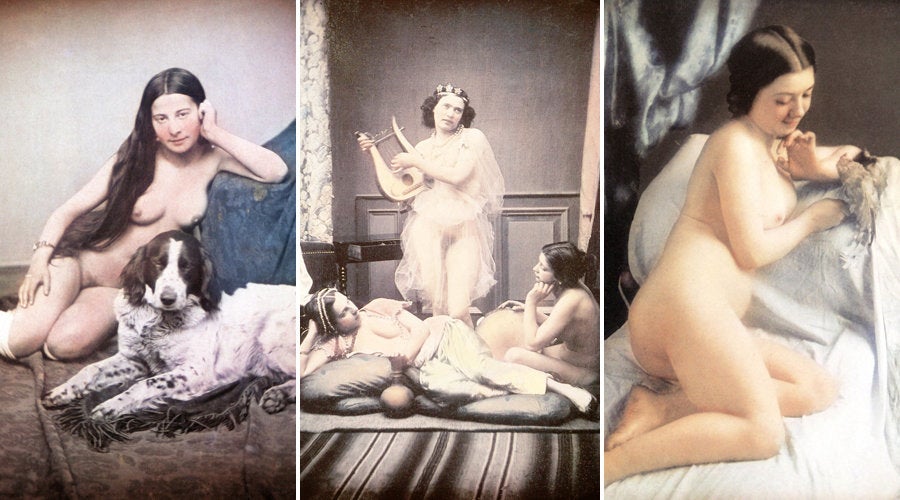 Stare at a color image from the mid-19th century, and you'll likely notice a few subtle differences between the vibrant photos of now and the eerie daguerreotypes of then.
That's largely due to the fact that in the 1850s, to color a photograph required mastering the delicate technique of hand-painting. There were no color printers, not even Kodachrome film; photographers had to hand-color their black-and-white images by adding pigment themselves. 
Daguerreotypy, the process of capturing an image on light-sensitive silver-plated copper, is one of the earliest photographic processes introduced by Louis Daguerre to the public in 1839. Experts often attribute the first hand-painted photograph to Johann Baptist Isenring, a Swiss artist who heated a mixture of gum arabic and pigments atop his early photos. In the 1940s, Isenring and his contemporaries would use a paintbrush to apply the pigment to the various areas of a daguerreotype they wished to color, sometimes dusting the mixture through carefully crafted cutouts. Similar techniques became popular in England and France around the same time. In Japan, artists already skilled in watercolor and woodblock printing employed a comparable practice, applying oil paint to the exposed emulsion of photos. 
Until the 1950s, when color film became available to professional and amateur photographers alike, the art of hand-painting persisted. Thumb (or scroll) through an archive like the Library of Congress, and you'll likely find remnants of the age of hand-painting. Unlike the sharp contrast of reds, blues and yellows in 21st century digital prints, the hues of hand-colored images lack fine delineation. Violet, pink and turquoise battle the preexisting monochrome outlines, hovering above the initial image like a ghost. The results blend the best of two worlds -- painting and photography -- in an art form almost forgotten to today's tech-savvy artists.
Despite its dwindling popularity, we can still celebrate the undeniable beauty of Isenring's practice thanks to a reserve of hand-painted (and notably erotic) photos in Getty's archives, courtesy of Galerie Bilderwelt. Below is a sample of hand-painted daguerreotypes, created by an unknown artist in the 1850s, that showcase early artists' attempts to illustrate the color of the human body -- the female body to be more precise. 
PHOTO GALLERY
Art History's Most Erotic Artworks
Calling all HuffPost superfans!
Sign up for membership to become a founding member and help shape HuffPost's next chapter