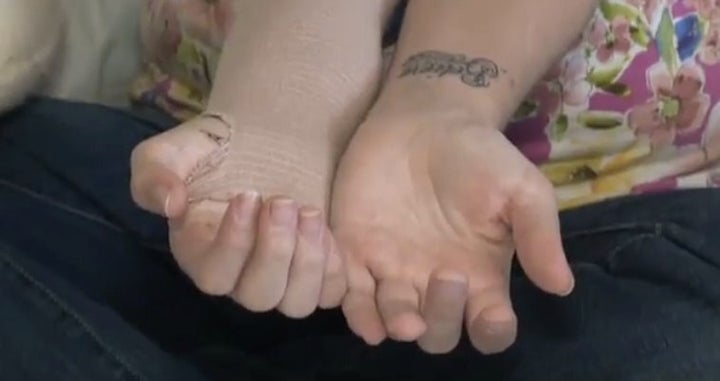 A 26-year-old mother received the first hand transplant in the history of California on March 5, and met with doctors today for the first time so they could assess its functionality after countless hours of occupational therapy. Doctors introduced Emily Fennell today at a press conference.
To see Emily's new hand and get a sense of how well it works, check out the video below.
The procedure cost about $800,000, but didn't cost Fennell a dime because it's still considered experimental, according to USA Today. Only 13 hand transplants have been performed in the U.S., and only 40 world wide. While the procedure has been attempted for decades, only modern imunosuppressants have made it more possible.
The hand looks amazing, all things considered. From the LA Times:
With long, straight hair and fashionable boots, she could pass for just another UCLA student who fell off her skateboard. But it was a car accident almost five years ago that took her right hand.

"It's crazy how good it looks," she said at her occupational therapy session one morning last week at UCLA, where she spends about eight hours a day working on learning how to move her new hand and fingers. "I knew the match wouldn't be perfect, but if you didn't know what happened, you'd think I just had some kind of orthopedic surgery."
Fennell lost her hand five years ago in a car accident, according to the Times. Despite acclimating to life with one hand, she says she underwent the operation so she could do more for herself and her daughter.