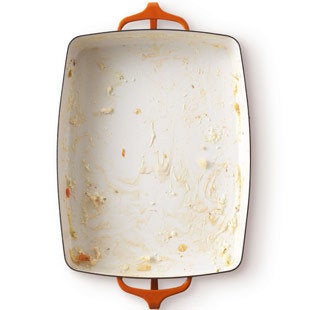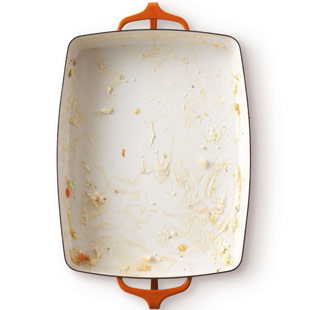 By Wendy Ruopp, managing editor of EatingWell Magazine
Anyone who's ever watched a teenager (grudgingly) wash one fork at a time when it's their turn to do the dinner dishes has probably had the thought "I wonder if that's really the most efficient use of our resources." Actually, your first thought is probably, "How does the child manage to run the hot water continuously yet get the task done at such a glacial pace?" (Don't Miss: How to Save Time in the Kitchen: Our Best Time-Saving Ingredients & Cooking Tips) In any case, your suspicions that it's really not the best thing for the environment are borne out by research.
A study out of the University of Bonn in Germany, reported by Pablo Päster in the May/June issue of EatingWell Magazine, found that washing a load of dishes (12 place settings) by hand uses on average 27 gallons of water and 2.5 kilowatt-hours of energy to heat the water -- equivalent to running a hair dryer for two and a half hours. (Not to mention the parental energy it takes to get your kid to wash all those dishes in the first place.)
By comparison, an energy-efficient dishwasher uses about four gallons of water and 1 kWh of energy per load. (And over the course of a year, using the dishwasher saves more than 400 hours of labor!) Researchers also found that dishwashers cleaned better, as half of the hand-washers failed to reach an "acceptable level" of cleanliness.
As far as we know, the researchers shed no light on how to get your family to load the dishwasher properly, start it when it's full and then put the clean dishes away without complaining about it.
Lower your carbon footprint even more -- and save money -- with these tips:
• Scrape food off plates before loading the dishwasher, but don't pre-rinse.
• Only run a full load and load it per the manufacturer's suggestions for maximum cleaning. (Don't Miss: 9 Green Products for a Healthy Kitchen.)
• No dishwasher? Hand-wash dishes right away (you'll use less water when there's no stuck-on crud).
Photo Credit: Jason Donnelly
Do you primarily wash your dishes by hand or use a dishwasher?
By Wendy Ruopp, Managing Editor


Wendy Ruopp has been the managing editor of EatingWell for most of her adult life. Although she writes about food for the Weeknights column of EatingWell Magazine, her husband does the cooking at home.
Related Links from EatingWell:
Related