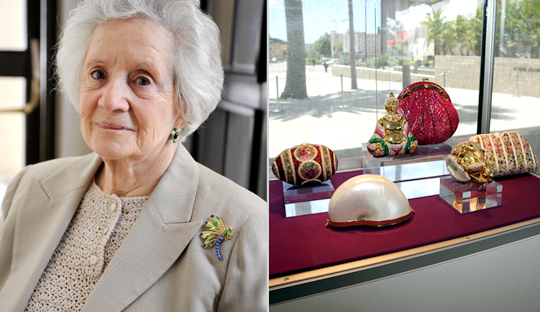 Judith Leiber, vintage Leiber bags on display at the LACMA
Mention the name Judith Leiber amongst a group of women, no matter their age, and watch for stars to form in everyone's eyes. The Judith Leiber name is synonymous with opulent glamour, evoking visions of whimsical crystallized minaudieres, the elegant ladies-who-lunch who carry them and their eager daughters who have learned to covet the handbags from a young age and will someday grow to inherit their mothers' collections.
While the iconic handbag designer, now 90, doesn't make many public appearances, Lauren Stillman, a regular contributor to The Inside Source, eBay's digital style magazine, had the chance to hear her inspiring entrepreneurial tale and even ask her a few questions as she spoke to the Costume Council of the Los Angeles County Museum of Art (LACMA) last week. There, Cameron Silver, proprietor of renowned vintage fashion boutique Decades, moderated a panel discussion with Leiber and Mary Gleason, brand president, and guests were invited to browse an on-site retrospective of vintage handbags from Leiber's personal and museum collections.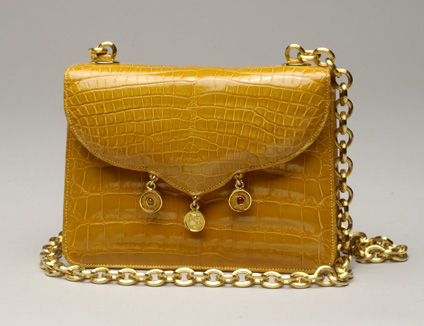 One of the Judith Leiber vintage bags on display at the LACMA
After meeting her husband, Gus, Leiber moved to the United States, where with Gus' encouragement, she launched her eponymous designer handbag line in 1963. She quickly became known for her crystal-drenched clutches in intricate patterns and imaginative shapes that range from fanciful animals (the pug was her first) to fruits and flowers to abstract shapes.
With the Judith Leiber brand having reached the status of a truly iconic American luxury house, its new President Mary Gleason is helping to usher in a fresh era. While innovations such as the introduction of a contemporary handbag line, Overture, and a collaboration with Lauren Bush's FEED Projects on a $495 clutch whose proceeds help provide meals for underprivileged children are maintaining the brand's modern relevance, it is the deep-rooted history and beauty of the bags that has secured Judith Leiber's status as a wildly popular brand on eBay. In fact, there are currently over 800 listings for "Judith Leiber" on eBay, where the number of bids for her handbags can reach up to 2,000 per month.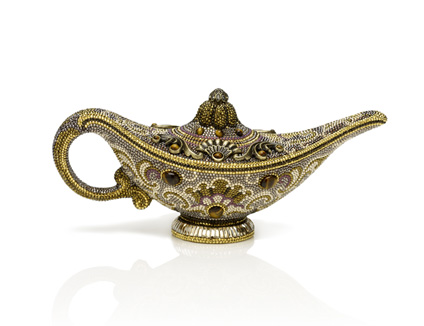 Genie Lamp Gold from the Judith Leiber Fall 2011 collection
Leiber, whose personal favorite of her bags is the snap-closure Chatelaine purse, admits to turning to eBay to buy back some of her archival pieces: "Once in a while, we find one [a bag] that is important," she says. "The metal bags are very expensive at this point, so it is kind of hard to get them." For others heading to eBay to shop Judith Leiber, the handbag designer suggests, "Try to find a bag that you think is still in good shape. Not to get something that is all worn out. Sometimes you can't tell. So you should always have them [the seller] show you both sides of the bag before you get it."
For more interviews with fashion and design industry insiders, visit The Inside Source and be sure to follow us on Twitter and Facebook.
(Photos courtesy of Judith Leiber.)