What does masculinity look like in 2015?
Photographer Miki Vargas explores this idea through the "Handsome Revolution Project," a photography series that highlights the lives of masculine-of-center and gender-nonconforming individuals. Vargas initially began this project in 2012 based on a desire to see more nuanced, complicated representations of masculinity that she identified with.
The "Handsome Revolution Project" has taken on a life of its own, growing into a body of work that documents the current spectrum of masculine experiences. The Huffington Post spoke with Vargas this week about the "Handsome Revolution Project," how it has grown and what purpose she hopes the project will serve in the future.
"I hope that these portraits will start or continue the much-needed conversations about acceptance, respect, love, community, unity, feeling of belonging, self love, self respect, self celebration and an overall respect of people as valuable lives in this world," Vargas told The Huffington Post. "I would love these images to engage the viewer, to seduce them, to intrigue them, to confuse them, to make them smile, to make them reflect, but most importantly to help them recognize that the beauty in our differences is so infinite that it cannot be categorized."
The "Handsome Revolution Project" also includes first-person narratives from each individual featured in the series, where the subject discusses what masculinity means to them.
Check out 10 images and stories from The "Handsome Revolution Project" below, followed by the full interview with Vargas.
Ailey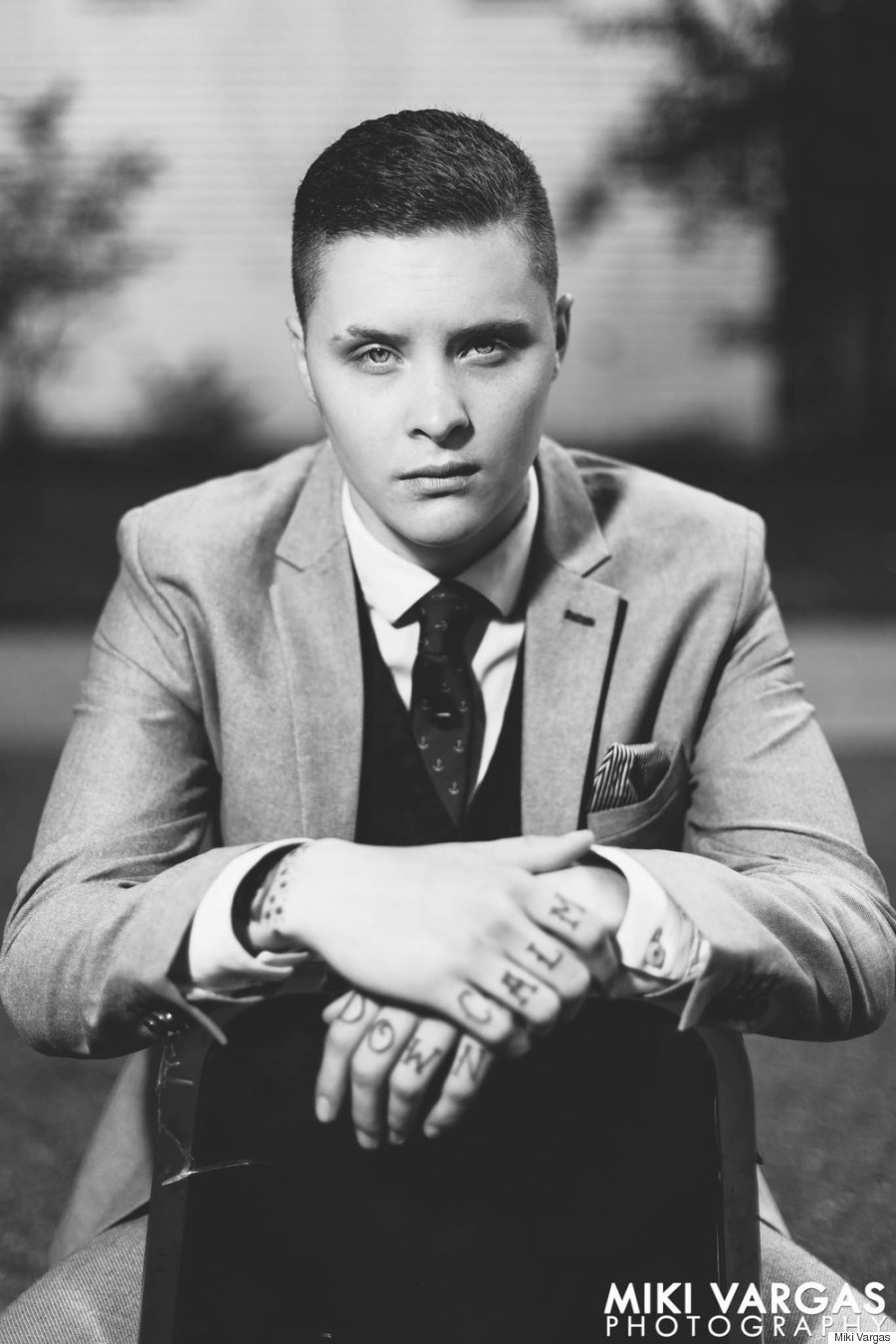 Minneapolis, MN
Masculinity, to me, is something that defines my center. It allows me to break down social constructs and educate people on a daily basis surrounding the "normative" ways women should act and dress. It empowers me as an individual to show that masculinity in women is completely acceptable. Masculinity is very much defined by the individual embracing the broad range of qualities being masculine has the ability to hold. Personally, being masculine gives me strength, confidence, courage and a voice in myself without following age old gender roles and the idea that only a man can posses those qualities masculinity carries.
Teri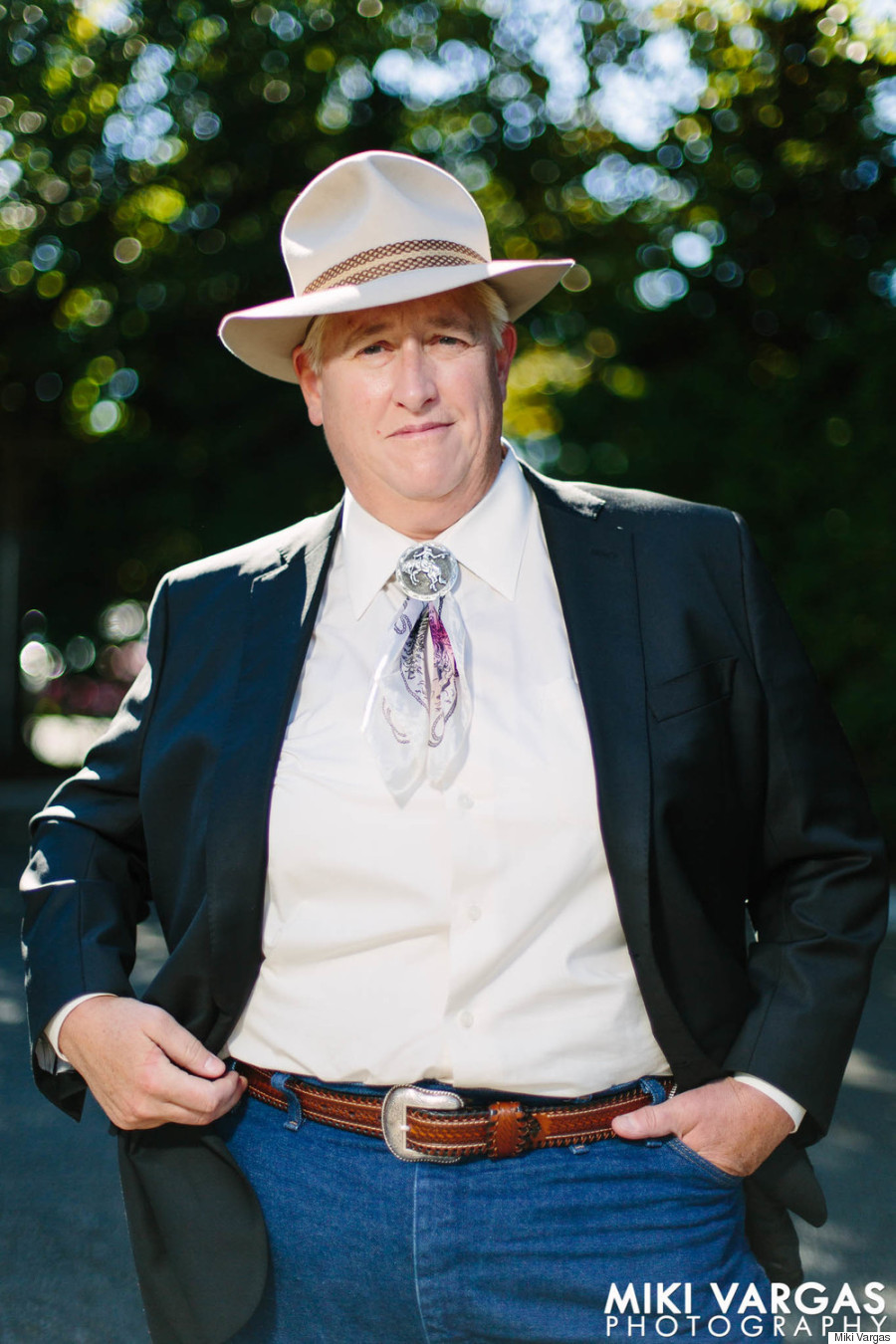 Portland, Oregon.
Masculinity, to me, is an attitude. Society disapproves of women with strong attitudes and more so of masculine women with an attitude. Aye, this indeed has been the rub for me my whole life. Friends tell me I am the most "butch" person they know. I scoff, "Butch?" What exactly does that mean? I'm just being who I am. They talk about earning "butch points" for doing traditional "male" tasks, such as repairing a broken faucet in the kitchen -- I'm not that handy around the house at all. Although I'd like to learn to do more of these tasks, I don't think of them as "masculine." Rather, they are skills to be learned -- anyone can do anything with the right attitude, training and tools.
While I have been very comfortable with the attitude of being a masculine woman, I have not always been so comfortable in dressing the part. In the past I have wanted to don a very masculine suit and tie but, being fearful of being judged and labeled a "bull dyke," I have settled for the more feminine versions of these clothes in general because society still cannot understand the difference between gender and sexuality.
I do not have penis envy but I am envious of male privilege. I want to be free to be who I am in manner and in dress without fear of ridicule or physical harm. And I do not want a penis except for when I get lucky and my wife reaches for one of the latex versions from our bedside drawer.
Micha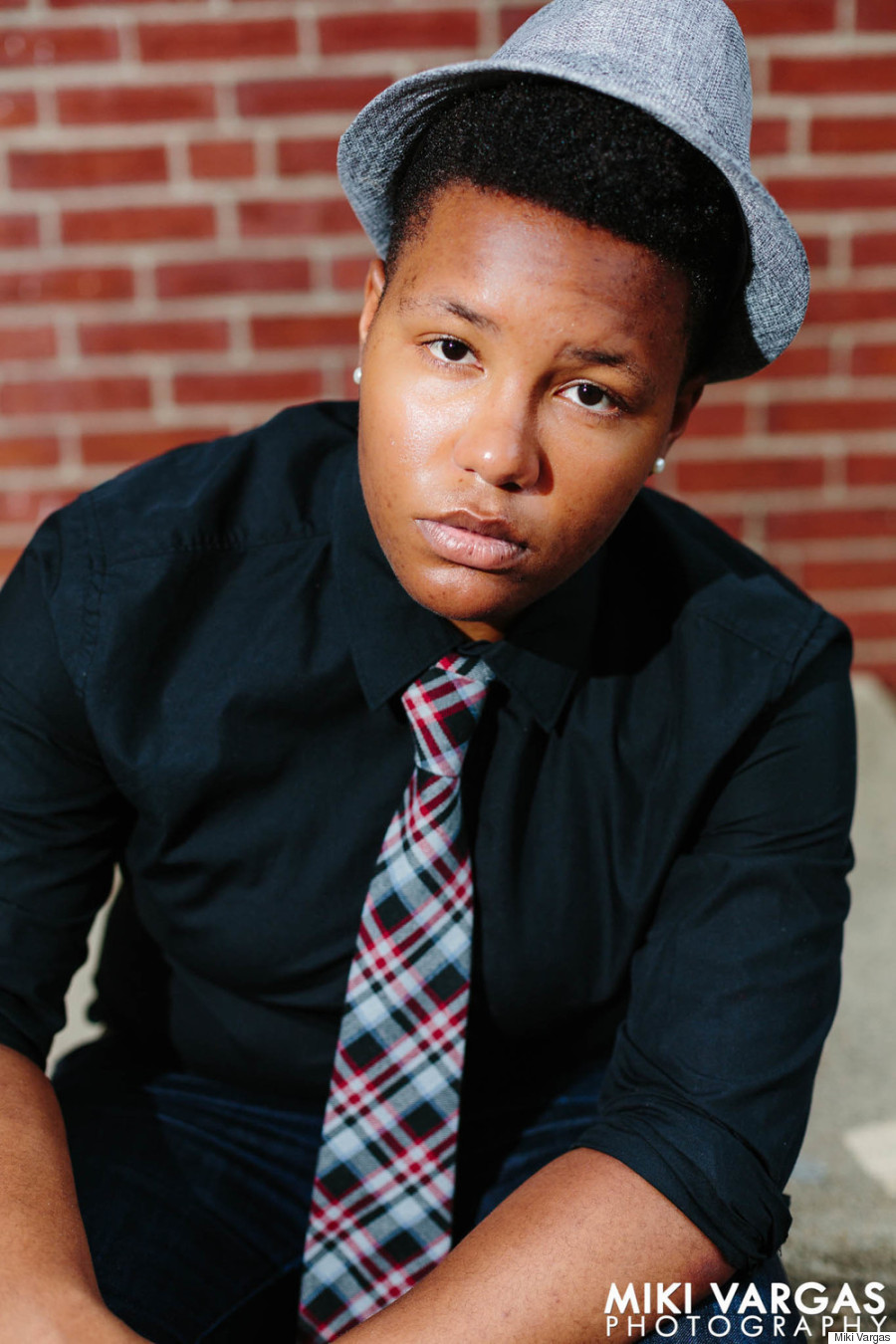 Boston, MA.
Since I have been dressing myself, I have toiled with how to present myself. As a masculine presenting female-bodied and identified person, I grew up proclaiming myself as a tomboy. In this space I was able to reclaim my womanhood as I gravitated to masculinity. As I work to unpack my privileges and challenges, I am appreciative to the rise of the "dapper movement" within the boi community. This has increased the acceptance of fluidity, to an extent, in the queer community and has allowed me to live closer to feeling free in my presentation.

Dean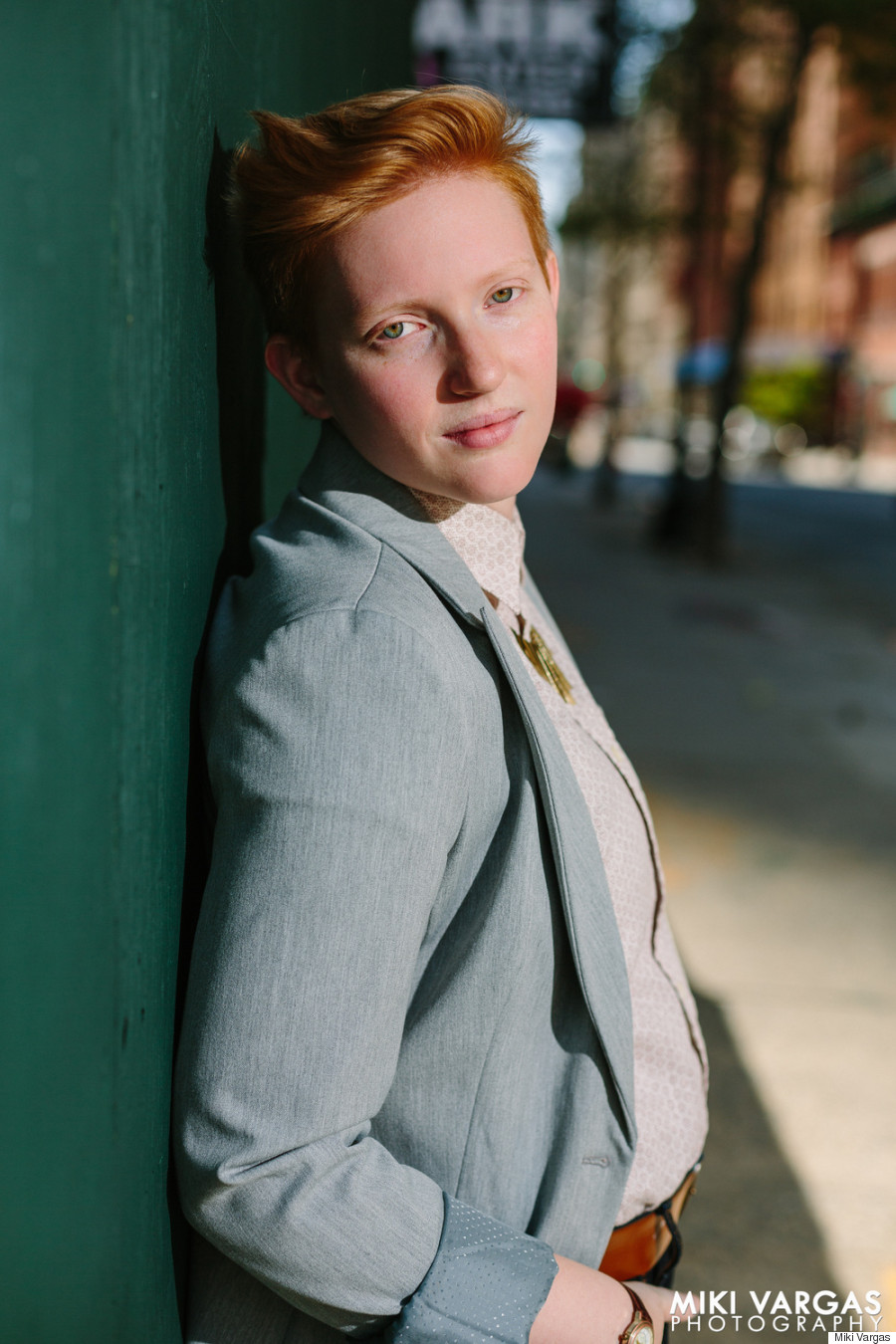 New York, NY.
For me, masculinity and femininity aren't necessarily opposing forces. I feel most comfortable when I can use fashion to fuse these two and create my own space somewhere in-between. I love the freedom that comes with rejecting tradition and being able to encourage people to define their own femininity or masculinity. As someone who is genderqueer, it can be a challenge to fit myself into fashion norms that follow traditional masculinity. But when we can make our own way and create our own norms, I believe we can truly represent our best selves to show off and to share with the world.
Mack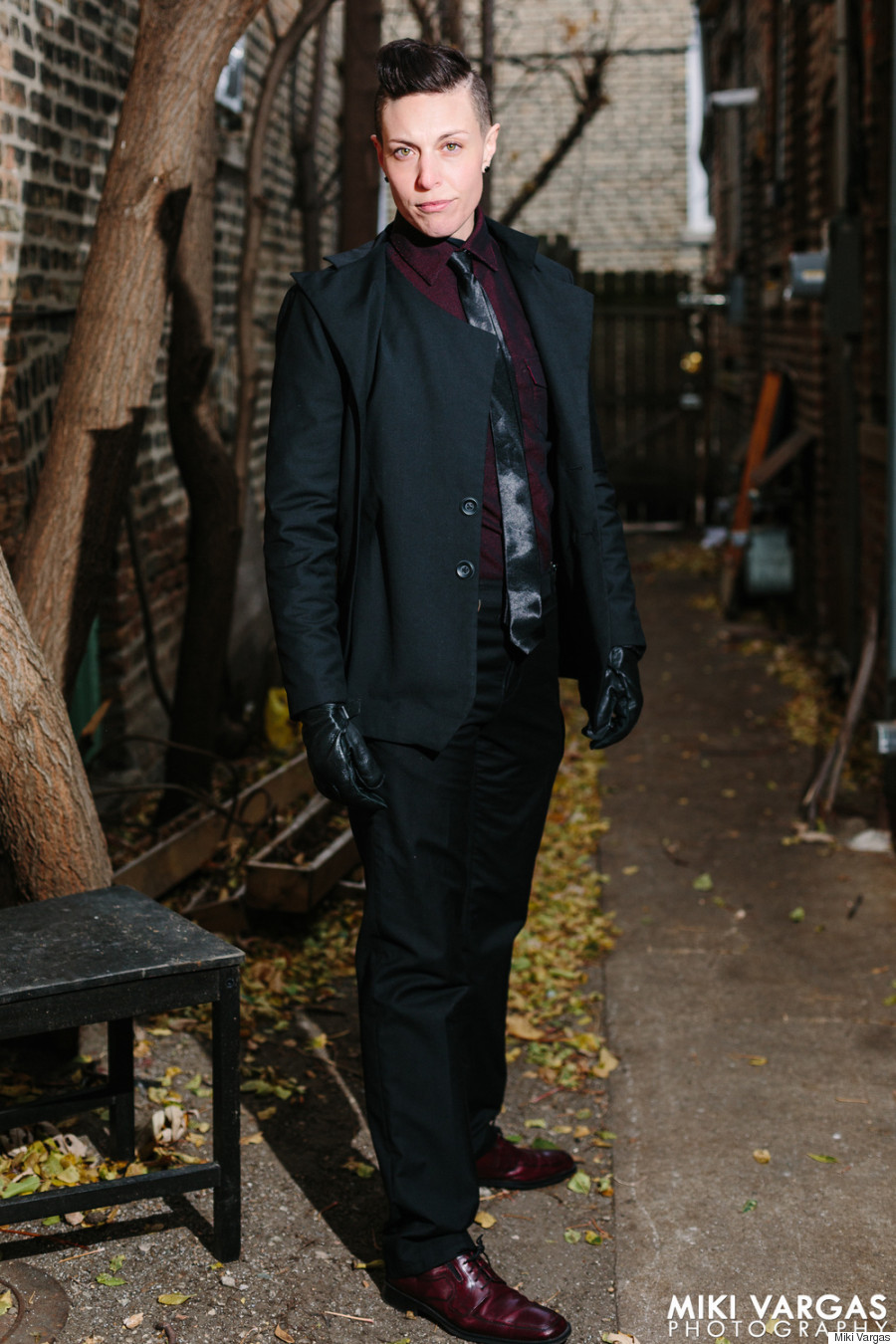 Chicago, IL
Masculinity not only exists on a very instinctive and subconscious level for all of us. It's a profound feeling of empowerment to be a WOMAN and be self reliant, proud and show strength and beauty in displaying features like a strong jawline, rolled up sleeves, crisp collar, sharp suit and a tie -- feeling beautiful and just as handsome as our male counterparts. We all have masculinity in all of us. It's just a matter of how we wish to display it.
Amanda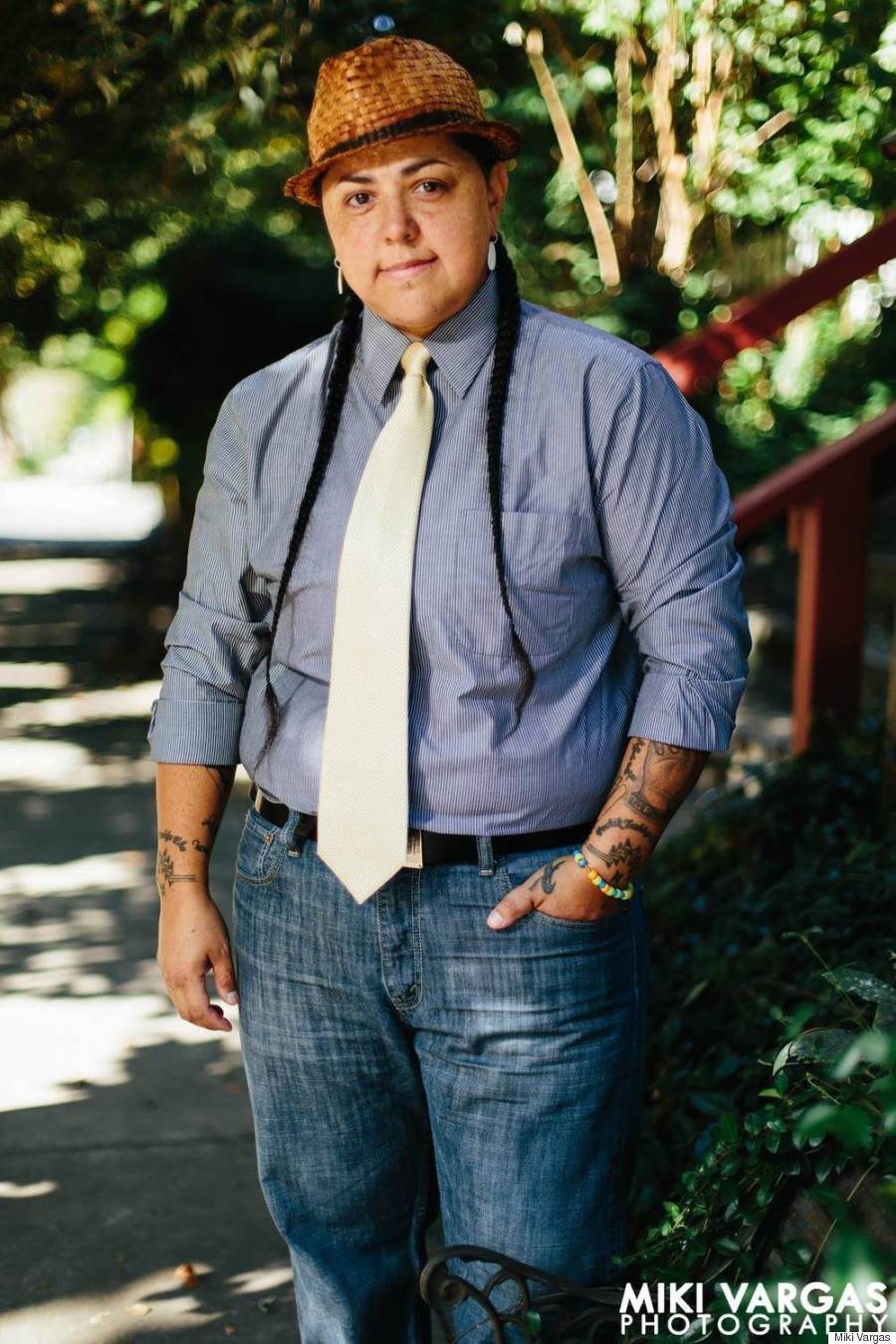 Portland, Oregon
I think masculinity means many things to many people. When I think of what it means to me, I think about my great-grandpa who helped raise me -- quiet and kind, strong, compassionate and steady. He taught me that respect is everything and, even if you have no material possessions, if you have respect you have everything. He also showed me that hard work was essential to being a man and that men provide and take care of their families. The measure in a man is how well his family was cared for. When I think of masculine, I don't think macho, I think of my hard-working, callused hands, dapper fedora leaning to one side great-grandpa.
Saby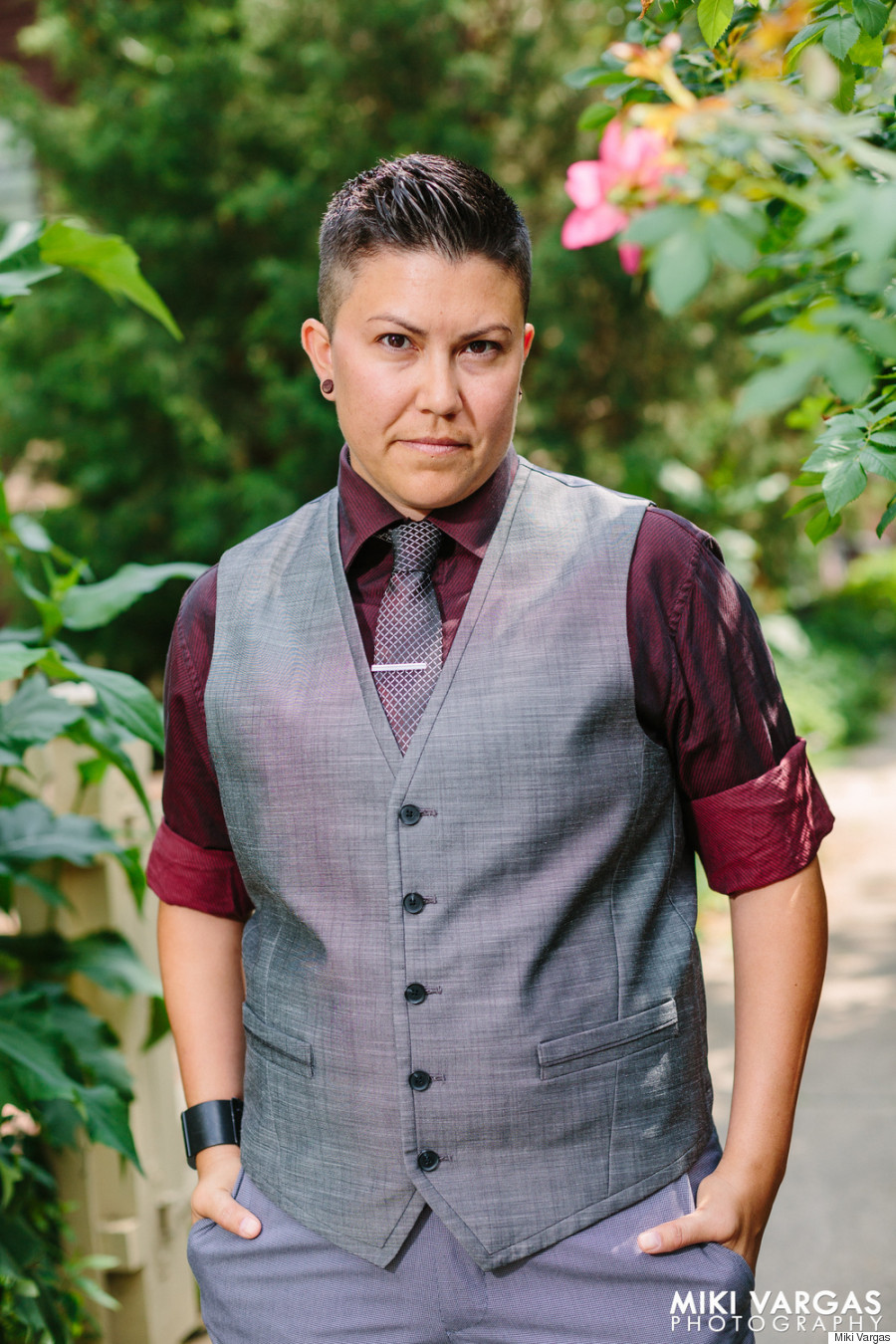 Minneapolis, MN
Ever since I can remember, I have felt most at home in a more masculine expression. I played sports, loved to climb trees and play in the mud, and felt awkward in hyper-feminine attire. Not until I went to college did I have the language for my sexuality, then my gender identity. When I first "tried on" masculine expression as a young adult, I modeled the masculinities portrayed by the media and my father. It has taken me years and the love and care of my family (chosen and birth), my partner and the Brown Boi Project to provide me the affirmation and tools to begin to regenerate a healthy masculine identity. As a masculine-of-center (MOC) gender-nonconforming person in the academy, I am both privileged in my access to this system and isolated as one of very few brown masculine-of-center women. Last October I participated in the Brown Boi Project's retreat and Cole and Erica taught me that my masculinity, if not lived out in healthy ways, often perpetuates injustices to my sisters, mother, partner and other women in my communities. My partner is my biggest supporter, both serving as protector when others are challenged by my masculine expression and holding up my identity as something she admires and challenges with care.
I think of my gender nonconformity as gender euphoria. In my female form, I am at ease in dapper attire and "professional drag" fit for the academy, playing with the endless possibilities of female masculinity. I am often allowed to navigate spaces and not be held to the standards of purely feminine or masculine gender norms. I get to exist outside of both, carefully examining their existence and power in our daily lives. I love to be called pretty as well as handsome (especially by my mom), one of the ladies and one of the bois, she/her or they/them, and enjoy a fine craft beer in our very queer neighborhood in Minneapolis.
Lindsey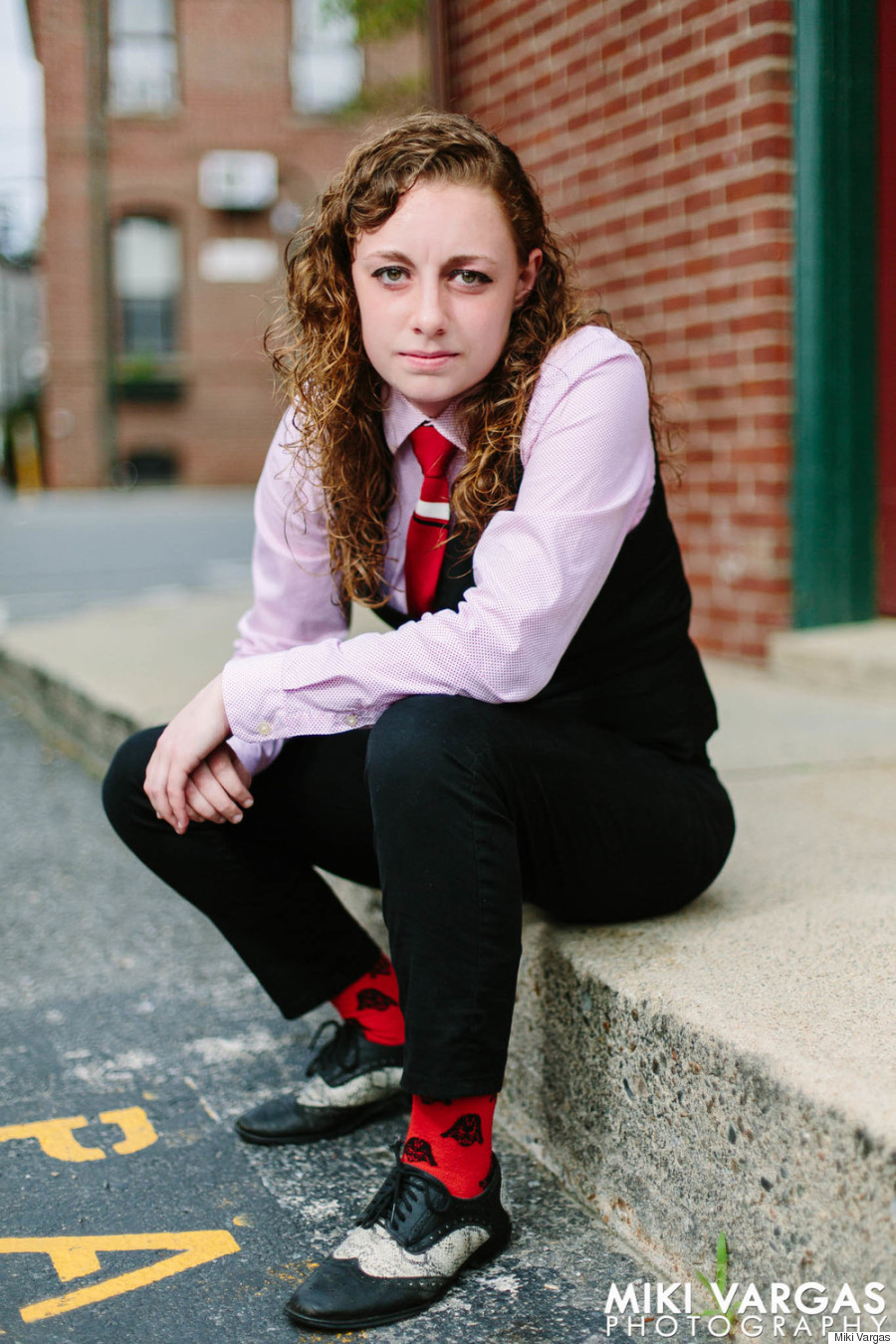 Boston, MA
I found that the single most empowering thing that I have ever done in my life was making the decision to wear a necktie out of my house for the first time. I am strong because I subvert normative gender roles and expectations and I am empowered because I was able to reclaim the concept of masculinity in a way that best suited my gender identity and provided a necessary framework for my gender presentation. Utilizing fashion as a means of gender expression has liberated me from insecurities that have surrounded my gender since I was a little girl. In my adult life, reclaiming the socially constructed "masculine presentation" in a uniquely feminine way has finally allowed me to be read by the outside world in such a way that is authentic to my true self. Choosing to embrace my masculinity in the form of menswear inspired fashion has truly been the greatest act of self-love I could have ever done for myself.

Jaime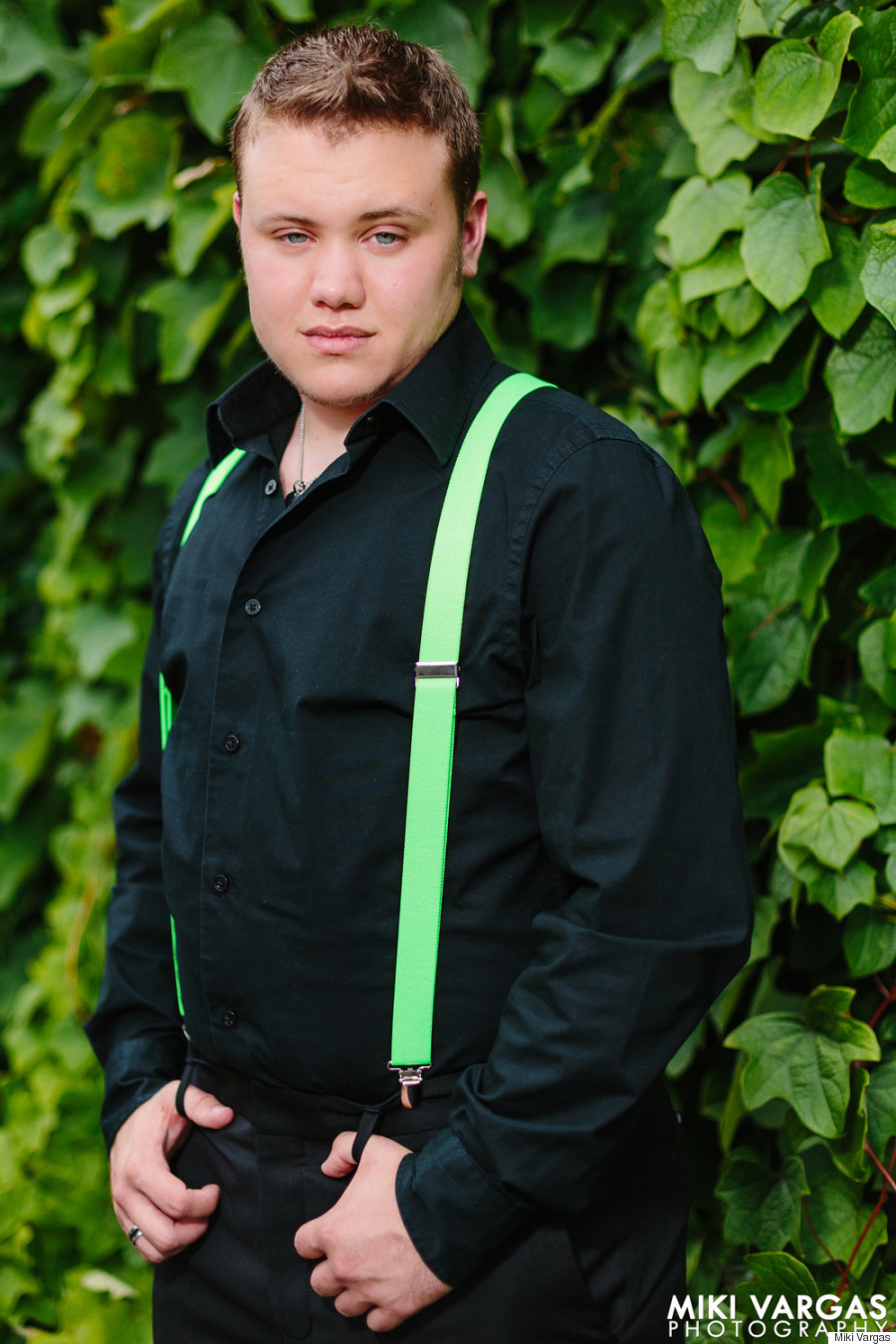 Minneapolis, MN
Masculinity is a funny thing. It can be the most freeing and it can be the most constricting. Masculinity is often confused for meaning the same as being a man. That is not true. Inside every human there is a level of masculinity and femininity... they are just all different. And that is beautiful. It wasn't until I started my transition that I really started to understand what it meant to be masculine. So what does it mean? Anything you want it to mean. I think we get so caught up in thinking that masculinity has one meaning or one purpose, when in reality, how masculinity is perceived and expressed is as unique as the individual. It would be a really boring world if all masculine people expressed it the same way. Unfortunately, though, our society favors one form of masculinity over another, and that is the image that is put into our heads. We need to challenge that image, and that is exactly what we are doing. Masculinity comes in all forms from all sorts of people. As a trans man, I always struggled with embracing my masculinity. But as I got older, I started understanding myself and, then later transitioning, I better understood what it meant to be masculine. And I refuse to shy away from it. To be masculine does not mean to be oppressive. That is called ignorance and bigotry. To be masculine means to embrace your true self and live it authentically. For me it means that I am strong, confident, gentle, compassionate, energetic, and supportive... expressed through my everyday living. You define masculinity for yourself, and that is what is so awesome about it.

Stefani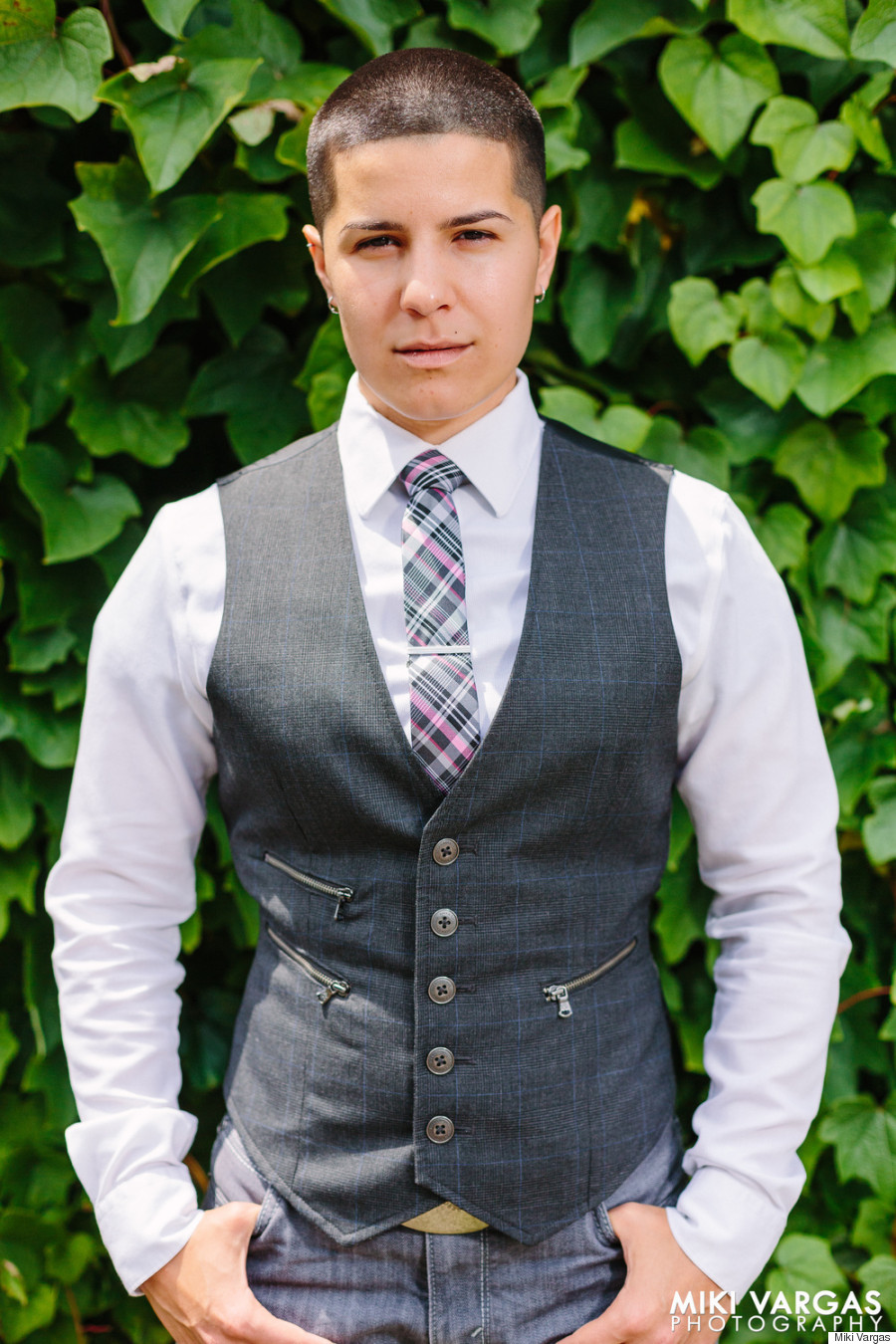 Minneapolis, MN.
The experience of being a masculine-of-center non-binary person has been a realization of the utter absurdity of how gender norms are assigned and imposed. I have always been attracted to a masculine presentation of myself but from an early age was taught that was not an accessible or appropriate way to live in my body. My hope and vision is for more visibility and empowerment of all kinds of expressions and bodies. Today I am presenting as I see myself and am in a loving community of affirmation. I hope my own visibility helps create more possibility and space for other folks to see themselves and feel affirmed in who they are.
The Huffington Post: What is your overarching vision for this project?
Miki Vargas: In 2012 I started photographing for the project inspired by my struggle with feeling good and free within my newfound masculine presentation. I wrestled with acceptance and self-celebration and noticed a lack of images in my world of others like me whom I could identify with. It occurred to me that it would be amazing to create these images not just for my own self-empowerment and healing, but also for others out in the world who felt like me, and maybe ultimately serve as historical documentation.

I think our world has come far but not far enough yet. We still don't see female masculinity represented enough in the media and I believe it is important to see ourselves represented in the world. Visibility is an educational tool and promotes acceptance. It is my passion as a photographer to create a body of work featuring masculine-of-center and gender non-conforming humans where it is understood that we all get to define our own masculinity and that it does not define us. I'd like this project to educate and empower others to be authentic, to feel handsome, and to continue to use fashion as a tool for gender expression. I'd like this project to encourage others to be unique and feel safe doing so, not just in the world but within a community that is loving, supportive, welcoming and respectful. This is a crucial part in building confidence to be in the world as who you truly are. I'd love for this project to help knock down the little boxes within the big queer box to remind us all that we cannot accept transphobia, sexism, etc. within a community that fights together for equal rights as humans.

Who are the individuals documented in this project?
The individuals photographed in this project are educators, doctors, lawyers, students, artists from different cities in the country, different ages and ethnicities. These are handsome, brave and authentic humans who go about their lives challenging traditional female/male gender roles everyday.

How are you trying to complicate understandings of masculinity through these stories?
There are so many beautiful and deep personal stories behind each and every one of these photos. As you read these stories, you begin to understand that the common thread seems to be that we are reclaiming the concept of masculinity in a way that is best suited for our own gender identity and gender presentation. You will also read about how utilizing fashion as a means of gender expression has liberated a lot of us from insecurities that have surrounded gender and identity roles.

Why is this kind of visibility so important?
This kind of visibility is important for many different reasons. I hope that one day we can all be celebrated for our differences and that we can continue to create more visibility and empowerment of all kinds of expressions -- that we can somehow end the hideous transphobia that currently exists in the world and within our own queer community. When I first started the project I received numerous emails in which I was asked to exclude transgender individuals. Several viewers felt that the project was misleading and that it should not include FTM individuals. My heart was broken to find that this was a feeling shared by many. I found myself having to defend that this was my artistic vision and my personal exploration project; a gift to my community. And I refuse to follow any of the absurd and hateful requests in those emails. Once, in Chicago during one of my shoots, I had an experience where a senior dyke asked my subject, "What are you, a dyke or a trans?" My heart dropped and I froze. "A dyke," my subject responded. Before the senior dyke walked away she said, "Do you still have your tits?" And as she checked out my subject's chest area she loudly exclaimed, "Oh good for you, proud of you for keeping your tits." I felt ashamed, angry, disappointed and concerned with the lack of education and surprised by the hatred in her tone. This only fueled me to continue with the project and reassured me that what I am creating is valuable, necessary and beautiful.

Additionally, many masculine-presenting folks face discrimination in the workplace because they do not conform to a defined "ladies dress code." I have experienced it, and many of my participants have relayed stories of having to dress in "female" clothes at work, and how disheartening it is to be forced to present in a way that doesn't match their preferred gender expression, just to keep their job.

This kind of visibility is a tool to smash down the walls, to fuck with people's minds, to make you think, to make you uncomfortable, to make you hot, to make you smile, to make you feel! To make you see me as I am.

What do you hope this project develops into? What do you want people to take away from it?
I hope that these portraits will start or continue the much-needed conversations about acceptance, respect, love, community, unity, feeling of belonging, self love, self respect, self celebration and an overall respect of people as valuable lives in this world. I would love these images to engage the viewer, to seduce them, to intrigue them, to confuse them, to make them smile, to make them reflect, but most importantly to help them recognize that the beauty in our differences is so infinite that it cannot be categorized.

I would love to continue to travel photographing people in different U.S. or international cities. I have received interest from people in Germany, Canada and London. I'd love to see this project receive the necessary funding to move about the world and hope we can create a documentary featuring some of the people in the project and our adventures traveling to meet our new participants.
Want to see more from the "Handsome Revolution Project"? Head here.
Calling all HuffPost superfans!
Sign up for membership to become a founding member and help shape HuffPost's next chapter