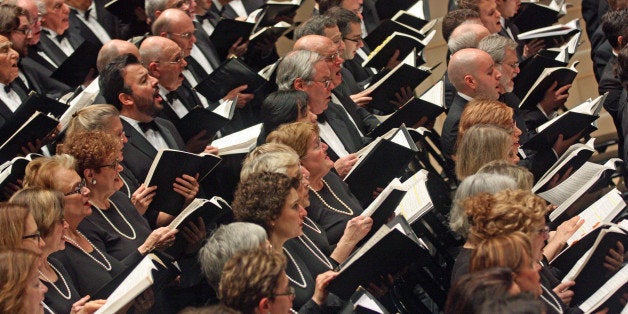 What's wrong with the following picture?
The opening shot of a PBS video, "Messiah": Music for the Christmas Season, pans up Washington's magnificent National Cathedral as the soundtrack presents the Cathedral Choir singing Handel's glorious chorus, "And He shall purify the Sons of Levi, that they may offer unto the Lord an offering in righteousness."
Well, superficially at least, everything would seem to be altogether meet and fitting: A great choir is performing Messiah in a towering church, and so the video starts out simply and innocently by showing its awe-inspiring venue and sounding some of its most exalted music.

When you dig deeper, however, you can uncover disturbing issues. This video perfectly highlights -- unwittingly, one feels sure -- the anti-Jewish Christian triumphalism lurking within the world's favorite Christmas (and Easter) piece. Alas, not all religious art that glitters is spiritual gold.
The choir's words come from the King James Bible's reading of Malachi 3:3. Christians before, during, and after Handel's day typically understood this text as a prophecy of God's abandonment of the Jewish Temple for the Christian Church. Forty years after the crucifixion of Jesus, God sent the Roman army into Jerusalem, they say, to slaughter its inhabitants and destroy its Temple because of Jewish failure to accept Jesus as God's messiah.
The very organizing principle of Messiah is to link Old Testament prophecy with New Testament fulfillment. The piece consists only of biblical texts, and nearly all its OT passages are cited in the NT; similarly, nearly all its NT passages cite OT texts. The true meanings of Messiah's many OT passages are assumed to be governed by the way they're used in the NT.
Therefore, we can get a better idea of what singing Malachi 3:3 was designed to convey by looking at how "the Sons of Levi" are understood in the NT. At Hebrews 7:5-12 "the Sons of Levi" (the Jerusalem Temple's priesthood: the order of Aaron, the brother of Moses) are contrasted with "the order of Melchisedec" (the ancient king of Jerusalem and priest of the most high God, who prefigures God's messiah Jesus as king and priest). As 7:12 instructs, "For the priesthood being changed, there is also made of necessity a change also of the law"; that is to say, in the messianic age there is by necessity a change from the Levites to Melchisedec, the ritual law to the gospel, from Synagoga to Ecclesia, Judaism to Christianity.
Malachi 3:3 serves as the immediate backdrop in Messiah to the birth of Jesus, as beautifully expressed in the solo, "Behold a virgin shall conceive, and bear a son, and shall call his name Emmanuel, God with us" (a conflation of Isaiah 7:14 and Matthew 1:22-23). "God with us" is meant to be understood as "God with us Christians," something one would be expected to gather from Matthew 18:20 with 28:20, which declare that in Jesus, God is with us who are Jesus' followers, always, even until the End of the world.
From here, Messiah will go on to continually pit an us against them, where "us" means Christians while "them" means Jews.
When the choir sings "He was wounded for our transgressions ... and with his stripes we are healed" (settings of Isaiah 53:5), its we is to be understood not as sinful humanity in general but as us who are followers of him, Jesus. We are expected to gather this from 1 Peter 2:24-25, which quotes the excerpts from Isaiah 53:5-6 that are set to music in Messiah -- 1 Peter 2:7 identifies the we specifically as "you which believe (in Jesus)."
By contrast, when the choir sings "He trusted in God, that He would deliver him" (a setting of Psalm 22:8) just after the soloist's declaration, "All they that see him laugh him to scorn" (Psalm 22:7), its they is to be understood not as sinful humanity in general but as the Jewish persons witnessing his, Jesus', crucifixion. We are expected to gather this from Matthew 27:39-43, which quotes the excerpts from Psalm 22:7-8 that are set to music in Messiah. The Gospel assumes that the mockers are all Jewish unbelievers in Jesus attending Passover: Jesus' followers certainly would not "laugh him to scorn," and no pagan gentile would speak the words of Psalm 22:8 quoted at Matthew 27:43.
Handel's music fully underscores the text's us-versus-them contrasts. "And with his stripes" is set in the venerated stylus ecclesiasticus ("church style"), reminiscent of the great renaissance composers of sacred music, like Palestrina. The chorus "He trusted in God," however, is set in the aggressive style of the turba ("crowd") choruses found in baroque settings of the passion narrative. In short, what we have here is a placing of (hostile) Jews over against ("healed"/saved) Christians.
Messiah's us-against-them reaches a great climax with the Hallelujah chorus.
Right before this chorus, the tenor soloist delivers a ferocious aria whose text, Psalm 2:9, reads: "Thou shalt break them with a rod of iron; thou shalt dash them in pieces like a potter's vessel." Thou is understood here to refer to Jesus, and them to "the people" and "the nations" from Messiah's preceding bass aria, whose text is slightly adapted from Psalm 2:1-2 in the Book of Common Prayer: "Why do the nations so furiously rage together? and why do the people imagine a vain thing? ... against the Lord and against his Anointed."
We are expected to know -- as Handel's original listeners typically will have known -- that Psalm 2:1-2 is cited in the NT at Acts 4:25-28, where verse 27 speaks of the hostility of "the people of Israel" toward God's Anointed One, Jesus. In light of Messiah's full contexts, the tenor aria could appropriately be paraphrased as:
Says God to the Lord Jesus Christ: "In purifying the Sons of Levi, beginning with the destruction of the Temple, you will break the people of Israel, the Jews who do not accept you as my messiah, with an iron rod, and also the heathen; you will dash them in pieces like earthenware."
Here's the response to this violence leveled first -- and emblematically -- against Jews:
"Hallelujah! for the Lord God omnipotent reigneth" (Revelation 19:6, most gloriously set with trumpets and drums).
In significant part, then, Messiah rejoices against Judaism. Messiah exults against other unbelievers in Jesus too, but its rejoicing against Judaism should be seen as a special problem, even for a solely NT-based ethics.
Romans 11:17-18, a profoundly under-appreciated passage, specifically warns about the special ethical problem of gentile Christians "self-boasting/rejoicing" (the NT Greek source word, katakaucho, simultaneously carries both meanings) against ethnic Israel.
In part, Messiah, I'm suggesting, goes patently counter to Romans 11, whose directive on Christian schadenfreude toward Jews, it's worth noting, is not contradicted anywhere in the NT.
Rejoicing against Judaism is -- thank God -- neither the whole nor the primary story of Messiah; it is, however, I'm suggesting, a significant forgotten secondary aspect.
Many will call upon aesthetics to object to the present re-reading of Messiah on the grounds that in great art "beauty trumps all." Others, similarly, will call upon theology to object that, in the end, the Gospel of John's declaration of God's boundless love for "the world," alluded to in Messiah at the chorus "Behold the Lamb of God" (a setting of John 1:29), neutralizes any polemic against Judaism.
But why might not any anti-Jewish polemic in the Gospel of John in fact undermine or negate its declaration of God's boundless love for the world? Likewise, why on earth might not the undeniable aesthetic and spiritual magnificence of Messiah in fact make this work more, not less, problematic?
Messiah's many excellent and godly aspects will rightly ever continue to aesthetically and spiritually sustain my fellow Handel lovers. But the notion that beauty or love trumps all may really be too good to be true.
Popular in the Community