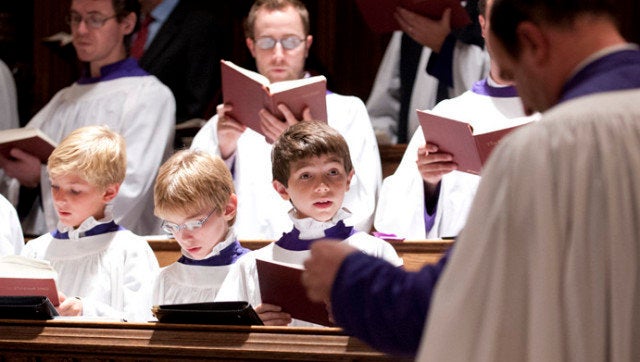 The British-born McCarthy will oversee an "authentic" performance featuring the National Cathedral's combined boys and girls choirs, men's choir and soloists Gillian Keith (soprano), Julia Mintzer (mezzo-soprano), Rufus Müller (tenor) and Nathan Berg (bass).
The Huffington Post spoke with McCarthy about one of the Catherdral's most well-known and loved performances.
The Huffington Post: How long have you been conducting?
Michael McCarthy: Since 2003. Overall about 30 years now.
HuffPost: Based on the short preview it seems like you're having a good time.
McCarthy: Yeah, it's a lot of fun.
We do "Messiah" every year in the second week of Advent. It's been tradition here for many years. We've added a performance because of demand. We'll have four and a half, five thousand people see the concert.
HuffPost: What's the usual draw for a service?
McCarthy: Six or seven hundred people.
McCarthy: My history has been as a singer and working with children's choirs. In the U.K., I worked as kids choir director from the age of 16, 17. This is a culmination of singing, working with youth choirs and arts administration. It's a coming together of three strands of my life in the U.K. into one in this program.
Interview continues below ...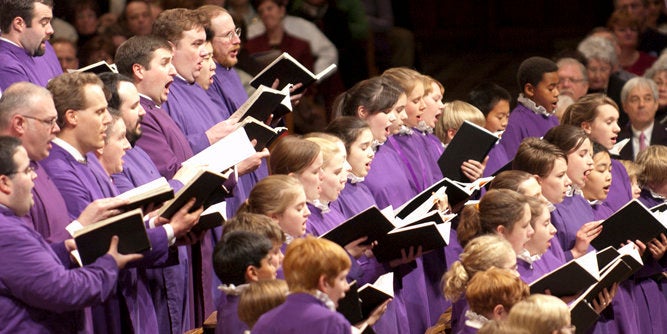 Handel's Messiah at the National Cathedral
HuffPost: What do you tell people that aren't religious but like this style of music?
McCarthy: This sort of music is completely relevant to what people are calling a more secular world. I think whether you believe in a god or not, people have a spirituality.
The Christian story, whether you want to believe or not, is still a story. At Christmas time, it's all about the birth of Christ. Yes, it has a Christian DNA to it, but in fact it can have a very secular overtone and undertone.
The experience of coming to the Cathedral and hearing fantastic music in a truly remarkable setting is one of the biggest draws to the "Messiah" performance. You have a team of musicians making music but you also have a building to make music as well.
HuffPost: Has the [August 2011 earthquake] recovery process affected your show?
McCarthy: It hasn't really. The earthquake damage was really for the exterior of the building. The interior has proven to be fine.
HuffPost: Where's the best place to sit?
McCarthy: The two places to sit in front part of the nave, the first 30 seats. The balconies, all three balconies, give you a good vantage point. The one in the back gets some of the best sound.
Unlike many performances of the "Messiah," this is a small orchestra. For the space we're in, people would expect a bigger ensemble to make more noise in the building. Making a more streamlined sound has a bigger impact.
HuffPost: How is this performance different?
What we do with this particular performance is an 'authentic' performance. We're using instruments and styles of playing that were akin to the time Handel was alive. He wrote this piece in 1741. 1742 was the inaugural performance of this in Dublin. For that they used a small choir with kids for the top line. We use instruments, violins and oboes, that were made in that time, very different than today's instruments.
HuffPost: How are the instruments different?
McCarthy: The violin is smaller. The trick in the way they place this is in the bow articulation. The bow does the articulation rather than the fingers.
The oboes, which these days are very much mechanical, levers and pulleys operating a wide range of valves, here you have, like a recorder, no pulleys, levers or mechanics.
The trumpet, which normally a multi-valve instrument, is simply played as one long horn. You change pitch by your lip pressure.
In a way, the modern orchestra has made playing much easier. Playing these instruments are more refined. The big brass is great for "Messiah," but this offers an alternative that is appropriate for the space that we're in.
It's complicated but it's very rewarding when it comes together.
Handel's "Messiah" will be performed at the Washington National Cathedral on Friday, December 7 at 7:30 p.m., Saturday, December 8 at 4 p.m. and Sunday, December 9 at 4 p.m.

Related
Popular in the Community