Thirty-five-year-old Tanja Kiewitz has recreated Eva Herzigova's famous Wonderbra ad reading, "Look me in the eyes...I said the eyes," but this time around, Kiewitz isn't shilling lingerie. Instead, she posed for Belgian handicap awareness group CAP48, showing off her left arm that ends below the elbow.
Kiewitz told GlobalPost, "I had no hesitation about doing it, but I was a bit nervous about appearing like that in front of the photographer. I'm not a prude, but my arm has always been something very intimate for me. My friends gave me a lot of support and after a couple of glasses of wine it all went fine."
She added, "It would be good if handicapped people started to be used to advertise other things. Why shouldn't somebody with a disability be a model? It would make a change from those models who all look alike. Why don't we have more people in wheelchairs speaking on TV, they can speak as well as anybody else."
The publicity generated by Kiewitz' photo appears to have given a boost to CAP48's fundraising efforts. An annual telethon on the RTBF network gathered more than 4 million euros for the organization, up 10 percent on last year and representing almost 1 euro for every French-speaking Belgian.

Check out Tanja's ad and Eva's old campaign: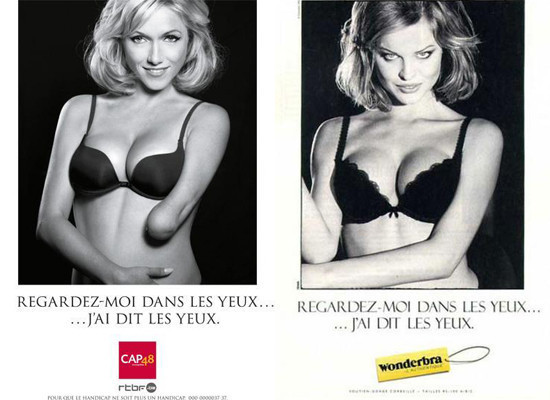 Popular in the Community